Silk Wraps Are The Ultimate Nail Hack For Keeping Your Length Even After A Break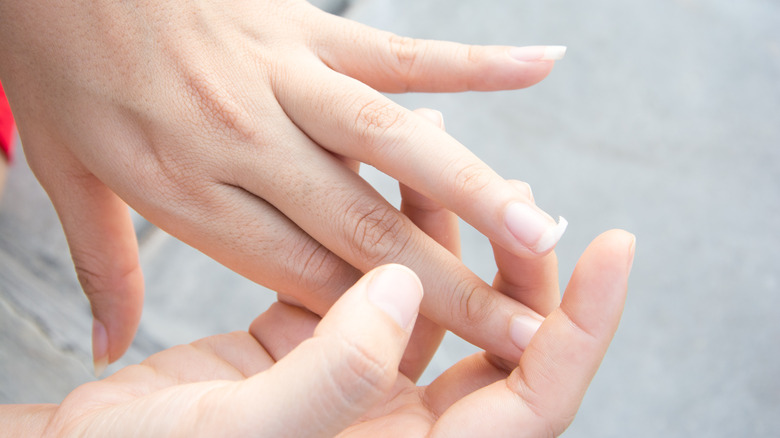 We may receive a commission on purchases made from links.
With the damaging effects and incessant upkeep of artificial nails, not to mention the possible serious health risks of UV gel manicures, it's easy to see why many women are choosing to grow out their natural nails instead. But natural nails typically aren't as strong as acrylic or gel nails and are thus more prone to breakage. While they can be used to repair small cracks in artificial nails, TikTokers are obsessing over silk nail wraps as the ultimate hack for repairing or strengthening their natural nails.
While 2022 saw a lot of love for exceptionally long nails and intense nail art, this year is different. Zola Ganzorigt, consulting manicurist for Dashing Diva told Marie Claire, "Everyone is starting to embrace a more natural nail length instead of the artificial, long nails." Whether you are embracing the natural nail trend or need a quick fix for your broken acrylic or gel nail, silk nail wraps are here to help. Don't worry about having to go to the nail salon to fix your broken nails, you can easily DIY at home for a fraction of the cost. 
Nail wraps are super easy to apply at home
@thegraytergood

how to "fix" a broken nail 😩🔪 #nails #nailtutorial #brokennail I'm not a nail tech just an enthusiast and this is what has worked for me. Silk wraps are better than teabags because they're more hygenic and less wasteful as well as actuallly stronger because it's fabric > paper. You can also use an extension on top of a broken nail to help it grow out and I can go over that in another video if you want, let me know in the comments.

♬ Evergreen - Richy Mitch & the Coal Miners
Fixing a broken nail and keeping your length may be easier than you think. Silk nail wraps — a thin woven strip of silk or artificial material — can be applied using nail glue to a cracked nail to hold it in place, making your manicure look as good as new. While many salons offer nail repair services, you can save yourself the trip and cost by repairing your nail yourself at home.
To apply a nail wrap, start by buffing your nail so that it's smooth; then lay the wrap over the damaged part of the nail and apply an adhesive on top such as a dot of nail glue or even just a top coat of nail polish. Once that is dried, buff and shape your nail, making sure to smooth out any edges where the wrap was applied. The last step is applying your nail polish to make the repair even more imperceptible.
While often used for repairing broken nails, silk wraps can also be used to protect your nails from summer stressors – by applying them to all your natural nails, you can prevent breakage and increase strength and durability. TikTok user @allyrooker talks about using silk nail wraps to help her grow her natural nails, applying the wrap to the entire nail instead of just the broken section. In the video, she reveals that her current DIY nail wrap manicure was over a month old.
How much they cost and where to buy them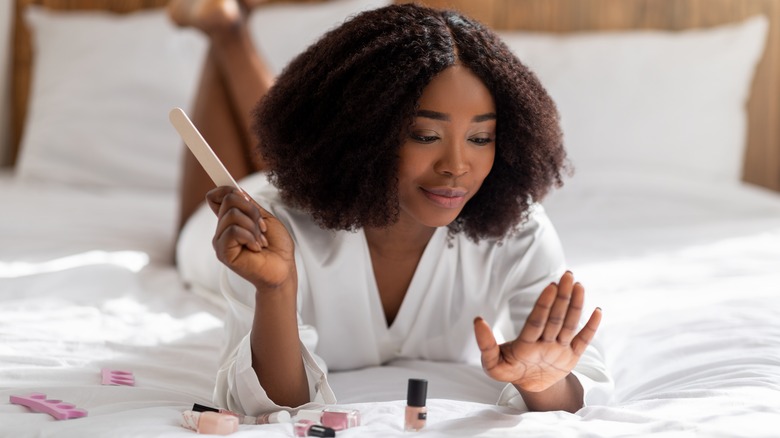 Prostock-studio/Shutterstock
A full silk wrap manicure will set you back around $40 to $60 at a salon, not including the polish. Luckily, you can buy silk (or other material) nail wraps from Amazon or Sally Beauty for much less to do yourself at home. Amazon sells Supernail Swiss Silk Wrap Self-Adhesive tabs for just under $7.
Better yet, you could repair your nails or give yourself a full silk wrap manicure for much less if you have tea bags on hand. London-based nail artist Ami Streets explained to Refinery29, "Tea bags work well as a similarly thin but strong woven fabric that can easily be adhered to the nail with glue or polish and buffed down to create a smooth and repaired nail surface ready to paint."
While tea bags are generally used for nail repair or strengthening natural nails, TikTok user @cstutorialz found a way to use them to add length by applying the material to the end of her nails and using cornstarch to harden them. The reviews on this hack were mixed, but this TikToker definitely gets points for creativity.