Summer's Hottest Purse Trends Are All About Upgrading The Classics (& Luckily They Go With Everything)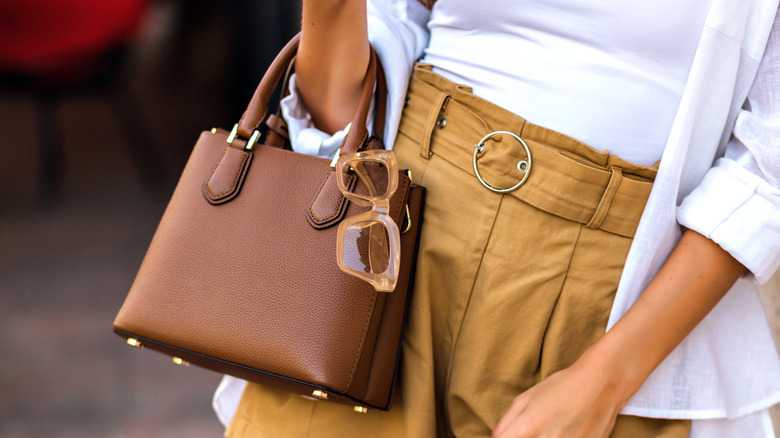 Ann Haritonenko/Shutterstock
Tired of doing seasonal shopping hauls? You're in luck this summer. For the most part, the summer's most coveted "it" bags are styles that work not only in warmer weather but also during the rest of the seasons too. Even better: the silhouettes you'll be seeing this season are updates or elevated versions of classic bag shapes and styles well loved in previous seasons. In other words, you don't have to blow your bank to be in style. In fact, you may already have something perfectly on-trend in your closet.
Of course, it's always nice to treat yourself and get something new! As Coco Chanel said, "The best things in life are free. The second best are very expensive." Regardless of your price point, the styles below offer something apt for a trip to the beach, the market, a summer wedding, or wherever else your summer plans unfold. Some have deliciously natural feels (looking at you, raffia tote!), while others are perfect for those who have a firm grip on minimalist fashion.
Think pink this summer
A few years ago, a pink bag typically fell into one of two camps: juvenile, for hotter shades, or bland, for those that fell into the "millennial pink" category. Not so anymore. Consider the color's resurgence a symptom of Barbie having its own pop culture moment, mixed with a bit of nostalgia for the 90s. Maximalists can rejoice at this trend, while minimalists might find it to be more wearable with monochrome grays and whites. 
Classic looks without logos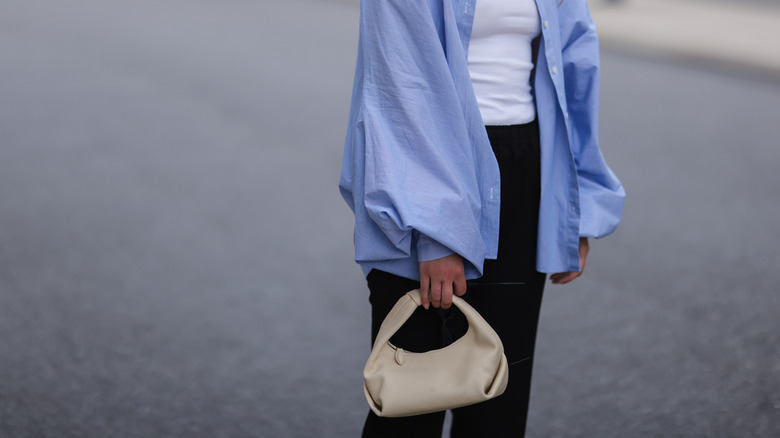 Jeremy Moeller/Getty Images
Unless it's the Louis Vuitton Neverfull, which is rumored to be soon discontinued, easily recognizable designer bags aren't going anywhere this season. After all, the Prada Nylon is still one of the most coveted bags of 2023, and its calling card is the triangle logo. Still, summer bag trends — and trends in general — seem to be gravitating toward more understated forms of luxury. Chalk this one up to the stealth wealth and "anti-trend" trend opting for simple staples. It's a perfect time to pull out your box-shaped normcore bag or one with thin straps and invisible hardware.
Raffia is everywhere
For the uninitiated, raffia is a natural fibrous material culled from tropical palm trees. If the small bag trend leaves you feeling frustrated and your pockets full, this one's for you. Raffia weekenders, totes, and beach bags are popular this season. The textured look of this bag definitely screams "summer" and "vacation," so while you might not get the most all-season wear from it, you'll have no trouble finding one at various price points. That said, it's a summer outfit dream that can go from brunch to the beach.
Teardrop shapes and bucket bags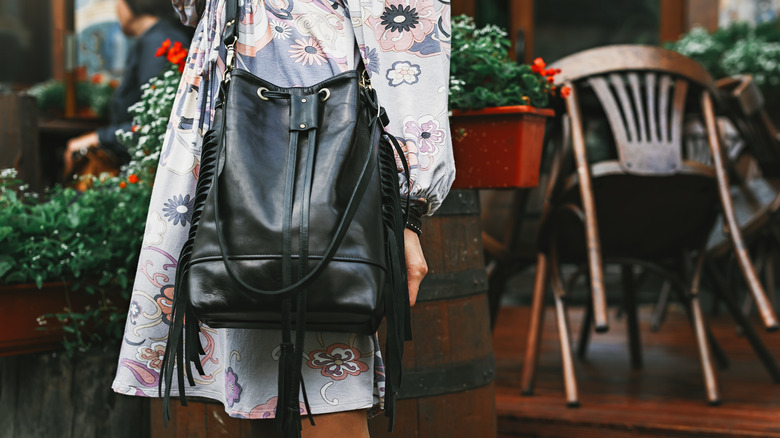 Lia Kos/Shutterstock
Along with low-rise jeans and even patinated-washed jeans, the unstructured handbags of Y2K fashion are slowly inching their way to the fore again, with a first stop at teardrop shapes and bucket bags. If you prefer smaller bags, this trend is ideal for you; classic iterations of the teardrop bag are typically on the small side. The bucket bag offers a nice alternative for those who want a trendy silhouette while allowing for a little more structure.
Embellished bags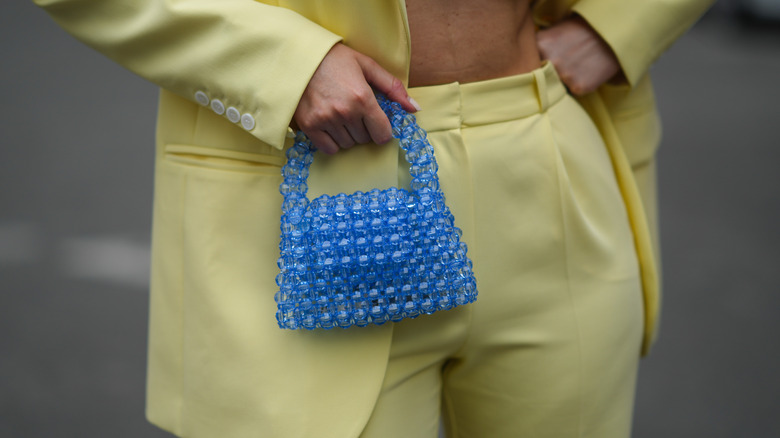 Edward Berthelot/Getty Images
Finally, we arrive at embellished bags— a sweeping category that includes everything from classic pillow textures to meticulously beaded creations. Among all, the underlying principle is that the bag is, in some way, textured. Think of this trend as the opposite of normcore; the detailing of the bag is the centerpiece, and it's meant to stand out. Popular iterations include metallic and glitter handbags and pebbled leather (or vegan leather) looks.