Summer 2023's Biggest Skincare Trends Are About Working Smarter, Not Harder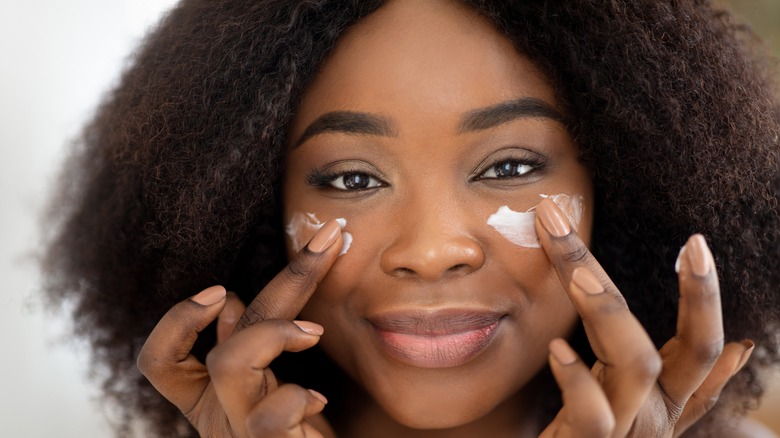 Prostock-studio/Shutterstock
The changing of the seasons also means it's time for changing beauty products in your routine. What your skin may need in the winter isn't always what it needs for the summer – and some of the latest beauty trends can help you decide what to experiment with and even incorporate in your routine to match the sunny forecasts ahead.
This summer is all about achieving healthy, glowing skin through a more simplified and science-backed approach to beauty. Streamlined skincare routines with fewer products that focus on gentle cleansing, hydration, and protection against the sun are becoming increasingly popular. Non-invasive treatments like LED facial therapy are also gaining traction, offering gentle alternatives to reduce inflammation, acne flare-ups, and fine lines. Prioritizing bodycare is a trend that's even solidifying itself as a new skincare standard.
We've already seen the advent of slugging and "baby botox" as some of this year's biggest trends, so let's delve into the season's most anticipated developments that are worth considering – experimentally and seriously.
Streamlined skincare routine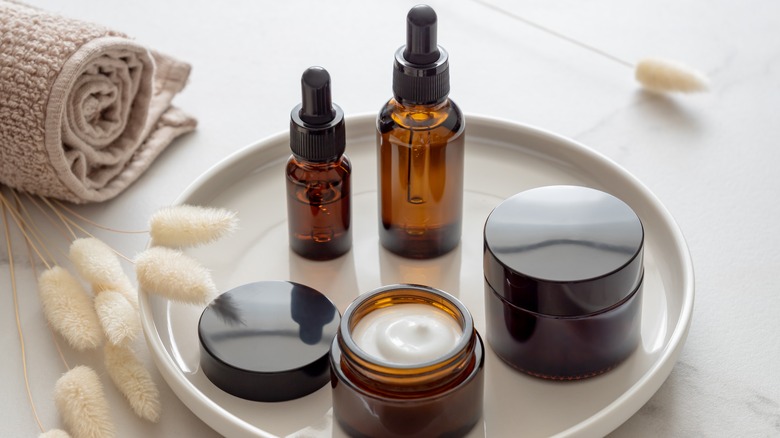 Irina Kvyatkovskaya/Shutterstock
Less is more with this popular trend, wherein skincare routines are streamlined down to only the most essential products. By minimizing the number of products used and instead focusing on those with proven efficacy, not only is it more affordable, it actually diminishes the potential to irritate the skin through layered application of too many products simultaneously.
Focusing on sun protection, hydration, and collagen production is key for a successful skincare routine – even when you pare down products. Prioritizing a broad-spectrum sunscreen with a minimum of SPF 30 or above aids in shielding the skin from harmful UV rays, preventing sunburns, lessening premature aging, and reducing the risk of skin cancer. Using a sunscreen with Vitamin C can also help brighten the skin on top of protecting it from the sun.
Sunscreen is also crucial when using retinoids, whether it's for acne or aging concerns. Retinol is powerful in its promoting skin cell turnover and staving off build up that can result in clogged pores – and there are many creams that already include a percentage of it in their formulas. Paying attention to other key ingredients, like hyaluronic acid, can effectively help your skin with hydration and sun protection, while also keeping your routine simple.
Skincare-makeup hybrids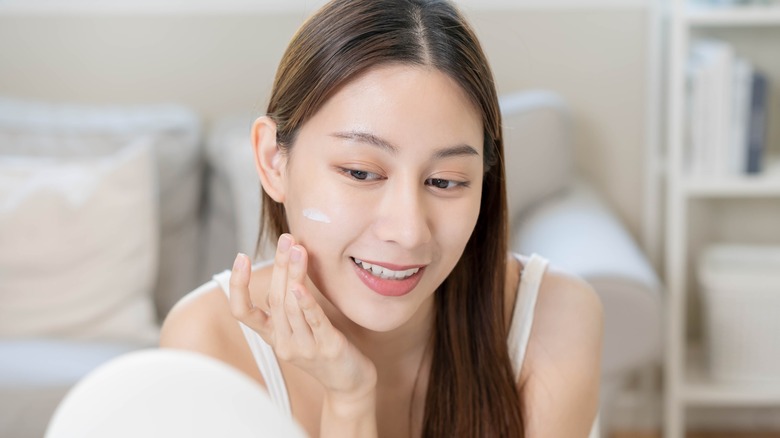 Kmpzzz/Shutterstock
"No-makeup makeup" is nothing new, but product innovations have taken this trend to a whole new level. Skincare-makeup hybrids are multipurpose products that act as makeup but also have skincare benefits. Makeup products like primers, tinted sunscreens, eyelash oils, concealers, and lip oils that are formulated with specific skincare ingredients can give the skin more than cosmetic effects – they can nourish, restore, and even target skin concerns.
As the public's knowledge of skin health, types, and products increases, so does preference for certain ingredients -– particularly those which have results proven by science. WGSN predicts that in tandem with consumers' science-first approach to skincare awareness, there will be a new wave of back-to-the-basics skincare brands that are science-led.
Marko Lens, founder of skincare brand Zelens, attests to this in an interview with Who What Wear. "The research and knowledge behind science-based and doctor-founded brands gives customers the reassurance that they are using targeted and results driven products." The outcome of multitasking skincare-makeup hybrids and the ingredients they boast, from salicylic or amino acids to Vitamin E, is the blurring of lines between both categories. This is especially the case when they also align with respective skincare and beauty trends, such as streamlining your routine and "clean girl" beauty. 
The bodycare boom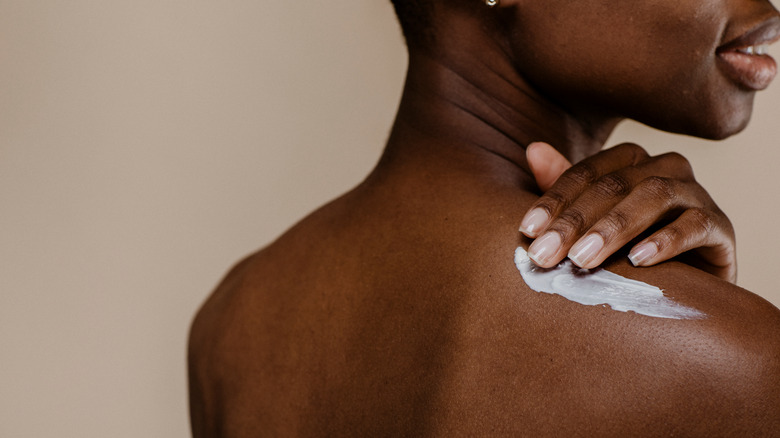 Rawpixel.com/Shutterstock
The body's skin has finally received some long overdue love with the emergence of body care. The body care boom has put a spotlight on the importance of extending skincare practices beyond the face to include the entire body, from hands to feet and everywhere in between. The body's skin differs greatly from facial skin through thickness, sensitivity, oil production, and more, but it can also have specific conditions that need treatment from products with active ingredients.
Using broad-spectrum sunscreen, retinoids, and Vitamin C are effective treatments for body hyperpigmentation, which can arise from various factors like sun damage, inflammation, and hormonal fluctuations. For body acne, applying exfoliants like salicylic acid can help reveal brighter skin through promoting skin cell turnover. Exfoliation with ingredients like lactic or glycolic acid is also helpful for treating keratosis pilaris, a common skin condition entailing small, rough bumps.
Bodycare trends have even surpassed the basics of hydration and exfoliation. In a 2023 beauty forecast, WGSN predicts that consumer priorities – as a result of the pandemic – will, "fuel new product innovations in the hand, nail and foot care categories." Whether it's active ingredients targeting skin conditions on the body or using at-home treatments for nails, there's sure to be further advancements in bodycare that will continue to elevate skincare routines past the face and scented body washes.
Technology as skincare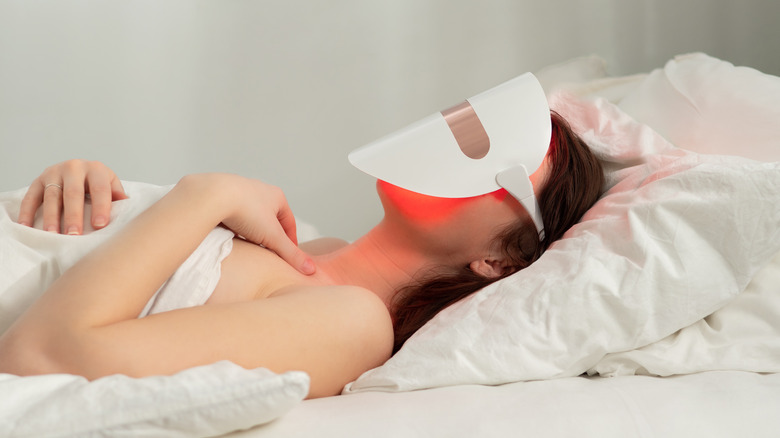 Fascinadora/Shutterstock
While cosmetic surgery has become standard for anti-aging efforts, recent skincare developments have provided an alternative for those who don't want invasive treatments or are looking for more affordable or pain-free choices. Non-invasive treatments like LED facials, skin rejuvenations, as well as "notox" products and devices are a few options aimed at providing the benefits of cosmetic procedures without the actual reality of it.
Radio-frequency skin-tightening treatments, skin-lifting devices, and medical-grade, personalized skincare serums are a few options promising transformative results. LED (light emitting diode) therapy, which is currently one of skincare's buzziest trends, involves exposing the skin to a particular wavelength or color band of light -– typically red or blue light -– for a specific duration of time, during which a biological impact occurs on skin tissue and cells. Botox may be the longstanding go-to for youthful skin, but technology's impact on skincare advancements will only continue to allow for more painless and needle-free recourse through products using innovative technologies and ingredients.
Ingestible skincare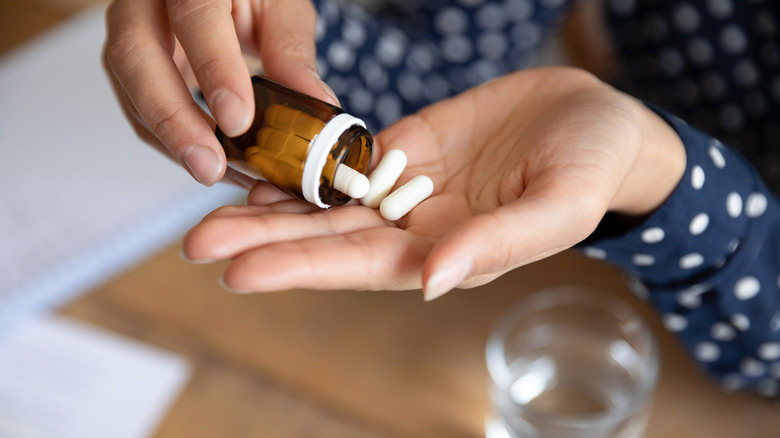 fizkes/Shutterstock
Achieving healthy skin, of course, isn't just about using great products -– it's also massively influenced by other factors like diet, hormones, sleep, stress, and so on. Supporting skin externally through internal means has even inspired another one of summer's beauty trends: oral supplements.
In an interview with Who What Wear, scientist and author of "Your Best Skin" Hannah English shares, "We can only layer so many products on our skin without it freaking out, but we can easily take powders or capsules." While topical skincare products play a vital role in skin health, their effects can be complemented by taking oral supplements designed with skincare benefits in mind. This holistic approach to skincare aims to ensure the skin receives essential vitamins and nutrients from within, enhancing its overall health and appearance.
Skincare routines have the opportunity to be optimized with oral supplements by providing comprehensive support for the skin. However, it's important to be realistic with expectations of these supplements, since the evidentiary requirements for supplements are typically less stringent than for medicine. Just as research into skincare products and ingredients are necessary for curating a skincare regimen, the same should be done when deciding on the right supplements for skin health.