Skinimalism Will Simplify Your Routine, But It Comes With A Price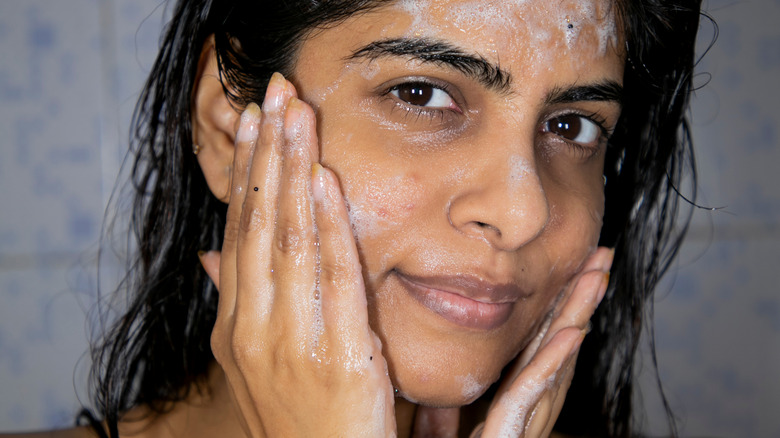 teddclicks/Shutterstock
Did anyone else go through a skincare phase that was so complicated, it required added storage space in our bathrooms — sometimes including small refrigerators — and the organizational skill of a wedding planner? Thanks to the endless influence of social media, many of us fell into morning and night skincare routines that involved 10-plus products, with each bottle, jar, and dropper offering one more way of perfecting our complexions.
But this maximalist approach to skincare came with problems. Not only was it completely overwhelming, it was expensive and often overworked our skin. Dermatologist Dr. Loretta Ciraldo shared her joy with CNN that the end of this era was in sight. "The 10-step skin care routine is definitely waning in popularity, and as a dermatologist I'm very pleased about this," she said. "Not only was it time-consuming and potentially quite expensive, it also introduced a lot of irritants and conflicting formulations into people's skin routines."
In retaliation, the skinimalist trend has taken off, thanks to TikTok influencers and the likes of Hailey Bieber. The trend is exactly what it sounds like. People are using fewer products in their regime — around 3 to 5 items — with the aim of using more efficient, targeted products to take care of their skin. The trend has also impacted makeup, with people using less in order to let their natural beauty shine through. While this has its pros, skinimalism's message of using fewer products that do more isn't as accessible as it claims to be. Here's why.
The accessibility problem of skinimalism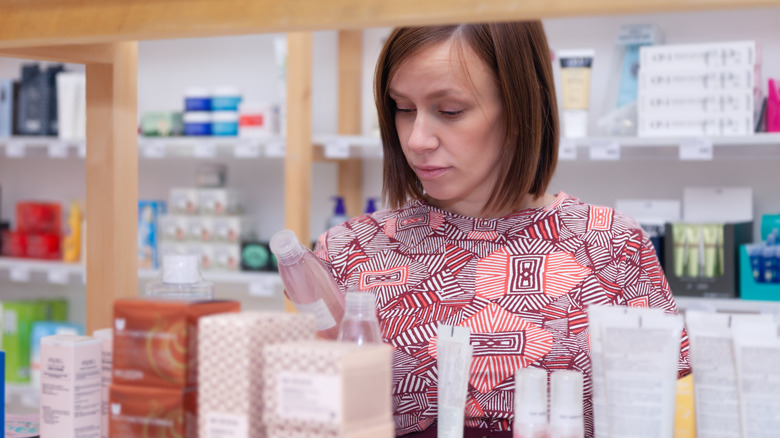 MikroKon/Shutterstock
With more and more people getting sick of the excessive products required in elaborate skin care regimes, skinimalism is becoming more appealing. This makes perfect sense. Dr. Sam Bunting told Vogue why this can be great: "I'm all about simplification and liken my approach to Marie Kondo's — I want a routine that sparks glow!" The mantra of skinimalism is fewer products that do more.
The issue with this trend is that it touts a more economical approach to skincare, but doesn't acknowledge the fact that a pared-down regime can sometimes come with its own expensive price tag. Products that do several things at once can be really pricey. For example, Vogue offered several recommendations on products that could do several things at once. One of the listed suggestions was Vintner's Daughter Active Treatment Essence, which costs $225 a bottle. The magazine also suggested using the Eve Lom Cleansing Balm for $80.
CNN's examination of skinimalism was similar. The eye cream they recommended was SkinCeuticals A.G.E. Eye Complex for $105. They also suggested the Avène RetrinAL 0.1 Intensive Cream, which runs $70 a bottle. While we have no doubt that the products pack a punch, these multipurpose skin care items still hover above a price point that's inaccessible for many users, even if their edited regime requires fewer items.
What should remain in a skinimalist's routine?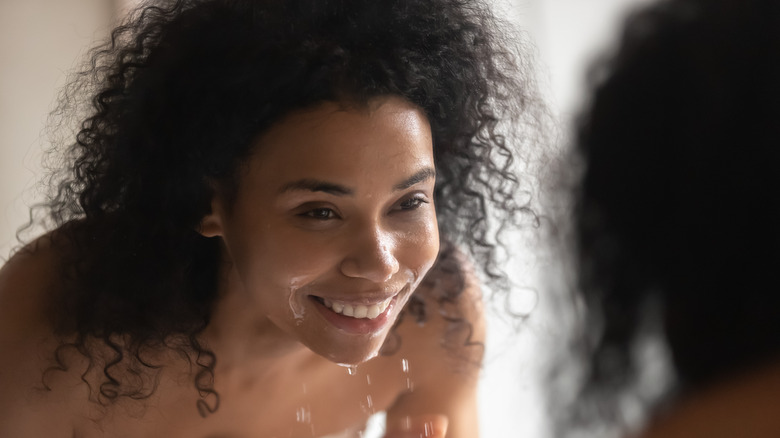 fizkes/Shutterstock
One advantage to the skinimalism trend is that it makes us more aware of what's truly essential to a solid skin care regime. With so many dermatologists talking about it, we've gained some expert information on what's imperative and what isn't. So what should we have in our routine, whether we're practicing skinimalism or not? Esthetician Joanna Czech told CNN what we should be incorporating. Czech said that the must-haves for mornings are a cleanser, antioxidants, a moisturizer, and sun protection. If we want to add to this daytime regime, we can include a toner, eye cream, and/or a serum.
Czech noted that our nighttime routine impacts our skin even more. "Evening is the most important routine because products are up to 60% more effective when the body is at rest," she said, adding that we can use targeted serums and a richer moisturizer.
Facialist Debbie Thomas told Vogue why multi-targeted products can be so good. "When we, as consumers, try and blend several one-ingredient serums to achieve the same result, it is almost impossible," she said. To make matters worse, sometimes the combination of different active ingredients can work against us and cause irritation. Again, the problem is that some of these multipurpose products are simply prohibitively expensive. Vogue suggested the Sisley Phyto-Blanc Le Soin Correcting Brightening Moisturizer, which costs over $290 a bottle. Surely there has to be another way.
Is there a way to make skinimalism accessible to all?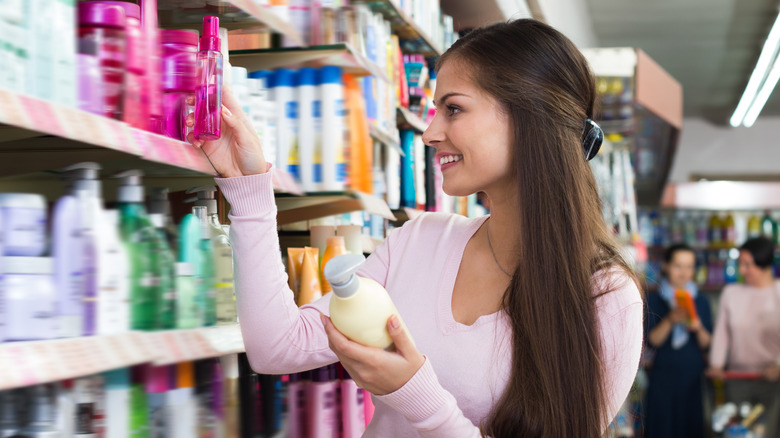 BearFotos/Shutterstock
There are certain ways in which skinimalsim can be more accessible. Vogue pointed out that as people declutter their skincare routines, there's less need to buy multiple products that do similar things — like morning and night moisturizers — therefore reducing cost. It's worth noting too that many of the essentials that Joanna Czech explained to CNN were also available at more economical price points. For instance, the outlet suggested using Farmacy Clearly Clean Makeup Removing Cleansing Balm which costs $22 a jar. Cetaphil Moisturizing Cream, which costs $18.99, is another multipurpose option as an affordable hydrator for both mornings and nights.
Vogue also offered some economical comps, like the drugstore product L'Oréal Paris Revitalift Filler [+ Hyaluronic Acid] Gel Face Wash that hits the $10 mark. If someone wants to add antioxidants, lines like The Ordinary are a great option, with products like their Vitamin C Suspension 23% + HA Spheres 2% costing $7.
While we love aspects of skinimalism — and are eager to tone it down on our morning and night routines — it's imperative to remember that just because these trends tout fewer products does not mean that they're automatically accessible to all. In fact, some of the multipurpose products are just beyond people's price points, and this means that those of us looking for an economical skin care regime have to hunt a little harder.