Serum Foundations Are A Makeup Minimalist's Do-It-All Dream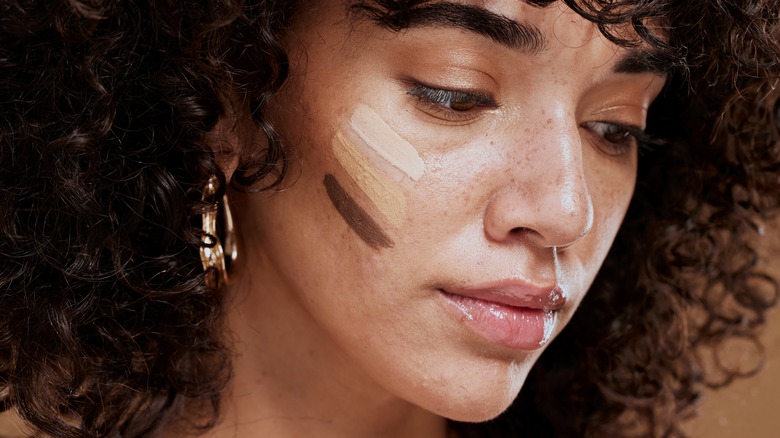 PeopleImages.com - Yuri A/Shutterstock
As technology advances, makeup and skincare products are perhaps more effective and efficient than ever before. Combination is the name of the game — gone are the days of using just one product for one task. Can you imagine? When it comes to modern makeup, brow liners moonlight as lip liners; cheek tints double as lip stains; and eyeshadow can substitute for eyeliner. When it comes to skincare, products have been optimized with complementary ingredients to deliver the best results for a beautiful complexion, depending on your specific needs. It is natural, then, that highly adaptable makeup and skincare products find each other, and that is exactly what foundation serums are all about. 
As the name suggests, foundation serums have the properties of both a traditional foundation and a skin-loving serum, meant to deliver both coverage and care to your face. Think of foundation serums as a step up from a tinted moisturizer; they can include enhanced ingredients for your benefit, such as squalane, for example, which can assist in maintaining a healthy skin barrier when added to your skincare routine. Foundation serums, sometimes referred to as tinted serums, are also generally lighter-weight than tinted moisturizers. And, with more makeup lovers turning to a buoyant base in their makeup routine — the clean makeup aesthetic still reigns supreme — products that focus on skin benefits rather than masking perceived imperfections are perhaps winning the favor amongst two highly selective demographics of beauty lovers.
Benefits of serum foundation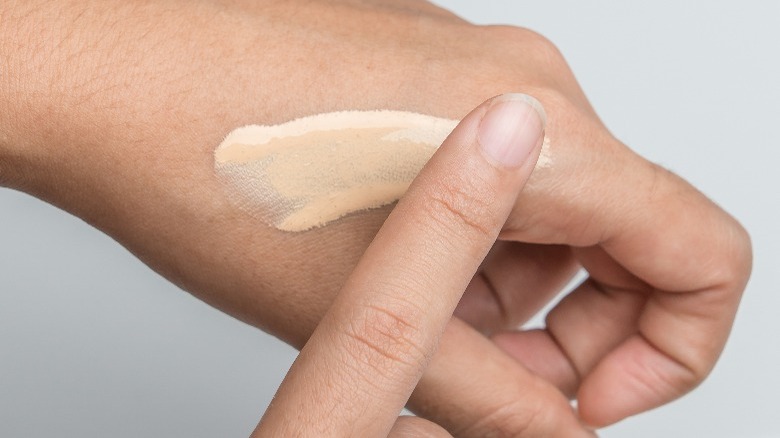 Milante/Getty Images
Products that promise dual action are, of course, appealing. Cutting down on the amount of skincare and makeup products we have can save cash and space on the counter. But when it comes to combining two products with different purposes, you may wonder how effective the product might be at either one. While foundations are meant to even the appearance of your skin, provide coverage, and create a base for your other makeup products, a skincare serum is often used to moisturize and nourish the face. So can a skin serum and foundation work together? 
Depending on your needs, the answer could be absolutely! First, expect foundation serums to be sheer. Should that dewy look do it for you, or, if you want a super natural makeup base, serum foundations might be worth trying. Those with skin that errs on the drier side can also benefit from a foundation serum, as the serum's moisturizing properties could restore and maintain moisture in the face while adding some coverage as a bonus. And while using an oil-based product might intimidate those with oily skin, serum foundations could also work wonders for this demographic, where the skin is perhaps parched, and thus making excess oils as a result.
Foundation serums often include ingredients such as hyaluronic acid, which retains moisture in the skin; niacinamide, which can ease inflammation and boost collagen production; as well as certain vitamins and plant extracts to enhance the skin's overall radiance.
Trying a serum foundation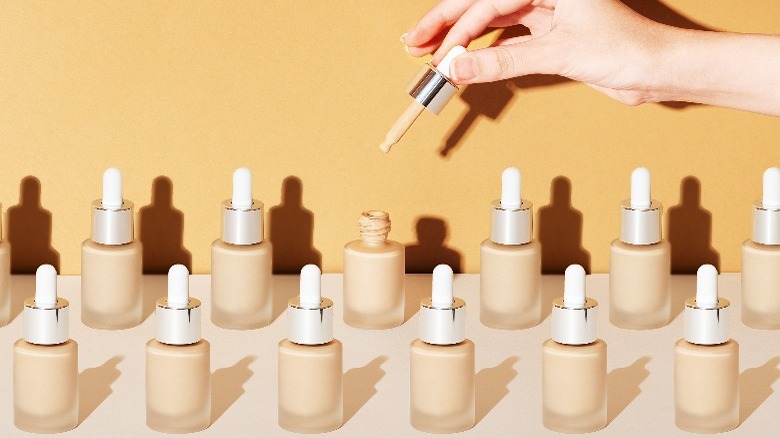 Alice Tsygankova/Shutterstock
But when it comes to trying a foundation serum, there are some considerations to keep in mind. For example, be careful when it comes to mixing serum foundations with your sunscreen. According to renowned esthetician Reneé Rouleau speaking with The Zoe Report, "My concern for a product that uses too much oil, even if it claims that it doesn't leave a greasy feel, is that the oils will dissolve their sunscreen moisturizer underneath," she says. And just because a serum foundation might combine makeup with SPF, another enticing two-for-one deal, does not mean it is as effective as a sunscreen; in fact, you should always wear sunscreen under your makeup base for proper protection. Make sure that your sunscreen has absorbed into the skin before then placing your foundation. When it comes to which sunscreen is better to wear under makeup, mineral sunscreen absorbs faster than its chemical counterpart. 
When it comes to applying a serum foundation, remember to first lightly shake the bottle to recombine the separation of ingredients that might have occurred. Next, using a flat foundation brush — beauty sponges will absorb too much of the highly viscous product — swipe the foundation serum over your face. Then, blend with your hands, or lightly with a beauty sponge.