Mismatched Bridesmaid Dress Trend Promotes Sustainability (A Little Individuality Doesn't Hurt Either)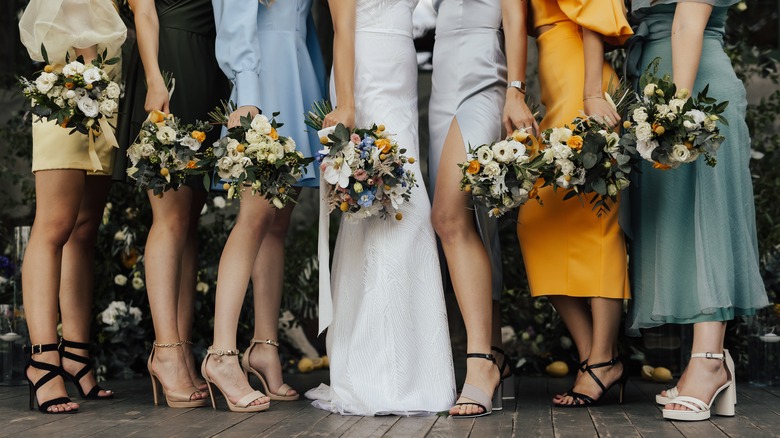 Summer loveee/Shutterstock
It's exciting to work closely with your friend, the bride-to-be, on helping them decide on their special dress, their romantic wedding hairstyle, and the perfect bridesmaid gown for yourself and the whole crew — especially when you share a similar enough taste in color and design. Often, though, it can be a challenge choosing one single dress design and color, as everyone's body shape and tastes are different. This is partly the reason why so many brides are now opting for mismatched dresses. 
Mismatched bridesmaid dresses are a raging hot trend and allow everyone's individuality to shine — and depending on the style or color, it may be easier to visualize individual gowns as having a second life beyond the wedding. They can look more ready-to-wear than traditional gowns, especially if they're a midi length, although floor-length gowns can easily be repurposed as well. Best of all, the mismatched trend may prevent you from having to speak up about a wedding party outfit you hate. 
Traditionally, bridesmaids pay for their own dresses. The Knot says the average dress costs $130, though it can be higher based on where you live and the formal or casual nature of the wedding. Add alterations from $30 to $100, and the cost of shoes, accessories, hair, and makeup all add up to a significant investment. This is why it's ideal to invest in a dress you can wear again or repurpose somehow. And besides, no one wants to thoughtlessly toss more clothes into a landfill.
How to wear your bridesmaid dress post-wedding
There are many ways to repurpose a bridesmaid dress long after the wedding is over. Martha Stewart reminds us that if our gown is a light color and made from a natural fabric, like cotton, silk, or linen, we can dye it. Black or navy are classic cocktail dress colors, which radically alter a bridesmaid vibe. If you want to keep costs down, dye it yourself but make sure to follow directions.
If the neckline is flattering and you love the style but the floor length prevents more casual use, go to a tailor and get it shortened. If the cost is within reach, you can also opt to get it refashioned into separates, or even into a differently shaped dress, like a sleeveless, knee-length sheath. If you have a friend who sews beautifully, recruit them for the mission to help save on costs.
You can also find ways to change up the style of your bridesmaid dress by shopping in your closet. For example, consider pairing it with a fitted suede bomber jacket and statement earrings. You can also pull on a cable knit cashmere sweater, making it look like you're wearing a cool skirt. For an edgy look, pull out those Doc Martens or other chunky boots and see how they pair.
Other ways to repurpose your gown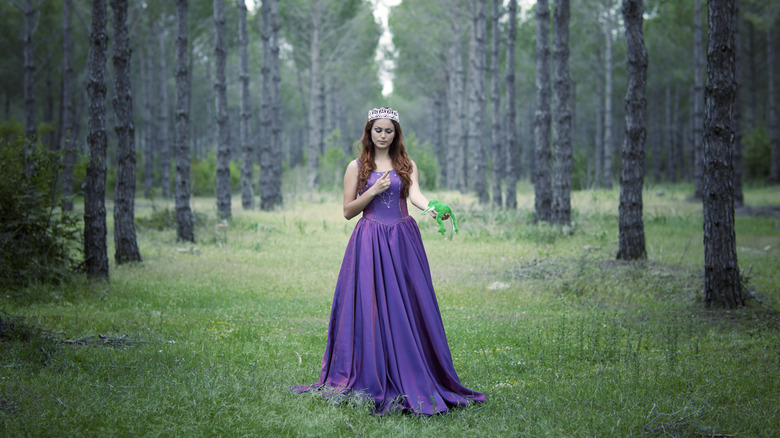 Temizyurek/Getty Images
You may want to consider wearing your bridesmaid dress to another formal event, perhaps as a guest at someone else's wedding — although you may want to check to make sure that the frock adheres to the dress code. If the dress just isn't a good match for your aesthetic or you don't have the time or budget to get it altered, there are plenty of ways to sustainably repurpose it. If you think it would match someone else's taste and it's in great condition, donate it to your favorite thrift shop. You can also sell it on Poshmark or Tradesy.
Gather all your friends who've collected orphaned formalwear that's just, well, tacky, and hold a fake prom. Better yet, if you have any little ones in your family, give the gown to them so they can enjoy it as part of their dress-up collection. If your dress is in Disney princess territory, get a few appropriately over-the-top accessories, like a fake-looking tiara, and use it as a beauty pageant Halloween costume.
If re-wearing your gown is clearly not an option, you can still have fun, especially if you're handy. Use the fabric for pillows or pillow backing. If you crochet or knit, you can create a blanket and back it with the fabric and any bows or embellishments from the dress.