Kim Petras' Sports Illustrated Cover Is Giving Us Joyful Trans Visibility Just In Time For Pride Month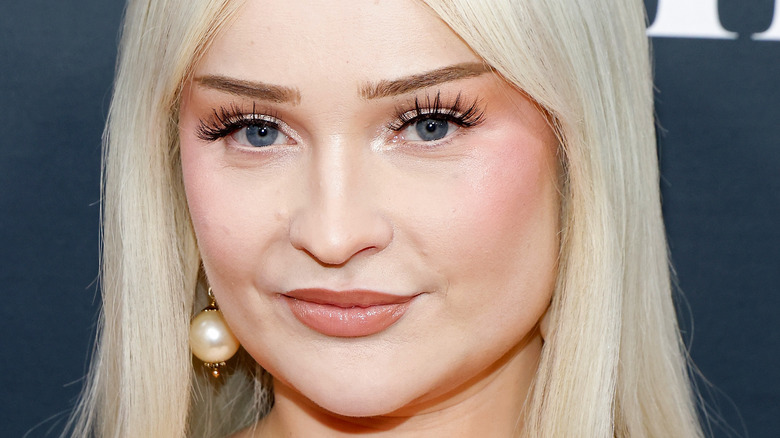 Taylor Hill/Getty Images
We never thought we'd say this about the Sports Illustrated Swimsuit issue, but hats off to them. The infamous franchise, which started in 1964 to supplement the slow off-peak winter months in sports, helped create the now strong connection between sex and sports, and developed its reputation (one promoted by the magazine itself) for "smut." It has done much to perpetuate impossible-to-achieve beauty standards while sexually objectifying women, whether athletes or models. But over the last few years, SI Swim has featured a broader, more diverse, more inclusive selection of models, even on its covers. Its 2023 covers further that goal in a way that gives us joy.
SI Swim has already enjoyed some notoriety this year by featuring 81-year-old Martha Stewart, the oldest model to grace its cover so far. Even the inclusion of Hollywood sex symbol Megan Fox as cover model is progressive this year, as Fox admitted to having body dysmorphic disorder, starting a conversation about the mental condition and who suffers from it. Joining Fox, Stewart, and actor Brooks Nader for the cover is transgender singer Kim Petras. "It's definitely a scary time to be transgender in America," she told SILifestyle, "but there's also so much more representation than there's ever been." It's exciting to see. 
While Petras is not the first trans woman featured on the cover of SI Swim — Leyna Bloom achieved that honor in 2021 — it is still a big deal to see Petras on the cover, and just in time for Pride Month in June.
Kim Petras is delighted to be featured on the Sports Illustrated cover
German-born singer Kim Petras released her first single in 2017, and became the first openly transgender woman to win a Grammy when she performed with Sam Smith — the first nonbinary artist to win — on their 2023 track "Unholy." Now she's gracing the cover of the Sports Illustrated Swimsuit Issue, and she couldn't be more thrilled.
"I was so excited when I got the call to be in Sports Illustrated," Petras told SI Swim. "It's very iconic, and a lot of very iconic people have done it before, so [it was a] big dream come true for me." She said she was nervous about whether she could "pull it off," but the process proved to her that she can do it — in fact, it was very self-assuring. "[Photographer] Yu Tsai and the whole team at Sports Illustrated made me feel really comfortable and like I belonged there," Petras told People. "I had the best time and, honestly, it was a huge confidence boost."
As only the second transgender cover model in SI Swim's 59-year history, Petras knows the pressure to represent her community. She's glad she inspires other trans people, but it's important to recognize that it's not her only quality. "I think what you do is the most important thing, not what your gender is," she told SI. "Everything I do is definitely not about being transgender. It's a part of me, but there's so many other parts of me, and I think that's really important for me to show to people."
Sports Illustrated is making a big statement considering the current culture wars
In today's fraught political environment, with conservative lawmakers waging a culture war and curtailing people's rights, Sports Illustrated is making a big statement with its choice of cover models. Making good on its 2022 promise to grow "from its fun-and-sun roots into a brand focused on inclusion, empowerment, and the constant redefinition of what's beautiful," SI Swim is broadening its perspective, and forcing its readership to do the same. Despite the inevitable backlash it received on Twitter, the magazine is encouraging its mostly cishet male readers to acknowledge that the definition of beauty is changing.
Yes, SI's Swimsuit edition still uses sex to make a profit, and it is ultimately in the business of policing feminine bodies while making them sexual objects. So the question still remains whether sexually objectifying a broader, more inclusive variety of women is in fact "progress." But it's also a big step to acknowledge that SI is at least trying to be more inclusive and standing up (at least on the surface) for trans rights. With state governments passing more transgender bans every day, we appreciate that SI is trying to become, as it stated, a "platform for change." Yes, it still perpetuates the idea that women must be sexy to be accepted, tying their value to their looks. But it also says something that they are again putting a trans woman front and center as an example of beauty, and forcing people to consider that trans women are women, no matter what trolls on Twitter may say.