Underboob-Baring Outfits Are 2023's Latest Trend - Here's How To Join In Without Comprising Comfort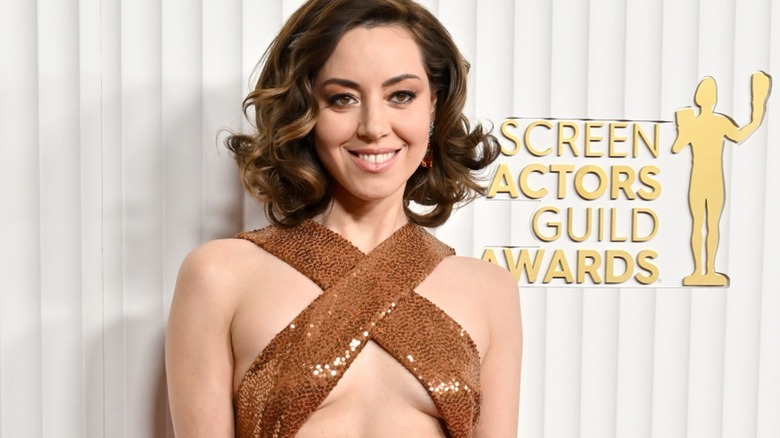 Axelle/bauer-griffin
We may receive a commission on purchases made from links.
It seems that, by every account, 2023 is the year of the boob. Instagram revised its rules about showing uncovered nipples in photos earlier this year; women are finding the benefits of going braless; and now, it seems that underboob is dominating fashion trends. Celebrities such as Emma Watson, Ciara, and Jennifer Lopez have each been spotted flashing some underboob this year. But, as with most trends that celebrate the bodies of women, some derision is to be expected. Fans of Aubrey Plaza projected that the actress was out of her element wearing a sequined Michael Kors dress that featured a bit of underboob to the 2023 Screen Actors Guild Awards, which led her stylist to clarify that the underboob was intentional on Instagram (via People.)
Boobs are beautiful, and if you want to sport some skin, you should do so because it makes you feel good. But, there are some practical considerations to take when wearing a look that features some underboob, to ensure you aren't compromising comfort. 
Styling underboob day-to-day
For the best underboob fit, we recommend choosing tops that are form-fitted. This will both accentuate the underboob and ensure that should you lift your arms up or out, your top will be tight enough to avoid slipping a nip. Wearing bodysuits with a front cut-out are also wonderful for an underboob look, as the bodysuit secures the breasts, while the cut-out allows some boob to peek through. This cut-out, racer-back tank top from Urban Outfitters is a great way to go for it. Form-fitting and featuring a cut-out right in the center of the breasts, this top ensures that all the right areas are covered and exposed. This bodysuit from Los Angeles Apparel also has underboob potential, where the cut-out is shaped to hit just below where the breasts might fall. You can also DIY your own underboob top by taking a tight-fitted t-shirt and cutting it right where your cleavage would fall. 
Perhaps you want to accentuate your underboobs, but without showing too much skin. Investing in an special corset is another fantastic way to get in on the trend in a way that will make you feel comfortable. This underboob corset from Princess Polly will both accentuate the shape of your breasts, and fit your torso for an overall sculpted effect. Underwire tops also achieve a similar effect, like this one from Princess Polly. We love feeling topless, without actually being topless! 
Go for an underboob swimsuit
Another way to test out the risqué trend is with your swimwear. Many swimsuits come with built-in underboob cut-outs, so you can achieve the perfect fit without compromising the skin you show to show. This bikini top from Amazon comes in a range of colors, and features just the right amount of skin with a cut-out. This ribbed bikini top from Zaful features not only an underboob cut-out, but also a sideboob cut out, for when you want that barely-there look. And for those who are sure to love the underboob trend time and time again, this bikini top from Frankie's Bikinis might be a bit of a splurge, but it features a flattering underboob cut-out that will never go out of style. 
The best part about swimsuit tops — or one-piece suits, for that matter — is that you can also wear them as regular tops during the summer months, and nobody will know the difference. This is also a surefire way to stay comfortable, where the absorbent properties of a bathing suit will come in handy. No matter how you choose to do it, flaunting some underboob is almost never a bad idea.