Free Yourself (& Your Breasts) With These Benefits Of Going Braless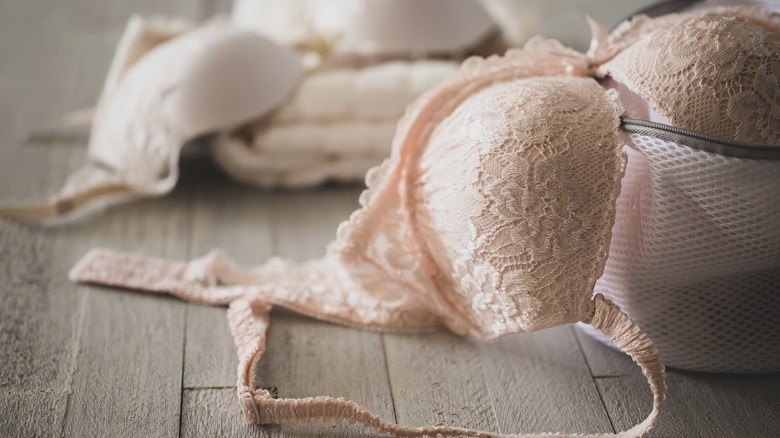 Shironagasukujira/Shutterstock
Bras have a complex history in women's fashion. NPR reports that bras once revolutionized women's dress by replacing the corset. Now, it seems, the garment that once freed women's dress feels inhibitive once again. More and more women are making the choice to simply go braless, perhaps due in part to the pandemic, which saw women either opt out of bras altogether or opt in to more comfortable options. 
This is not the first time that the functionality of the bra has come into question, however. In 1968, around 200 feminists took to the Miss America pageant in Atlantic City to protest women's oppression under the patriarchy. Known as the Miss America protest, women threw away items such as makeup and household items into a "Freedom Trashcan" to symbolize how women were subjected to their gender roles. Bras were one such item that went in the can. It is perhaps no coincidence that women are reclaiming their bodies by going braless, as the United States continues to enforce laws that restrict women's rights to their own bodies, for example, in the form of nationwide abortion bans. But it also doesn't have to be that deep. In the words of Kendall Jenner, speaking to W Magazine in 2016: "I'm weird, I love my tits being out, it's one of my things." No matter the reason, going braless does come with its, well, perks. We've busted out a few of them for you.
The advantages of going braless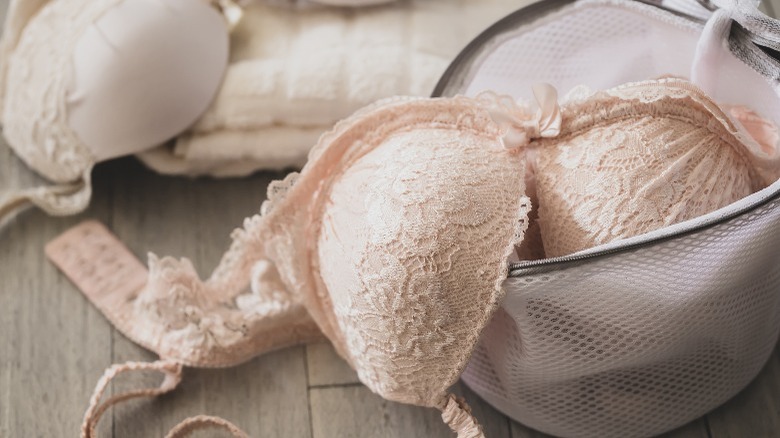 Shironagasukujira/Shutterstock
Aside from being uncomfortable, expensive, and at times no more than a social expectation, wearing a bra could be a missed opportunity to keep your pectoral muscles strong over time. Women with larger breasts can at first experience back pain from the lack of support, potentially compromising their posture. But OB/GYN Dr. Lucky Sekhon tells Well+Good that the body can adapt. "Over time, though, their bodies will adjust and naturally start to support the breast tissue appropriately, without the aid of a bra," she said. While bras might change the appearance of breasts, when your chest muscles are consistently activated, your breasts might actually remain perkier for longer. 
Aside from building your chest muscles, not wearing a bra can also improve the health of your skin. Experts advise washing your bras frequently to wash away sweat that could contribute to clogged pores or rash. 
And perhaps one of the biggest benefits of going braless is having the power to be comfortable in your own skin, without feeling inhibited by a constricting cloth cage. Slinging off your bras, especially those that are ill-fitting and feature tight straps and underwire, can simply allow us to move through the world with greater ease and less pain.
How to go braless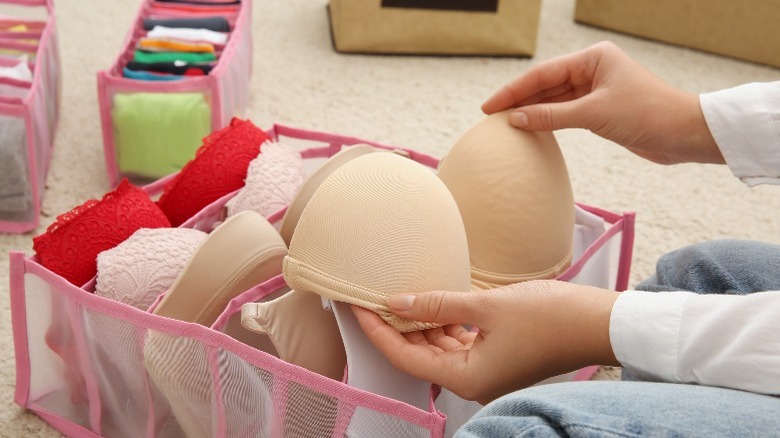 Liudmila Chernetska/Getty Images
There is no doubt about it: Boobs are awesome. Let them be free! Should you be ready to throw your bras to the wind (or ideally donate them when possible), here's how to do it. First, explore alternative bra options. There are still levels to the kind of braless-ness that you can achieve. For those who want the bare minimum coverage, add pasties to your repertoire. For those unfamiliar, pasties are thin rounds of fabric or silicone that stick on your nipples, covering them. They can be single-use or reusable, and come in all different skin tones for your perfect match. The reusable silicone pasties from 100% female-owned and operated brand Gatherall are waterproof, sweatproof, and can be easily washed with mild soap and water. We also appreciate that they are inclusive of multiple skin tones.
Second, for those looking for slightly more coverage and shapeliness than pasties, adhesive bra cups are the center ground between pasties and a full-on bra. Aerie sells a lightly lined adhesive bra, but it does come in just one light skin tone. 
And third, look into garments such as shapewear that can provide some support to your breasts, without having to wear a bra underneath them. A racerback cami from Parade can be worn on its own or layered to provide coverage without the extra straps.