Turns Out Belting Your Favorite Song Isn't Just Fun - It's Legitimately Therapeutic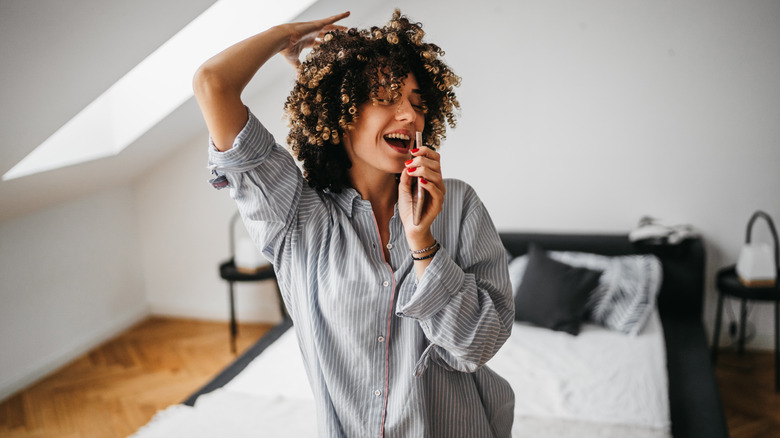 Bojanstory/Getty Images
If you've ever listened to deep club tracks to make it through scouring the bathtub, chamber music while studying, or soaring rock vocals while you're stuck in traffic, you've let yourself be swept up by the healing power of music. It can energize you, calm you, and help you work through frustrating moments.
During the early months of the pandemic lockdown, there were little groups that sprang up across the U.S. to meet privately online. Seeking connection, they gathered on Zoom for online karaoke. Real singing talent was optional and, ultimately, irrelevant; people softened their isolation together and remembered joy by singing sweet, upbeat songs. Healing through song was also the focus of 2019 research from BMJ Supportive & Palliative Care, which took a look at 58 people who had recently lost loved ones. Participants were split into two groups, with one group participating in weekly choir sessions. Results showed that for the choir group, symptoms of depression along with their well-being remained stable, with a marked improvement in their self-esteem and self-efficacy. For the control group, well-being and self-esteem decreased, and depression symptoms increased.
Music has been proven to be therapeutic. According to Pfizer, "Listening to (or making) music increases blood flow to brain regions that generate and control emotions. The limbic system, which is involved in processing emotions and controlling memory, 'lights' up when our ears perceive music." Even if you're way off-key, there's real medicine in singing your favorite song.
Music therapy can be a mood-enhancing game-changer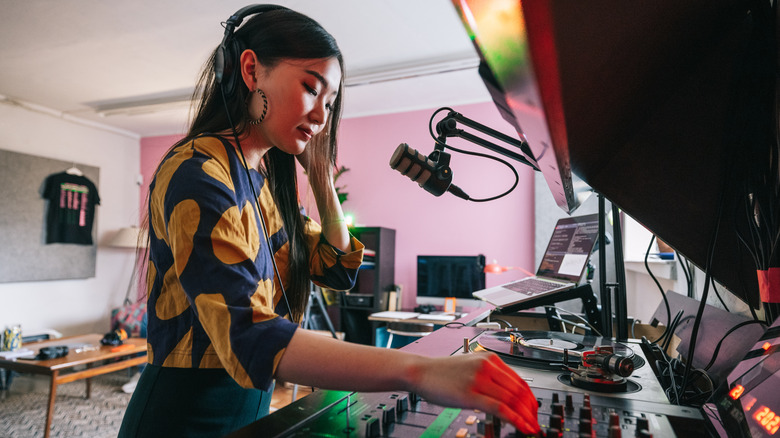 Visualspace/Getty Images
Music therapy propels healing beyond the casual joy of self-administered therapy, like dancing at home or listening to Miley Cyrus' Endless Summer Vacation album (which is a masterclass in reclaiming your story after divorce). It's a goal-oriented therapeutic intervention, and when working with a music therapist, you might spend your sessions singing or playing an instrument, studying lyrics, or listening to certain songs or types of music to help you get in touch with your emotions, per Cleveland Clinic.
The list of benefits is astonishing — music therapy can help ease symptoms of anxiety and depression, alleviate stress, lower blood pressure, and improve coping skills. It can also help people express and release the unexpressible, manage physical pain, and improve sleep quality. 
It's helpful for those who are struggling to cope with trauma, those with substance abuse issues and other mental health disorders, as well as those who have Alzheimer's or Autism Spectrum Disorder. It releases a torrent of dopamine to relieve stress, though professionals advise that it may not be an adequate treatment for mental health disorders and they suggest psychotherapy or additional interventions.
How to use singing and music therapeutically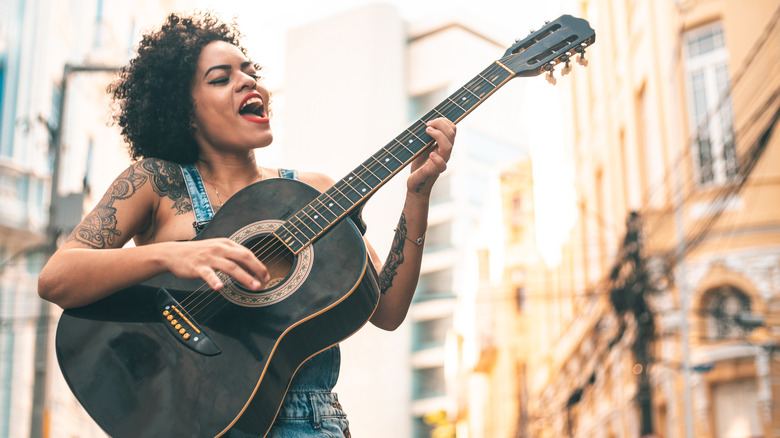 Mesquitafms/Getty Images
If professional music therapy is out of reach, there are things you can do at home to give yourself a therapeutic dose. Respond to your health with sensitivity. Since music can lower blood pressure and help alleviate depression symptoms, take an active role in monitoring how what you hear affects your mood. Notice if a song makes you sad or agitated — and trim that from your playlist.
You can also curate your recordings to deliberately alter your mood. If you're feeling energized or scattered but realize you need to sit down and study, choosing a calm or slow piece can prepare your mental focus. Take suggestions from streaming services to try out new artists and expand your library.
Deena Lynch took at-home music therapy to a new level. In her illuminating TEDx talk, she described how singing, music, and visual art helped her break free from an abusive childhood and a thoroughly inauthentic professional life. She explained, "Mental health in the world I grew up in was never, ever, ever allowed to be processed . . . How did I even get into music in the first place!? I had such a need to release, I didn't even think about imposter syndrome. I started writing songs to take the trauma out from inside my body and place it into another vessel. Art has been the biggest foundation in helping me overcome my complex PTSD."