What Should You Wear To A Restaurant With A Smart Casual Dress Code?
Srdjanpav/Getty Images
Going out to eat at a restaurant is always a nice prospect. When you want a novel experience food and ambiance-wise and don't feel like getting take-out or cooking, the perfect thing to do is step out. Plus, it also gives you a chance to dress up. 
Even though the pandemic and corresponding lockdowns saw everyone embracing sweatpants and t-shirts, things have long started going back to normal and this is true for dining outside as well. For the general manager at Thirteen, a Houston restaurant that opened in March 2021, a dress code is important to go with their establishment's luxurious interiors. "We wanted Thirteen to be a place where people put their best on," Rosea Grady told The New York Times.     
Even with the whole Keisha Lance Bottoms incident of April 2022 — when the former Atlanta mayor was turned away at Capital Grille on account of her leggings, and claims that dress codes leave room for discrimination based on gender, race, religion, etc — restaurant dress codes are still a thing. But they can leave a lot to the imagination. While you might already be well-educated on the trendy office skirt suits you can wear when off the clock, it might also be useful for you to know what to wear when you're considering eating at an establishment that requires smart casual clothing. Here's what it means. 
Smart casual is the sweet spot between casual and business casual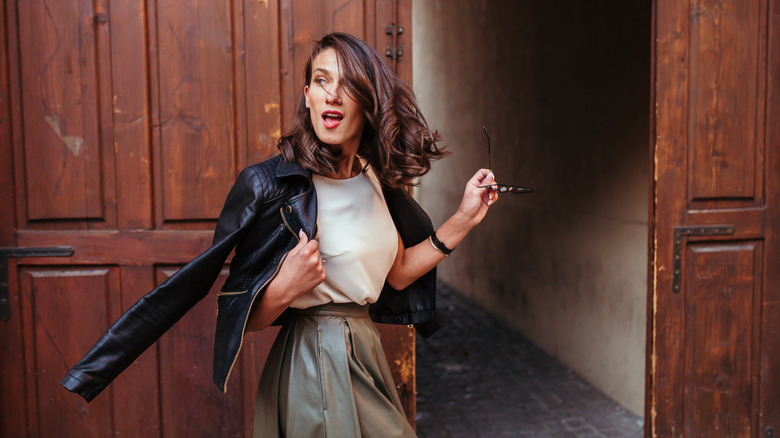 Constantinis/Getty Images
The idea with smart casual is to combine elegant professionalism with something dressy and casual. In other words, it's the combination of business dress code and a casual one. Pairing two different articles of clothing that fit each dress code is always a great trick to accomplish the right look. For instance, you could pair a neat tailored blazer (business) over some dark jeans (casual). Avoid articles of clothing you would never wear in the workplace as a rule of thumb. You don't want to turn up in a t-shirt and jeans but you don't want to overdo things with a full business suit either. 
The term smart casual has actually come a long way since it was first used in the 1920s, and rightly so because what we consider to be professional clothing has changed a lot over the years. According to style expert Lydia Tomlinson, smart casual is a chance for you to "combine style with comfort." Now that we've got the definition out of the way, let's talk about what you can actually wear with this dress code. 
Choose from these options before you head to the restaurant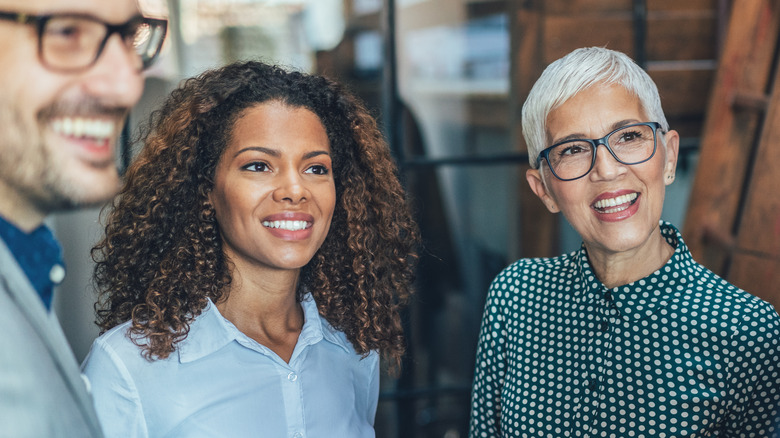 Filadendron/Getty Images
Button-down shirts are a great and versatile option, according to Tomlinson. "[Button-downs] provide a real structure to your outfit and look," she shared. While neutral tones might be preferred, you can opt to wear more colorful or printed pieces, just as long as you make sure the hues aren't too bright or the prints too loud (per Masterclass). Shirt dresses also make a good one-piece number. You can pair it with a jacket if you feel like layering and a professional-looking belted jumpsuit will work fine too.
If you're opting for a two-piece outfit, combining a blazer with the blouse or button-down shirt is also recommended with a smart casual dress code. As for pants, denim is okay as long as it's well-fitted and preferably of a darker shade. Otherwise, choose dress pants or slacks. If skirts are your thing, try pairing a crisp white shirt with a casual-looking pencil skirt to complete the look for your evening out. Keep jewelry to a minimum — one or two simple pieces at the most — to avoid going all out. 
When it comes to footwear, the goal is to steer clear of anything too casual like sneakers or flip-flops. Opt instead for elegant sandals with small heels, brogues, pumps, pointed heels, wedges, or ankle boots. Ballet flats are acceptable too. Loafers and oxfords work well for all genders.