Midi Skirt Suits Will Be Your Favorite Work Look For Summer 2023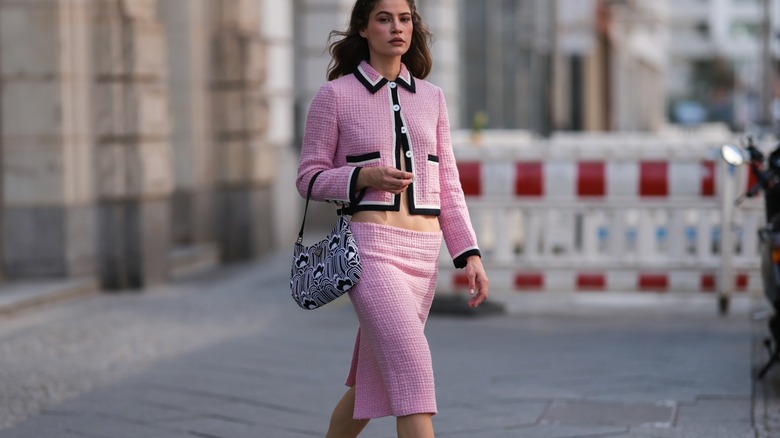 Jeremy Moeller/Getty Images
Midi skirts are often overlooked for being too conventional, which is mostly due to their length. Still, they are the versatile staple your wardrobe needs this summer.
It can be hard to get dressed for work once that scorching summer sun hits, and a midi skirt suit could be the solution to this styling issue. A two-piece suit is an outfit in itself most of the time, which means less hassle for a chic work look. To avoid looking too conventional in a midi length, celebrity stylist Mickey Freeman advises keeping in mind how the clothes work together on your body. "When styling skirts, always remember to opt for one that accentuates your unique silhouette," he shared with Marie Claire, adding, "It is, in most cases, a good idea to choose the garment that elongates, but you also want to consider that the overall look is relatively proportionate."
The great thing about a midi skirt suit is that you can dress it up or down, depending on your place of work and preferences. It's the ultimate summer work look — it keeps you cool and chic, literally.
Make monochrome fun for a work day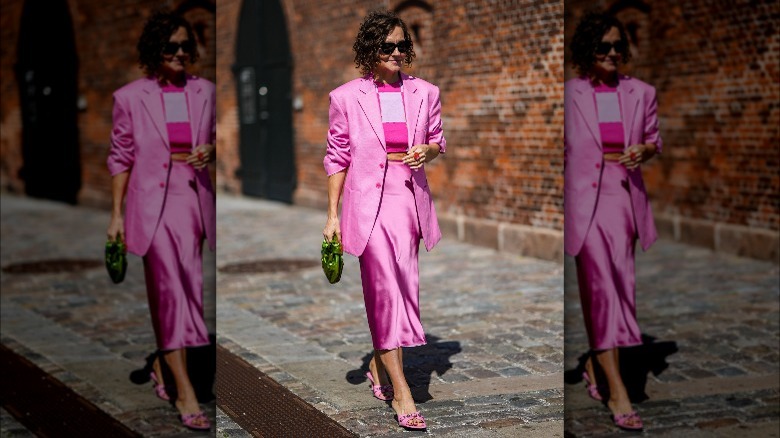 Edward Berthelot/Getty
A midi skirt suit in a bright summer color is all you need for a stylish office-appropriate outfit this summer. If you want the suit to really stand out and be the star of the look, pair it with basics in neutral shades. For the ultimate summer work look, go full monochrome. Pair your colorful suit with a base top in a matching shade and some heeled mules or sandals. Tie the look together by adding accessories in the same color. You can add a complementary shade to create some overall balance; just keep it in the details.
Evoke grunge vibes
A midi skirt suit might sound too conventional for many, but it doesn't have to be; it's all in the silhouette. For a more casual office look, go for a flowy midi skirt and a slightly oversized blazer. These two pieces balance each other out perfectly while creating an interesting look all together. To completely offset the traditional midi skirt feel, opt for a bold shoe like a platform loafer or pump. Any color works here, but for a total grunge office wear feel, do an all-black outfit.
Crop the blazer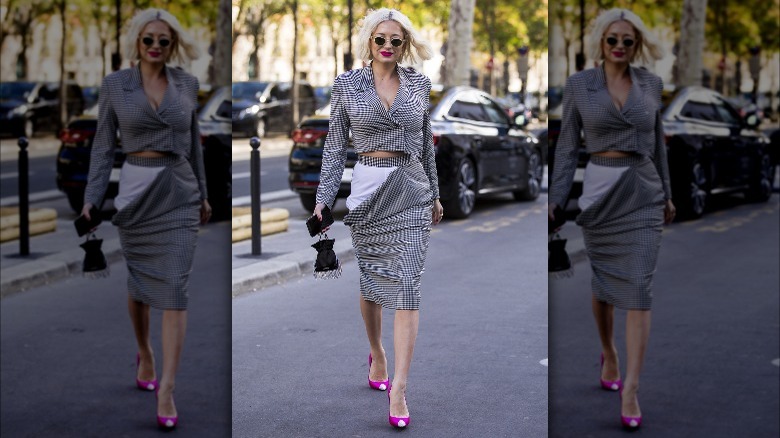 Claudio Lavenia/Getty Images
The beauty of a modern midi skirt suit is how differently it can look depending on the pieces involved. A pencil skirt works any time of the year, and it's the perfect skirt type to pair with a cropped blazer. To get the most out of this pairing, go for a fun color or an interesting pattern overall. This skirt-suit duo is an unmatchable work appropriate outfit, so let it shine. Keep your accessories sleek and functional to complete the look.
Pump up the volume
Full-volume skirts aren't just great on their own; they work so well in a midi skirt suit too. To counterbalance their volume, opt for a slim-fit blazer on top. For a surefire office-appropriate look, stay within the neutral color scheme. Use your accessories to create contrast in the overall look or to simply add a pop of color. Dainty jewelry and pearls will evoke some seriously classy vibes here, but chunky jewelry is also a great choice for that edgy feel.
Mismatch your suit pieces
You don't need to own a skirt suit set to make this trend work; simply pair your favorite midi skirt with a blazer of your own choosing. This styling route might even be the easiest one, as you can pair whatever pieces you already own, and the look can completely change when you swap out just one of them. Neutral shades work best when mixing and matching, as they work well together and are always work-appropriate. For a touch of cool, go for a bag in a fun color and monogrammed pumps.
Go sheer for a romantic twist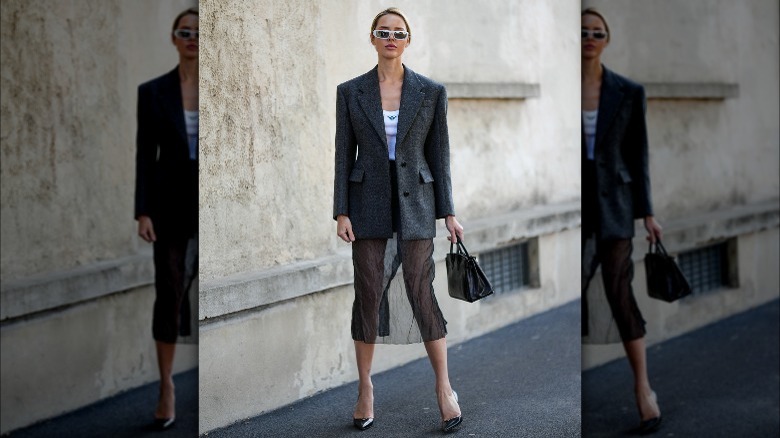 Edward Berthelot/Getty Images
To get in on the sheer skirt trend while staying office-appropriate, incorporate it into your suit look. Make sure you have an underskirt garment of some kind to make the sheer bottom work for your workplace; a mini slip is a great choice as it won't take away from the sheer effect. Pair it with a bold blazer and darker leather accents to balance out the romantic vibes. A simple white tank top as the base piece can be the final touch of cool here.
The unexpected off-the-shoulder blazer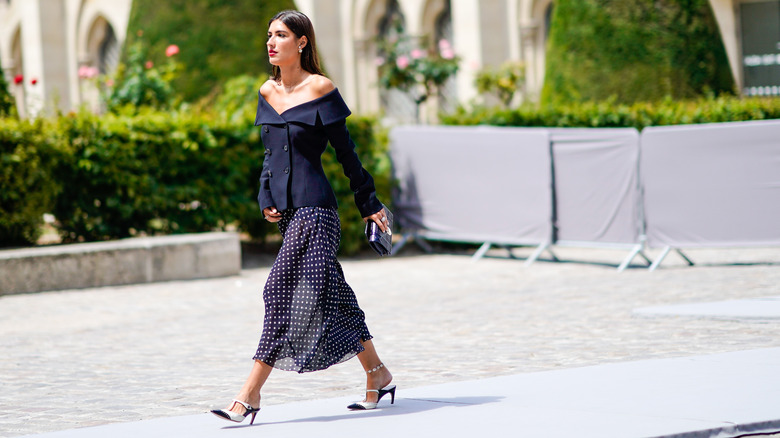 Edward Berthelot/Getty Images
Nothing about a midi skirt suit needs to be bland, and it's still going to be appropriate for any office. Blazers can be constricting in the summer heat, so why not try an off-the-shoulder one? Consider pairing it with a fun skirt to really nail this fashion-forward work look. Go for a flowy or full-volume one to counterbalance the blazer's tight-fitting silhouette. Pumps are coming back in style, and a slingback pump would work wonderfully in this outfit, as would minimal accessories.
Pleats please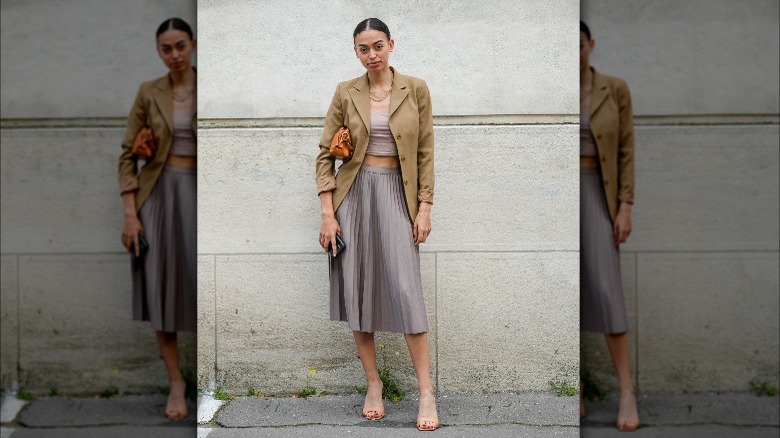 Edward Berthelot/Getty Images
Adding dimension to a midi skirt suit outfit can be as easy as incorporating a pleated skirt into the set. The pleats create enough depth for the rest of the outfit to be as minimal as you wish it to be. Keep it chic by going for pieces in neutral shades like cream and camel. Keep your add-ons tasteful — a dainty necklace and a pair of clear heels will round out this work look perfectly. However, if you're looking for some edge, opt for chunky jewelry and a pair of bold leather shoes.
An office appropriate slit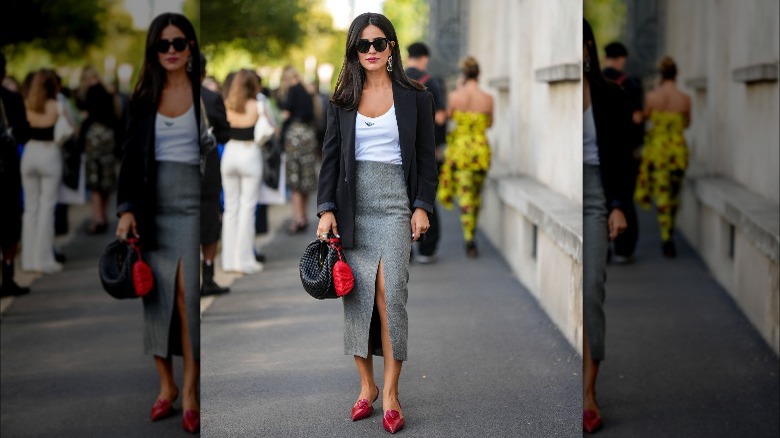 Edward Berthelot/Getty Images
Add a fun twist to your office wear by going for a midi skirt with a slit. The slit will add an interesting touch to your midi skirt suit look while still being appropriate. For a more casual approach, make your base piece a baby tee or a tank top, and if your workplace has stricter dress codes, go for a ruffle-neck blouse. Accessories are key here, so use them to add a touch of cool or a pop of color to the overall look. Statement earrings and chunky rings are great jewelry choices.
Add a dash of denim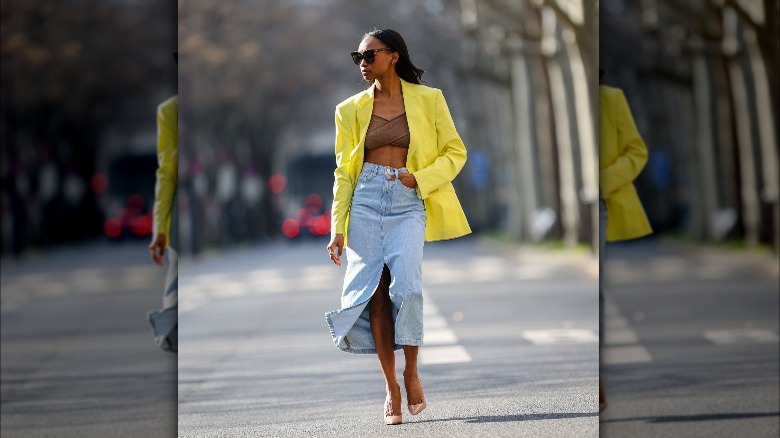 Edward Berthelot/Getty
Denim can be more than just casual wear, which you'll see if you pair your midi denim skirt with a blazer for the ultimate summer work look. Add a white blouse or a neutral-toned top as your base piece, depending on the dress code rules at your office. Opt for pumps and a larger shoulder bag regardless, as these will elevate the outfit to business level. Jewelry can be either dainty or bold, but try to keep it in the gold or silver range for an elegant feel.