Our Best Tips On How To Brighten Your Undereyes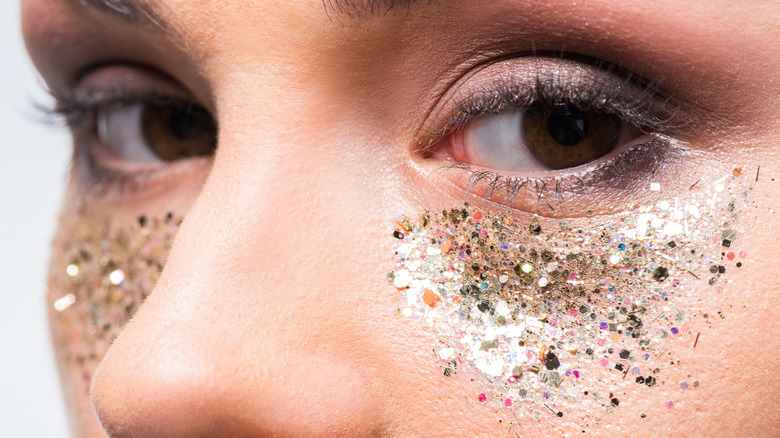 LightField Studios/Shutterstock
There are a number of reasons dark circles can develop under the eyes. Whether it be a lack of sleep, medical reasons, or simply not using the right skincare products. "Dark circles can be caused by multiple different factors," Dr. Maryam Zamani, oculoplastic surgeon, aesthetic doctor, and the creator of MZ Skin, confirmed to Glamour UK.
But once those dark circles (known in the medical world as periorbital hyperpigmentation) have developed, it can be almost impossible to know how to actually help brighten the area again. Some concealers can be too thick and ashy to help, creasing under the eye because of how much is needed to camouflage. Then some skincare products can be super expensive but seem to make no difference at all. It's important to remember there's absolutely nothing wrong with dark circles, and one of the best ways to move forward with them is to just go on and embrace them. But, equally, we totally get it if you do want to brighten your undereyes, so we're sharing some of our favorite tips with you to try and keep those undereyes looking nice and bright.
Get the right skincare products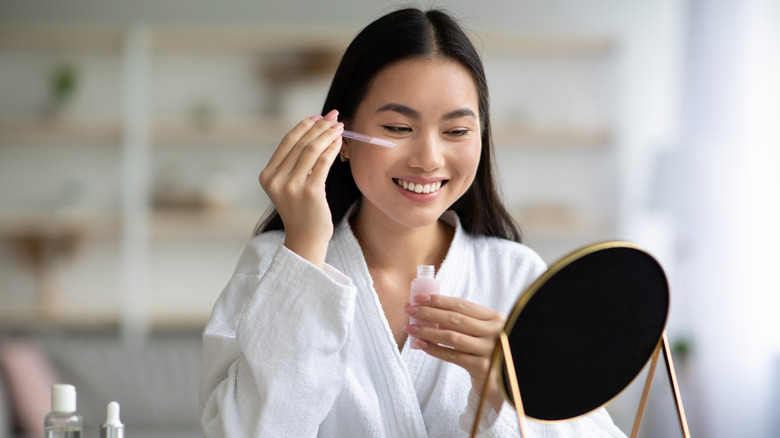 Prostock-studio/Shutterstock
If you're worried about your undereye area being dark and dull, choosing skincare products specifically designed to brighten the skin is a good way to go. As dermatologist Dr. Emma Craythorne explained to British Vogue, tretinoin and azelaic acid can be great eye cream ingredients for those looking for a brightening effect. "Tretinoin has the best evidence behind it — with continued use (for about a year), you see increased cell turnover; cue brightening of the skin and a reduction in wrinkles," she said. "Azelaic acid is also brilliant at brightening, if used in strength at [5%]."
When used correctly, retinol can also have its uses under the eye. "A retinol eye serum is necessary to help stabilize melanocytes (the pigment-forming cells in skin that contribute to dark circles) in order to prevent hyperpigmentation," clinical facialist Kate Kerr told Glamour UK. And vitamins are equally important when it comes to your undereye skincare. "I always recommend a serum that's rich in vitamin C for clients with dark circles," Kerr noted. "It offers powerful antioxidant protection that fights free-radical damage caused by stress, which can result in hyperpigmentation." 
Just remember though, no matter what the eye product or the ingredients in it, there's only so much an eye cream can actually do for you. When putting anything around your sensitive eye area, it's always worth doing a patch test to try to sidestep any potential irritation.
And ensure you're getting enough sleep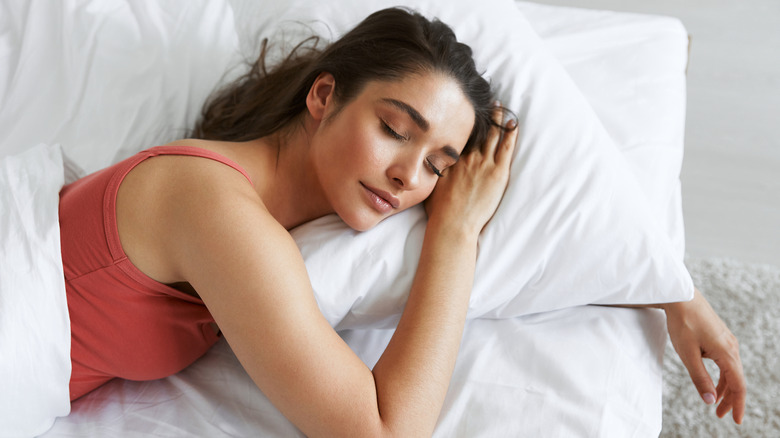 G-stockstudio/Getty Images
One of the most well-known causes of dark undereye circles is not getting enough sleep. There's a reason you may need a little more concealer after a late night. "Sleep and rest allows our body to detoxify and rejuvenate, and this is important for the periorbital area. Dark circles can be more prominent with lack of sleep because the skin has not had time to re-set and the blood vessels in the lower eyelid become more dilated," Dr. Maryam Zamani explained to Glamour UK. Dr. Chris Winter, a sleep neurologist, also revealed how not getting enough Z's can affect your undereye area in a negative way. He told Sleep.com, "When an individual does not sleep enough, it creates vasodilatation and increased blood flow. When the vessels under the eyes dilate, it creates the dark bluish color under the eyes."
So how much sleep should we actually be getting for optimum health and brighter undereyes? The National Institutes of Health recommends adults should get between seven and nine hours of shut-eye every night.
Try color correcting before applying concealer
Of course, another way to get that undereye area nice and bright is to use makeup. One of the best things you can do for dark under eyes is to color-correct them before going in with a concealer, as this will work to offset the dark purples, blues, and even greens some people have under their eyes. "You can't use just a foundation over really dark circles as it will show up ashy. A corrector uses color theory to cancel out the tones of pigmentation or bruised eyes so you can conceal on top," makeup artist Maria Asadi explained to Vogue India.
For dark circles, you want to go for the opposite color to the shade under your eyes on the color wheel, which for most people will be shades like peach, oranges, or yellows. And be careful when you're applying it, as no one wants to look like they have orange splodges under their eyes! "The key is to apply it only where there is darkness, so that you don't see the orange hue," Quinn Murphy, a celebrity makeup artist, added to Real Simple. That means being a little more selective about where you apply it compared to something like concealer or foundation.
And make sure you get the right shade of concealer to counteract dark circles
When it comes to applying your concealer after color correcting, Ross Andrewartha, International Trainer for Illamasqua, suggested to Cosmopolitan UK to go for something that has a peachy undertone. "This will erase any blue undertones you may have under your eye area," he explained. Equally, makeup artist Bobbi Brown recommended picking a shade that's either one or two shades lighter than your foundation. That will help to give the illusion of the skin under the eye being lighter and brighter.
It's as much about the application too. Though it's tempting to only put the concealer in a crescent moon shape under the eyes directly over the dark circles, taking it down further on the face will create an overall brighter effect. To do that, create more of a V-shape under each eye using your concealer and then blend it out. 
For another layer of added brightness? "Set the undereyes with a brightening powder ... for added radiance," makeup artist Lynsey Alexander advised British Vogue. Brightening powders tend to look white but will actually settle on the skin translucent. Be careful with any powders that are skin colored though, particularly if you have a light skin tone, as they can actually end up darkening or dulling down the undereye rather than brightening it.
Or surgery may be an option if you want more dramatic results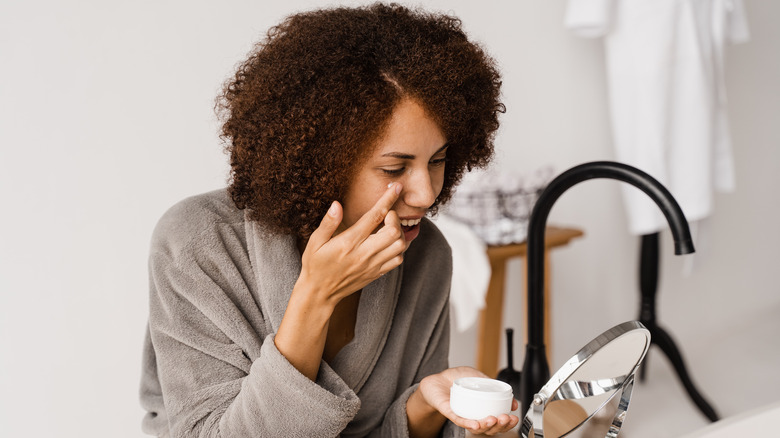 Rabizo/Getty Images
Another way to brighten the undereye area is to try certain procedures designed to eliminate dark circles. Dr. Maryam Zamani, an aesthetic doctor, told British Vogue that tear trough filler, an injectable treatment that puts hyaluronic acid back into the area, can help a lot of people experiencing dark circles. "One of the most common reasons for dark circles is loss of volume in the periorbital area," Dr. Zamani explained to British Vogue. "As we age, the eyelid-cheek junction becomes elongated, and where this junction was once confluent in youth, it becomes demarcated, giving the appearance of dark lower eyelids or tear troughs." However, it's worth noting tear trough filler only lasts around a year (so will need follow-up treatments for a longer-lasting result) and it can be pretty pricey, with the average procedure under both eyes costing somewhere between $684 and $1,500. 
Laser treatments may also help those with dark circles. Aesthetic surgeon Dr. Costas Papageorgiou told British Vogue that having a large number of visible veins and capillaries under the eye can also lead to dark circles. According to Dr. Papageorgiou, this treatment gives particularly good results when combined with filler. As with any procedure though, it's imperative you carefully research the side effects, if you're likely to get the best results (as those with very dark circles may not be a candidate for this one), and the best doctor to visit before booking appointments.