Velvet Isn't Just For Holidays Anymore - How To Style The Biggest Texture Trend Of 2023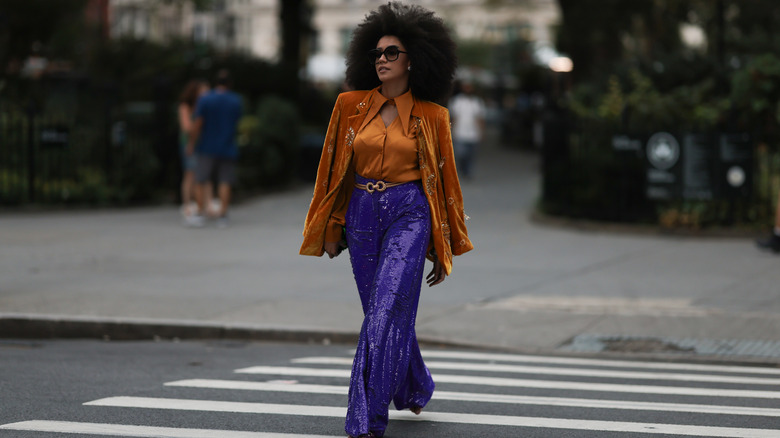 Jeremy Moeller/Getty Images
Summer may be over, but we're still in luck — it's officially the season of velvet. While we've seen a slow introduction to velvety styles like the velvet crop short hair trend, velvet clothing sets itself apart by adding a quiet luxury to our wardrobes. According to fashion historian Dr. Kimberly Chrisman-Campbell, velvet has long been admired for its high-brow manufacturing and maximalist origins. "Velvet is traditionally made of silk and is a very complex, labor-intensive weave," she told Marie Claire, emphasizing its role as a status symbol for the rich.
Recently, we've experienced a rise in maximalist fashion and how it can act as a status symbol for wealthy customers. With its roots tracing back to approximately 2000 BC, velvet became a historically expensive fabric that only upper-class customers could access and afford. While history may have a tendency to repeat itself, however, velvet has become more accessible overtime. Throughout time, the fabric has been mutated, refined, and tailored to fit most anyone.
More importantly, velvet isn't just for the holiday season anymore. You can sport a velvet look on your way to work, at the bar, or on a first date. We've rounded up multiple ways to style, layer, and enhance the timeless look to ensure anyone who sees you in velvet does a double-take. With these tips in mind, you'll be sure to bring the velvet trend back.
Velvet skirt with turtleneck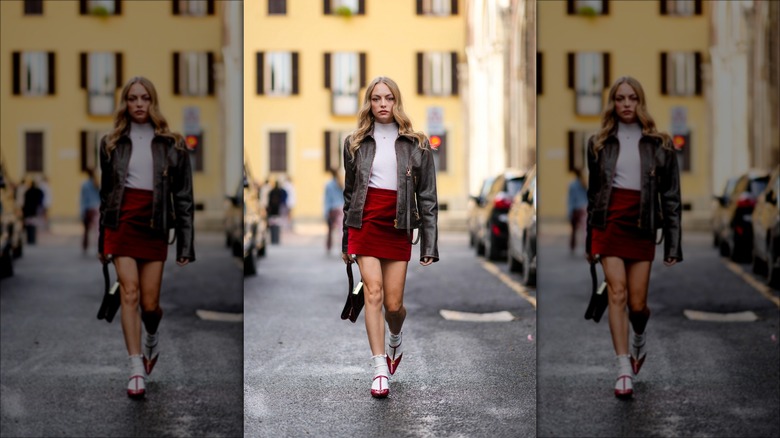 Edward Berthelot/Getty Images
It's nearly impossible to go wrong with this classic look. For starters, find your favorite turtleneck or neutral-toned bodysuit that ideally stretches past your torso. Tuck or button the shirt before styling a mid-length velvet skirt on top. To enhance the look even further, use a chunky belt to secure the skirt in place and naturally add a centerpiece to your 'fit. The velvet skirt look can also be done with primary colors, as velvet helps significant patterns stand out. "Velvet's three-dimensional structure gives colors high saturation," Chrisman-Campbell explained.
Pair with velvet gloves
A little bit of accessorizing goes a long way. Velvet gloves are a perfect way to spice up any outfit, especially one that incorporates velvet in its details. Evening gloves can be daunting, though — they can help ease you into a day-to-night look, but knowing how to style the accessory is essential. Per CorneliaJames, velvet gloves look great with lace, satin, and tuxedo dresses, especially if you're considering what to wear for a holiday or cocktail party. Depending on the length and style of your dress, you'll be able to decide which velvet glove looks and feels best. For example, a black mid-length lace dress may call for elbow-length velvety black gloves. On the other hand, a white dress with maroon detailing may require a darker shade to accentuate the look. Velvet gloves offer an easy introduction to the fabric without the pressure of wearing them all night.
Corduroy layering jacket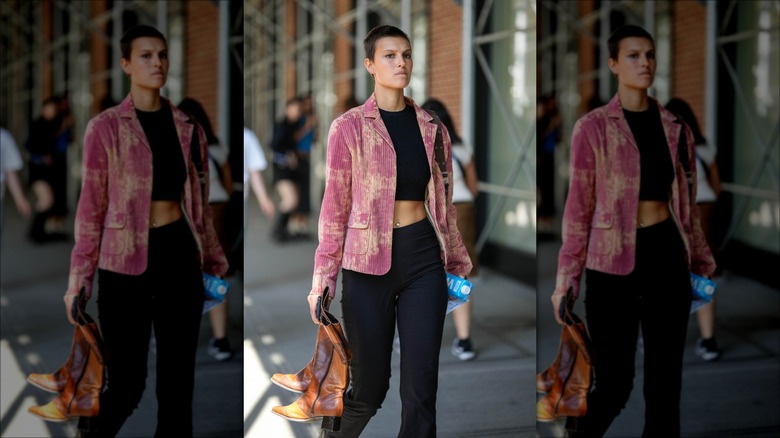 Edward Berthelot/Getty Images
Speaking of accessorizing, corduroy velvet jackets will never go out of style. Fall is the perfect season for experimenting with corduroy jackets, since they're perfect for layering and staying warm without overheating. The best way to style corduroy jackets is by pairing them with long pants, whether that's jeans or leggings (they both look great!) and a pair of chunky boots. Wear a thin, neutral-toned top under to ensure the jacket stands out as the outfit's centerpiece. To go from day-to-night, tie a corduroy jacket around your waist during the day before putting it on at night. You can also drape the jacket over your shoulders, wear it like a shawl, or cuff the sleeves for a bit more luxury.
Midi velvet button dress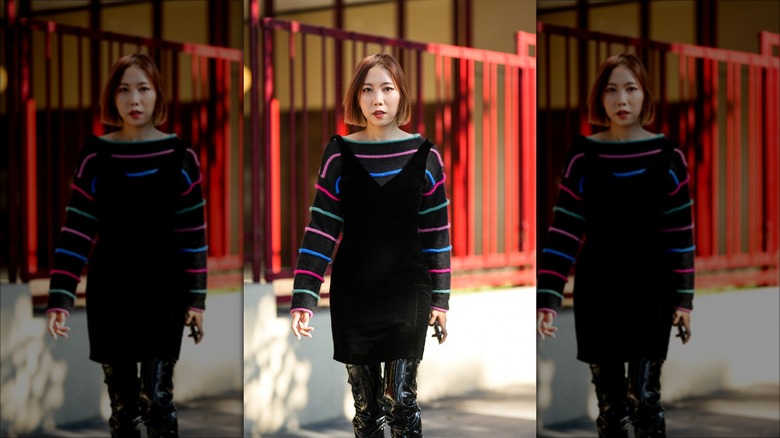 Edward Berthelot/Getty Images
According to senior content strategist at WGSN Sofia Martellini, mid-length velvet dresses might be at the forefront of velvet's comeback, since it perfectly captures the essence of velvet clothing. "We've noticed a growing interest in fabrics and materials that offer tactility, with textures and surfaces that have a sensorial quality," she told MarieClaire, explaining the tangible role clothing and fabric play in our lives. These mid-length velvet dresses are perfect for a stroll in the park, dinner and a night out, or a small gathering of friends. While there's no specific way to style the dress itself, midi buttoned dresses look great when paired with transparent or knitted leggings. If the velvet dress is sleeveless, wearing a full sleeved shirt of your choice underneath can help enhance the neutral color(s). Finish off by adding a pearl necklace to the look.
Half-sleeved peplum tops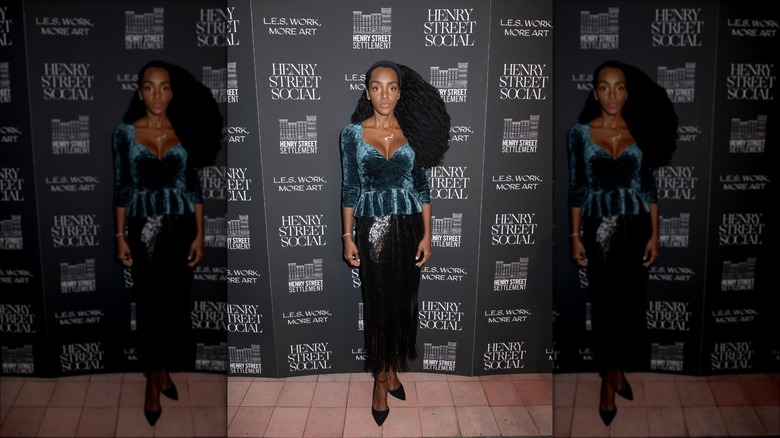 Arturo Holmes/Getty Images
One of the more recent yet classiest ways to style velvet — peplum tops. Peplum tops offer a unique cut which cinches at the top while flaring down to the waist. Per Harper's Bazaar, these tops must be styled properly to achieve best results and lengthen your silhouette. To get started, choose a wide-leg pant or loose skirt to compliment the velvet fabric while flattering your cinched waist. Once you've settled on a pair of pants and a peplum top, throw on an accentuating blazer or trophy jacket to finish off the look. Pair the velvety outfit with a set of hoop earrings, and you're ready to hit the town.
Wide-leg pants with crop top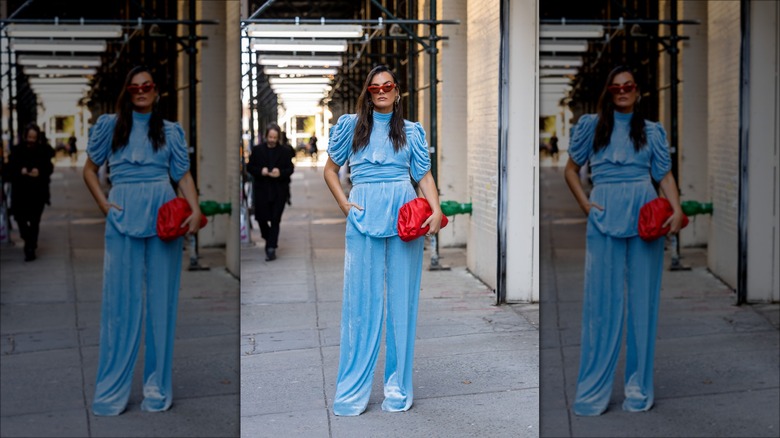 Christian Vierig/Getty Images
Believe it or not, pants can be velvet, elastic, and comfortable, all at once. Wide-leg velvet pants are one of the more popular ways for young people to style velvet, with jewel tones standing out as some of the most flattering shades. Rather than pairing your favorite crop tops with a simple pair of jeans, try a wide-leg velvet pant for fall. The soft and shiny fabric immediately adds sophistication to any look, whether that's with a neutral-toned crop top or oversized shirt (you can even go monochrome like the model above). For most t-shirt looks, wear the pants high-waisted to ensure you're getting the most out of this classic look. Pair them with a chunky boot, sneakers, or even socks with sandals, and you're set.