The Velvet Crop Is The Latest Short Hair Trend Of 2023
Samir Hussein/Getty Images
If you've been paying attention, then you know that 2023 was packed with a lot of really fun trends. While Y2K fashion still dominated in some ways, personal, bold style was really big this year. For example, who's ever going to forget Julia Fox who, despite being a fashion industry outsider, literally blew minds every time she walked out of her Manhattan apartment in 2023? A lot of people won't, whether or not they wish they could. 
Among the unforgettable trends and trendsetters of 2023 is Florence Pugh. Since her breakup with Zach Braff, this woman has been all over the place with her style and a lot of it has been showcased in her hair, putting her at the forefront of short hair trends this year. Every time Pugh showed up to an event, she had a new hairstyle, each one was just as gorgeous and fun as the last.
One of those styles was what became known as the velvet crop. It's short, low-maintenance, and true to its name, looks like a mop of velvet piled up on the wearer's head. It's, for lack of a better word, luscious and very reminiscent of the "suedehead" style of the 1970s and 1980s, as hair stylist and trend forecaster Tom Smith told Stylist. If you're still unsure of what hair trend you want to get in on before year's end, consider buzzing and dyeing your locks.
What is the velvet crop?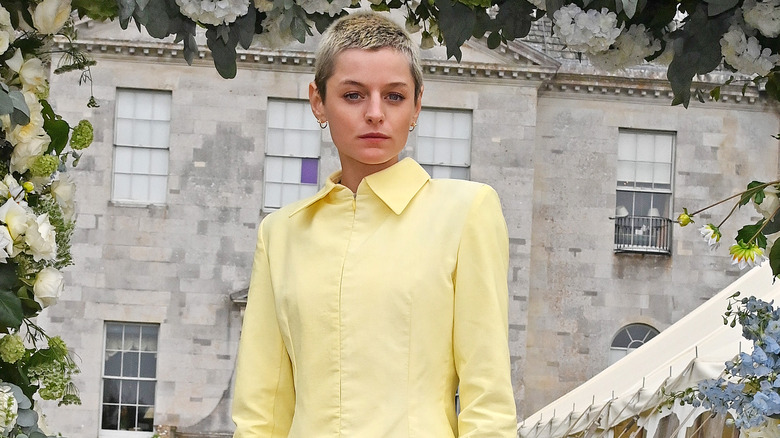 Dave Benett/Getty Images
Essentially, the velvet crop is for the very brave. Although it's not technically a marine-style buzzcut, it's not much longer. In fact, it's still shorter than the iconic pixie that Mia Farrow made famous in "Rosemary's Baby."
"The velvet crop is a bit longer than a traditional buzz cut; it is a perfect transitional look for growing a buzzcut out in a flattering way, or a bold option for those wanting to make a statement and cut a lot of hair off," hair stylist and trend forecaster Tom Smith told Byrdie. "It can feel really liberating!"
The velvet part of this crop is created by "color placement to further enhance the look," Smith told Fashions Finest. It's the combination of the natural texture of such a short cut and perfectly placed color that gives the velvet crop its velvet — or modern-day suedehead its suede. Because of this, you don't want to try this at home. This isn't to say you won't give yourself a fun dyed crop, but it might be missing the velvet component.
How to ask your stylist for a velvet crop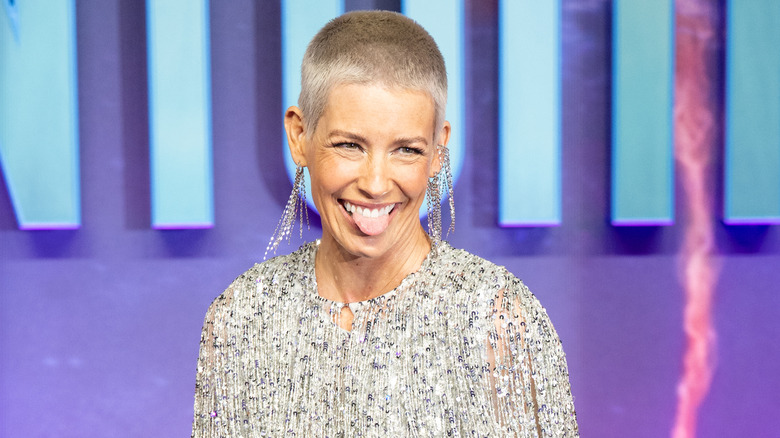 Samir Hussein/Getty Images
Although it would be nice if you could roll into your hair stylist's and ask for "The Pugh," that's going to be a little vague considering she's already had about a dozen different hairstyles this year. Instead — and a photo is going to help here — ask for a buzzcut that's not entirely buzzed because you need some depth for the color to do its thing. To get this crop, your stylist is going to use the clippers to do a lot of the work, then scissors to soften the look, hairstylist Ricardo Dinis told PureWow. The original buzzcut is pretty severe, after all.
"After the cut, choose a custom shade to paint on and make it extra personal," hairstylist Howard Reyes told Allure. Although Pugh and Emma Corrin have opted for yellow and/or orange tones, and Evangeline Lilly has gone for silver, that doesn't mean you can't go for a bold hot pink or turquoise. It's your hair and your own unique style, so make it your own. Et voilà! From this point on, upkeep is just going to involve regular trims so you don't lose the shape or color of your new 'do.