The 5 Best Primers For Dry Skin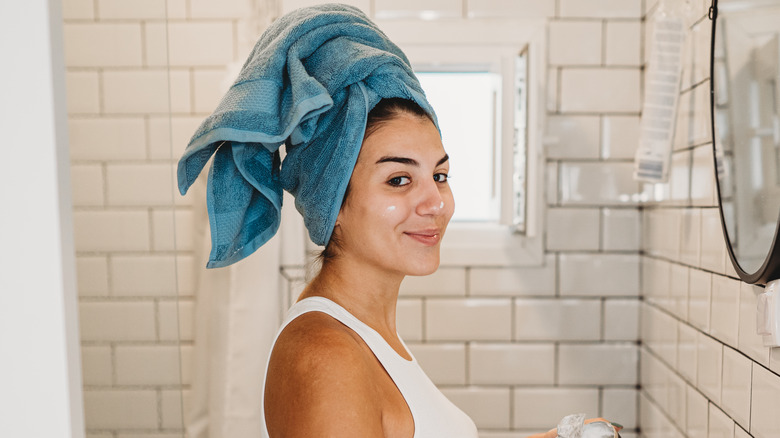 Nikola Stojadinovic/Getty Images
Many makeup users are well aware of the importance of using a good primer. Along with creating a smooth base for foundation and powder to stick to, the right primer ensures your look lasts all day. But the product isn't exactly one-size-fits all. It's important to choose the right primer for your skin type, because that can affect how the makeup actually sits on your skin. If you have oily skin, for instance, you likely need a mattifying primer that can keep moisture at bay and prevent makeup from spreading.
However, if you have dry skin, it's best to look for a primer that's going to provide extra moisture underneath your foundation. Makeup artist Lindsey Trop told Byrdie, "Hydrating primers are ideal for dry skin, especially those that have skincare ingredients like hyaluronic acid and antioxidants. Avoid using a silicone-based primer if you're of this skin type, as it could 'pill' over dry skin." With all of this in mind, let's take a gander at the best primers on the market for dry skin. 
How we chose these 5 primers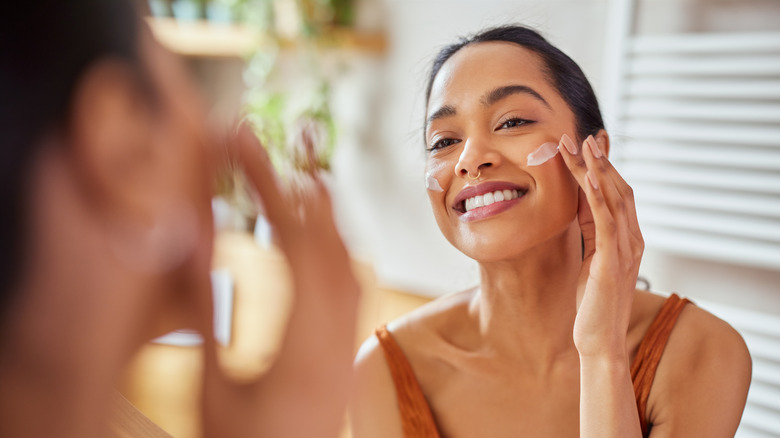 Ridofranz/Getty Images
To curate our list of the best primers for dry skin, we combed through numerous shopper reviews across social media and beauty supply websites, including Sephora, Ulta Beauty, and Glossier. In an effort to narrow our selections, we stuck solely to primers with water-based formulas, as numerous makeup experts claim they are traditionally better for dry skin types. When deciding on which specific to include, we stuck with products that received positive reviews for their hydrating power and their success as a foundation primer. After all, we're interested in primers that produced results; if we only needed hydration, we'd stick to moisturizers. 
We also exclusively selected from brands that are well established in the beauty and skincare industry, with commitments to sustainability and inclusivity. Once we narrowed our choices down in this way, we looked to online customer reviews for honest details about how the product worked. Each product we sourced had hundreds or thousands of customer reviews. Lastly, we curated our list to be economically comprehensive; there are some slightly higher end choices and some affordable options; some of these primers can be purchased from makeup counters and multi-brand retailers, like Sephora or Net-A-Porter, while others can be scooped up at the drug store. So no matter the budget, anyone with dry skin can choose the best hydrating primer for them. 
The beloved Estée Lauder Watery Glow Primer
Fans of the Estée Lauder Futurist Aqua Brilliance Watery Glow Primer swear by the product's ability to deliver ample hydration without making skin feel greasy or oily. The
 primer retails for $44 from Net-A-Porter and Sephora, and promises to leave skin looking luminous and glowing. This primer features ion-charged water and hyaluronic acid for added moisture that's specifically formulated for dry skin. This primer targets dryness so that your makeup goes on flawlessly. Makeup artist Morgan Leigh told makeup.com: "I'd recommend water-based over silicone-based for people who have drier, thirstier skin as silicone will always be more mattifying, which will accentuate dryness." This primer also features glycerin, which is a key component for primers because it hydrates and helps foundation adhere more easily. In a clinical study from Sephora, 95% of the panelists saw an increase in moisture and 100% of the panelists saw an increase in radiance.
The Fenty Beauty Pro Filt'r Hydrating Primer
Fenty's Hydrating Longwear foundation is a cult favorite for those with dry skin, so it makes sense the brand also offers a primer curated specifically for those with dry skin. Priced at $36 dollars, the Fenty Beauty Pro Filt'r Hydrating Primer is advertised as offering lightweight hydration and a supple skin texture for easier makeup application. The primer is formulated with grape seed oil and sodium hyaluronate , noncomedogenic ingredients that hydrate without clogging pores.Fenty founder Rihanna said of this primer, "I made this hydrating primer for all my dry skin people, and for when my skin is feeling extra thirsty." 
Plus, it gets rave reviews from customers. "I live in Canada, where the winters are very dry. [T]his can cause my makeup to be flakey and cracked. [T]his primer helps so much ! [I]t's a must-have and favorite," one customer wrote on the Sephora website. "The best hydrating primer I have ever used. Makes you feel refreshed and moisturized," another wrote. The primer was actually made for normal to dry skin, so even just for winter months, this could be a great choice to enjoy some much-needed moisture. 
The e.l.f. Cosmetics Power Grip Primer
There's a reason why the E.L.F. brand has been a favorite among drugstore makeup fans, and part of that is its primer. The e.l.f. Cosmetics Power Grip Primer holds makeup in place, for a flawless finish, and it hydrates your skin while it's at it. The primer retails for $10 from Ulta Beauty, and this cheap and cheerful wonder is a favorite for a reason. It's gel-based, so the hydration it offers doesn't leave our skin feeling oily and it's packed with hyaluronic acid, which is perfect for dry skin types. 
In the reviews, customers claim it's an exact dupe for the Milk Hydro Grip Primer, another favorite for those with dry skin at a higher price point. Everyone loved both the cost and the hydration from this e.l.f. Cosmetics primer. "Such a great product for an affordable price. So hydrating and keeps the makeup on," one person wrote in the Ulta Beauty reviews. Another added, "I have drryyyy skin, acne prone skin, and just difficult skin. This baby did its job. Not going to lie. It held on and made my skin look better with my makeup (AYEE AYE AYE)... The girls that get, get it. So you should GET IT." That is a quality review! 
The Glossier Priming Moisturizer
A primer that can do several things at once is guaranteed to be a hit, which is why the Glossier Priming Moisturizer made the cut for this list. Along with hydrating the sin, this priming moisturizer promises to minimize the appearance of pores and evens out the skin's texture. Plus, it retails for $24, so it's not at a prohibitive price point. This can-do primer is a great choice, because it reduces the amount of steps one has to incorporate in a glam routine. Makeup artist Lindsey Trop told Byrdie why these types of primers are awesome. "When I work with clients, I sometimes try to minimize the number of products needed, so I use a primer that acts as an all-in-one: hydrator, smoother, and illuminator," Trop said. 
The Glossier Priming Moisturizer comes pretty close to checking off our list. It's loaded with hyaluronic acid as well as glycerin, so we know it's going to get the job done as a primer. The reviews are super positive. "I love this priming moisturizer," one person began on the Glossier website. "It layers well and keeps your face feeling hydrated all day." Another added, "[L]eaves my skin feeling so smooth & perfectly hydrated... the best base before makeup or on its own!" Sounds good to us! 
The Laura Mercier Pure Canvas Primer for dry skin
Since silicone-based primers serve oily skin best, this Laura Mercier Pure Canvas Primer that's silicone-free is going to be a favorite for those with dry skin. This water-based primer retails for $47 from Sephora, and is infused with olive extract so that the skin is both plumped and smoothed before applying the makeup base. It also has Marine Hydra Botanicals, to repair and protect the skin's moisture barrier, so it's giving us added benefits. And of course, it has glycerin to give us that much-needed grip to make foundation stay put. Best of all, in a consumer study provided by Sephora, customers said that the primer felt light-weight as well as protective, so we don't have to compromise comfort for hydration. 
The reviews for this beloved product were very positive. "Great primer if you want to keep your skin hydrated under makeup! Have been using for years," one person wrote. "If you have dry skin, try it. It's seriously a game changer. My makeup looks FLAWLESS on top of this," another added. Heck. That sounds like the confirmation we need.