Dark, Vampy Lips Are The Fall 2023 Makeup Look Of The Moment - Our Favorite Shades To Try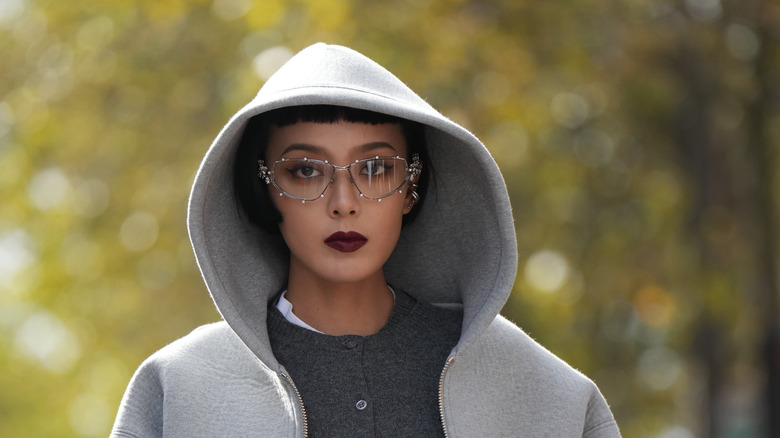 Edward Berthelot/Getty Images
We may receive a commission on purchases made from links.
While there really are no rules when it comes to lip colors, fall and winter are the classic seasons for sporting rich, dark lips. After months of sporting glossy nudes all summer, a striking shade of blood red, dark brown, or purple offers the seductive and sultry vibes we're looking for when its chilly outside.
If you've ever thought of dark lips as too intimidating or loud, now is your chance to give the look a try. The cherry mocha makeup trend is hotter than ever, and the vampy lip works perfectly in this aesthetic. Our focus is on thick, dark lipliners, chocolate glosses, and burgundies, deep blood reds, purples, and blacks for lip colors. It's all meant to be very sultry. The best part about the vampy lip is that there's flexibility with it, depending on your skin tone and your mood. If you want to step into black tones, go for it. If your comfort zone is more in the realm of dark plum washes, then experiment that way. It's a gorgeous look with a lot of adaptations.
The vampy version of '90s dark lipliner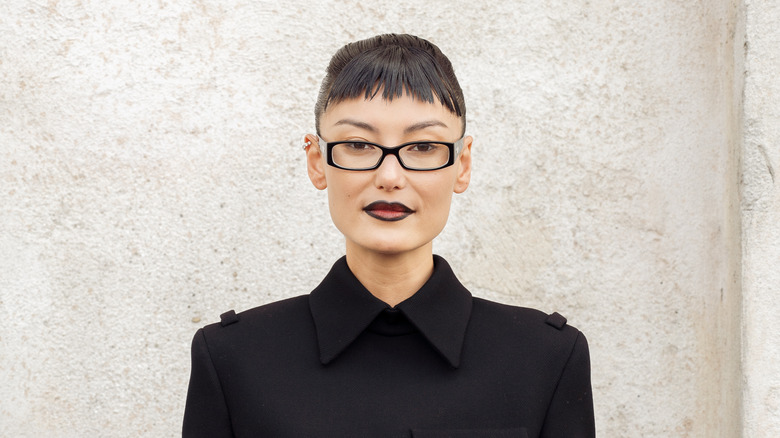 Raimonda Kulikauskiene/Getty Images
Since the '90s lipliner trend is happening right now, there's never a better time to experiment with darker colors, like black. The NYX Line Loud Vegan Longwear Lip Liner in Evil Genius can be used to achieve this look. The look is meant to be playful, so lean into an ombre lip by pairing your black liner with a rich, carmine lipstick like Tom Ford's Impassioned lipstick in burgundy, which retails for $60. The warm center softens the darkly defined edges. 
The blood red lip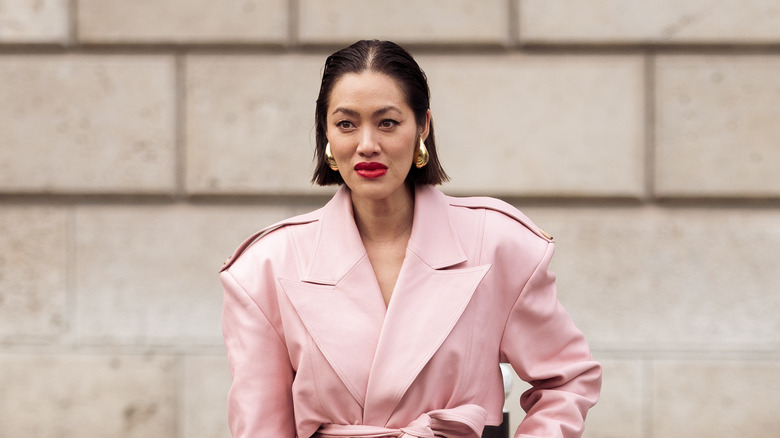 Raimonda Kulikauskiene/Getty Images
There's nothing more seductive than an unapologetically crimson lip in the fall. Lean into sultry old Hollywood vibes by opting for a deep red with some blue tint in it, like Sisley Paris Phyto-Rouge Shine Lipstick in Sheer Chili. Since this is a loud color, you can keep the rest of your makeup simple by wearing classic black, liquid liner on your eyes. As for the outfit, oversized, gold earrings, and an unconventional leather trench coat, is just right for the cool girl vibes of this makeup.
A deep burgundy lip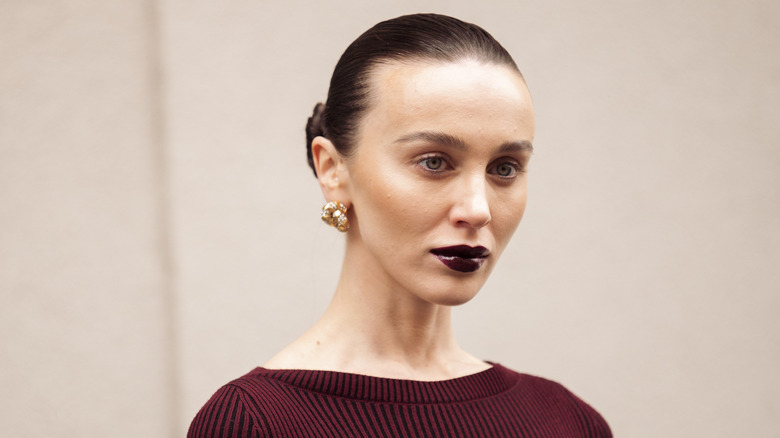 Raimonda Kulikauskiene/Getty Images
A deep, burgundy lip is a perfect way to play around with a goth lip without committing to full black lipstick. This intense, earthy shade is dramatic and just slightly spooky, capturing the vibe of autumn perfectly. We typically expect burgundy and brown-tone lipsticks to be styled in a matte texture, but adding gloss to this tone makes it that much more glamorous. Gucci has a great option in their Rouge à Lèvres Satin lipstick in the shade Burgundy, which retails for $42. Keep the rest of the makeup polished, yet neutral. Rocking a slicked back hair is another way to showcase the lip. Opt for a tonal top to keep in the spirit of this dramatic shade. 
A rich, scarlet lip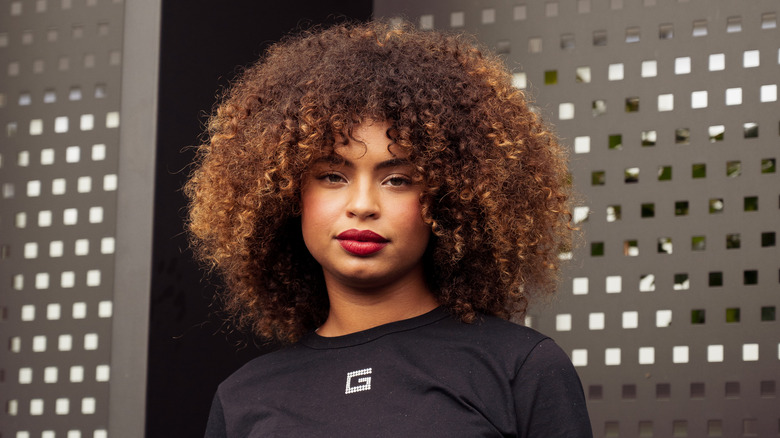 Raimonda Kulikauskiene/Getty Images
This might be the easiest version of the vampy lip to wear, because the scarlet tone of the lipstick is so warm. Less daring, the lip color is lovely and sumptuous. It's perfect for fall too, because of its evocative conjuring of red candy apples and holiday festivities. This is a great example of staying within one's comfort zone in the vampy lip trend. One's lip color doesn't have to be dramatically dark to still achieve a bold, fall look. Estée Lauder's Pure Color Creme Lipstick in Pretty Vain for $36 is a great choice. Line the lips in an earthier brown tone to ground the color.
A glossy, purple lip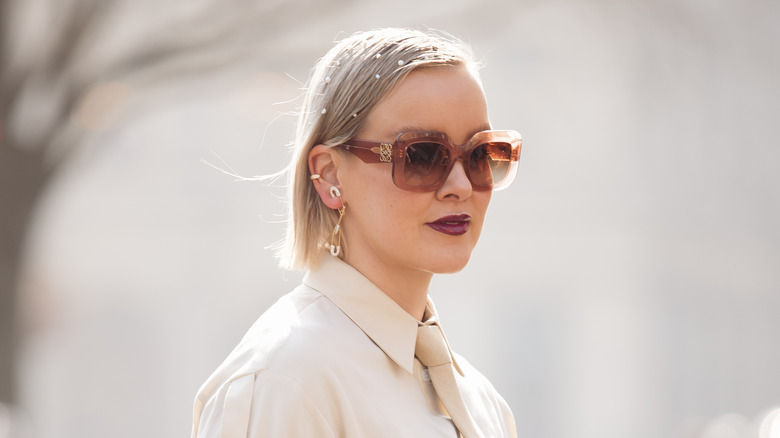 Raimonda Kulikauskiene/Getty Images
The vampy lip trend includes rich tones in plums and berries. It's such a great choice for fall, because many of these tones run on the cool side, offering a more dramatic finish than their warmer counterparts. Charlotte Tilbury's Matte Revolution Lipstick in Berry Red for $36 is a spot-on way to nail this look. Meanwhile, the Rare Beauty Soft Pinch Tinted Lip Oil in Muted Berry for $20 can add a layer of shine over your lipstick, or as a solo product if you want something more subtle. 
The nearly-black purple lip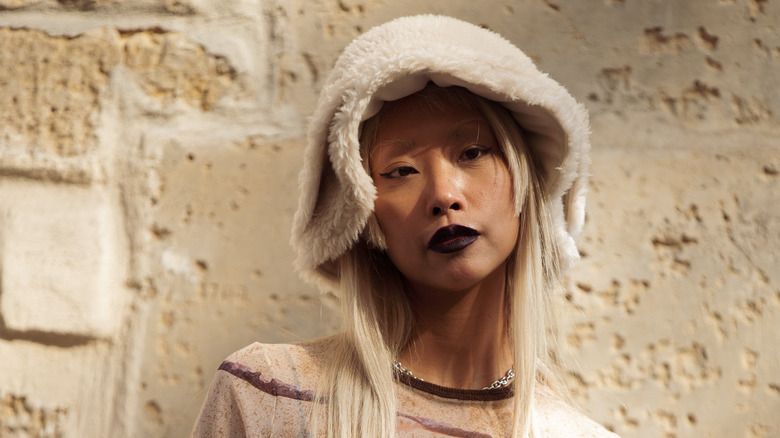 Raimonda Kulikauskiene/Getty Images
Perhaps the crowning glory of the vampy look is the nearly-black lip. And sure, you can go fully onyx if you want that level of drama. However, you can still achieve a deeply dramatic look by overlining with an extremely dark purple tone or burgundy tone, depending on your proclivity. This is a gorgeous, statement lip and can stand on its own next to light, polished makeup. Huda Beauty's Power Bullet Matte Lipstick in Masquerade for $27 is amazing. Pat McGrath's MatteTrance Lipstick in Deep Burgundy for $39 is another amazing way to achieve this almost-black finish.