Cystic Acne Needs More Than Just OTC Treatments - Here's What To Know
22Images Studio/Shutterstock
There's no denying that all acne is not created equal, but one of the most stubborn and difficult types to deal with is cystic acne. Unlike regular or mild acne vulgaris, which may consist of a few blackheads and bumps, cystic acne embeds oil and dead skin cells underneath the skin.As a result, these clogged pores become enlarged and can lead to scarring, irritation, and inflammation. According to dermatologist Dr. Omer Ibrahim, "These focal areas of intense inflammation end up eating away at the collagen and eventually leading to scarring," he explained to The Today Show, emphasizing the difference between cystic and general acne. 
Although there are a number of over-the-counter (OTC) treatments for acne, as well as natural remedies like taking a cold shower, managing and eliminating cystic acne requires more TLC. Unlike blackheads, whiteheads, and pimples, cystic acne develops under the surface of the skin through causes like hormonal changes, genetics, diet, and even some medications. This means that many over-the-counterr treatments, like acne gels and creams may be ineffective at producing lasting results.
On the other hand, moving beyond standard treatments for acne like creams and serums can help you effectively target stubborn cystic acne. We've rounded up the best solutions to cystic acne to ensure your skin is smooth in no time.
Cortisone shots can help swelling and inflammation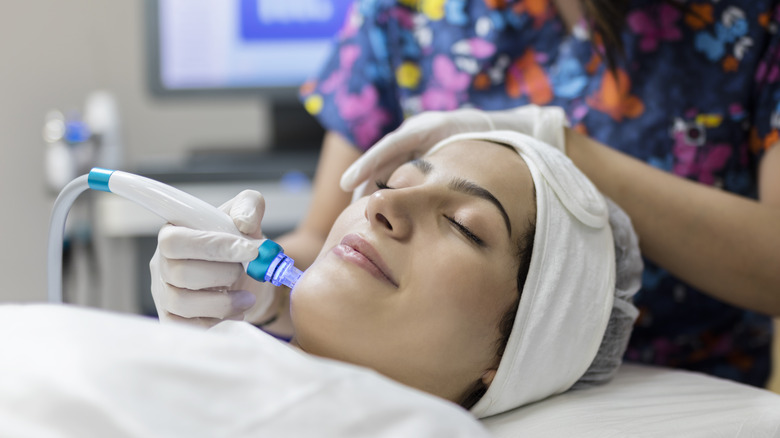 Guvendemir/Getty Images
Cystic acne is often associated with swelling and inflammation — cortisone is the solution. According to VeryWell Health, cortisone shots can work quickly and effectively at minimizing painful cysts that form as a result of cystic acne. This is because the corticosteroid hormone decreases the body's natural inflammatory response, thereby minimizing swelling on the skin. Once the treatment is injected, blemishes soften, fade, and flatten. While they won't go away completely and right away, the injection will cause a significant reduction to cystic acne.
Cortisone shots work best for inflamed pimples that can't heal from over-the-counter products. Typically, cortisone shots are a great option for patients with large or deep acne nodules (or cysts) because of its ability to shrink skin tissue. If you have acne scars from previous conditions like keloids, psoriasis, and hypertrophic scars, cortisone shots could address the issues better than something topical. The procedure may cause slight irritation to the skin, but the results are well worth it.
Oral contraceptives for acne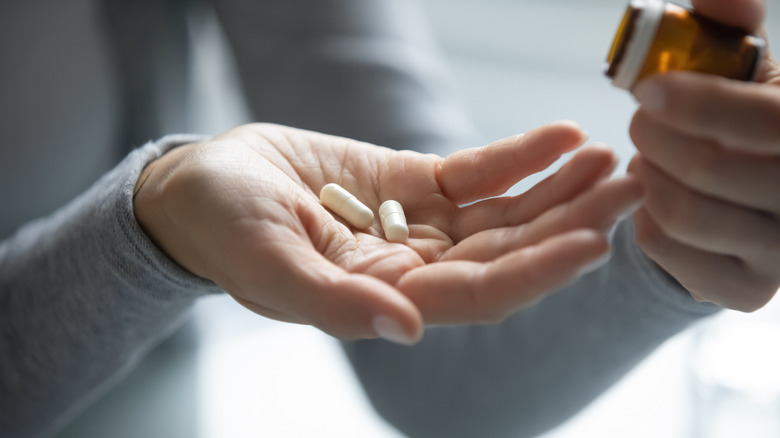 fizkes/Shutterstock
While oral contraceptives are typically used for sexual health or hormone issues, they can also be used to manage cystic acne symptoms. According to WebMD, taking an oral contraceptive can help estrogen and progesterone levels which regulates sebum production, leading to reduced acne. For best results, your dermatologist may prescribe a topical treatment to go hand in hand with an oral contraceptive.
There are, of course, risks when it comes to prescription medicine. WebMD states that blood clotting, migraines, and mood changes are just a few of the risks to take into consideration before starting any oral contraceptive. If you have a history of any chronic medical condition, take antidepressants or mood stabilizers, or are pregnant, having a conversation with your doctor is essential to your treatment. At the end of the day, oral contraceptives should only be a component of treatment prescribed by your doctor.