The Best Eyeshadow Colors For Brown Eyes
this_baker/Shutterstock
Finding the right eyeshadow to compliment your eyes is no easy task. Once you do, however, you'll be able to highlight the beauty of your eye color perfectly. Perhaps you've been told all your life, if you have brown eyes, that you should solely stick to earth tones to match the color. But it turns out that may not be entirely necessary. According to Chanel makeup artist Pati Dubroff, the key with selecting a shadow shade is to not solely rely on the color of your iris, bur rather, to consider how the color looks on your skin tone. "When choosing an eyeshadow, make sure the color complements your skin tone as well as your eye color," she explained to InStyle. "Brown eyes can really take any color shadow, it's just about making sure the tones also complements the skin."
While dark eyes are more commonly associated with darker skin and eyelid tones, there are many people with fair skin and dark brown eyes. Finding the right eyeshadow to compliment all skin tones that carry brown eyes isn't easy, but will ultimately transform your makeup looks into a more sophisticated aesthetic. Believe it or not, there are jewel tones that can work for dark skin, earth tones for medium skin, and pastel tones for brown-eyed folks with fair skin.
Amethyst purple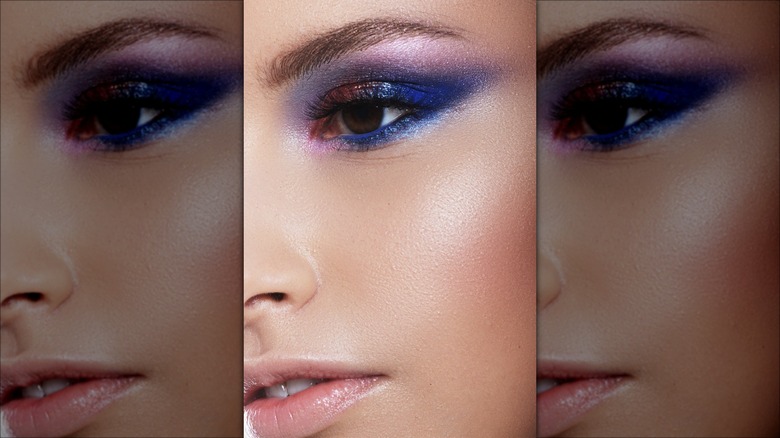 Darya Sushaya/Shutterstock
If you've been hesitant to give purple makeup a chance, now is the time to go all in. From pastel lavender to electric purple, there's almost no way to go wrong with purple eyeshadow on brown eyes. This is especially true if your skin has naturally golden or yellow undertones, as purple is complementary to these shades on the color wheel. Per L'Oreal Paris, we're slightly biased towards amethyst as the best purple eyeshadow for brown eyes. The potency of amethyst purple can bring out the deepest shade of brown from your eyes, all the while adding a subtle contrast that creates depth and allows the eyes to pop.
According to IPSY, there's a method to the madness of wearing purple eyeshadow. To get started, use a light purple matte shadow to fill in the crease. Using a slightly darker shade, blend the contrasting color into the corners of each lid. Once there's some depth, use a firm eyeshadow brush to add a bit of shimmer onto the center of the lid and in the corners of your eyes. To enhance your features even more, use a black eyeliner to create a small wing.
Bronzey gold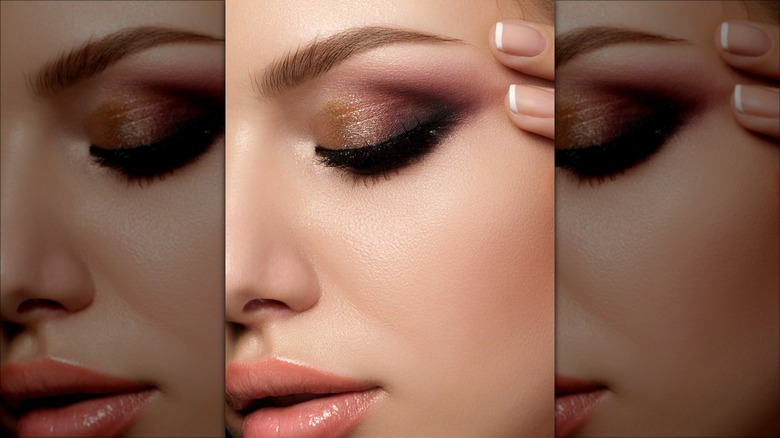 ldutko/Shutterstock
While most brown-eyed folks are probably familiar with using barely-there beige or light brown, you'd be doing yourself a favor by taking things further with a warm bronze or gold. For brown eyes, a gold eyeshadow can add dimension without standing out or looking too gaudy. Plus, its super easy to work with for beginners. All you need are a matte brown and shimmery gold. As L'Oreal Paris put it, any shade considered a basic nude, medium brown, or taupe is perfect for your base. But if you want to create contrast, try and opt for browns that are different from the brown in your eyes. If your eyes are light brown, go with a deeper, chocoaltey color. If they're dark, look for lighter earth colors. As for the gold, look for a bright, yellow or muted shade that will  make any subtle flecks of gold in your eyes pop.
To start, fill the lid with a nude brown until it covers the lid. Using a darker shade of brown, go into the corners to add dimension and depth. If you're an expert at eyeshadow application, feel free to blend in the sides with another hue of brown to create a more intricate look. Finish off by adding gold shimmer to the center of the lid and in the corners of your eyes.
Dark blue shimmer
Stock_colors/Getty Images
If you've thought cool tones are too much, think again.  From cobalt to navy, a dark or royal blue shimmer can be accentuate the depth in dark brown eyes.
Blue's natural cool hues also bring a refreshing and healthy flush to the face, as we often associate the color blue with feelings such as calmness, relaxation, and hydration. For neutral-to-cool-toned fair and dark skin alike, a shimmery blue can be gorgeous. If you have a mixed palette of undertones, a bit of blue and purple can help bring the appropriate color to your eyes.
That said, blue shadow can be tricky to work with on yellow undertone skin, as it can turn grey or green. When applying blue eyeshadow — regardless of skin tone — start with by applying nude base to ensure an even product application. Then, using a light blue shade, apply the color across each lid before going in with a darker shade. Add darker colors like navy or royal blue to blend the corners of your eyes, mixing in a small dose of black shadow if color isn't dark enough. Finish off with a shimmery blue in the center and a little in the corner. Once you're all shadowed out, it's time to show off your new makeup look!