Why Less Is More If You Want To Prevent Your Under-Eye Concealer From Creasing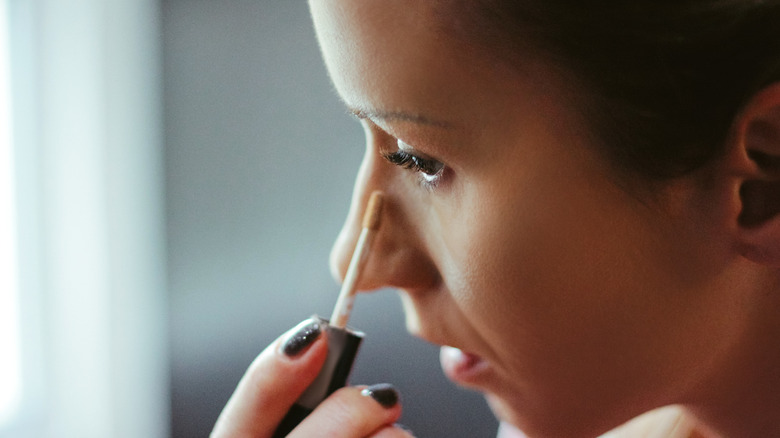 Nevena1987/Getty Images
On days when your eyes need help waking up, concealer can be your best friend. It's fairly easy to apply, but a common mistake people make is using too much, causing it to crease and take on a cakey appearance. It turns out you don't even need a lot of concealer to make a difference and feel more confident. Whether you're going full glam or you're looking to achieve a natural makeup base, just a little can go a long way.
There are a few things to keep in mind with concealer: how much you use and where you apply it. The skin under your eyes is very thin and delicate, so the more product you add, the more it will get caught in the lines and start to crease. This area of the face naturally develops lines and wrinkles, so creasing will often be most noticeable there. According to celebrity makeup artist Romy Soleimani, "It's important not to go too close to your bottom lashes, so there is no buildup or harsh line," she told Vogue. Start your concealer application lower than you think, and then work your way up, blending as well as you can. 
Application tips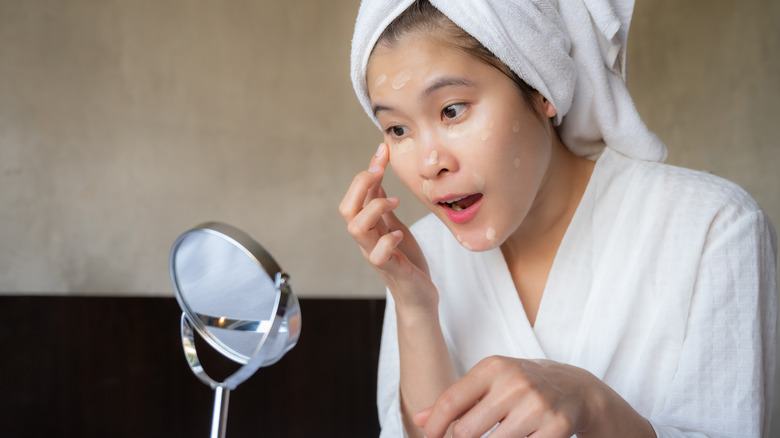 Boyloso/Getty Images
Even before you apply the concealer, it's important to hydrate the area with moisturizer. This is true for any makeup product on the skin; moisturizer will help the products stay on your face longer and keep your skin smooth and healthy. Let the moisturizer completely absorb into the skin before applying the concealer. Additionally (and optionally), using a primer on top of your moisturizer can help smooth out the skin and provide a foundation for the concealer. There are many primers out there, so try to find the right one for your skin type.
Creasing happens when there's too much product in one area. As you're going about your day, talking, smiling, and moving around, the makeup is bound to set in the lines under your eyes. It's best to start with a small amount and then only apply more as needed — a little at a time. Some people find it easiest to blend concealer with their fingers, while others prefer to use makeup sponges and brushes. It's all about preference. "The warmth of your fingers helps work the product in for a more natural finish, but a stippling brush can give a similar effect," said makeup artist Yolonda Frederick-Thompson, per The Zoe Report.
Use blotting paper and setting powder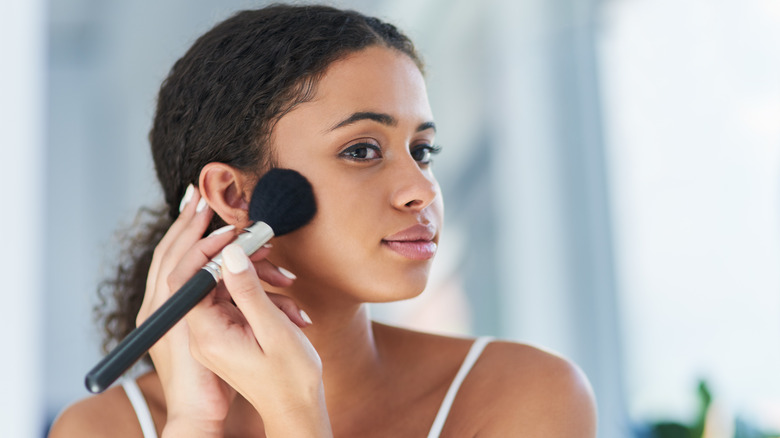 Peopleimages/Getty Images
After you apply your undereye concealer, blotting paper can help remove excess product and prevent creasing. According to celebrity makeup artist Suzy Gerstein, blotting paper "really blots off excess oil, leaving just the pigment behind, which ensures long wear," she told Byrdie. Setting powder is another way to reduce creasing and allow for a smooth finish. Apply a small amount of powder and let it sit on the face for a couple of minutes, and then remove the excess powder with a brush.
Your concealer formula also plays a role in how well it will set on the skin. Liquid, cream, and stick concealer are the most common types. The consistency of liquid concealer makes it easy to work with, while a cream concealer is thicker and may offer more coverage. Stick concealer tends to be a bit on the heavy side but is easy to apply. "Anything too thin, too dry, or too moisturizing can cause creasing," makeup artist Allan Avendaño told Allure.