Our Best Tips For A Flawless Cream Eyeshadow Application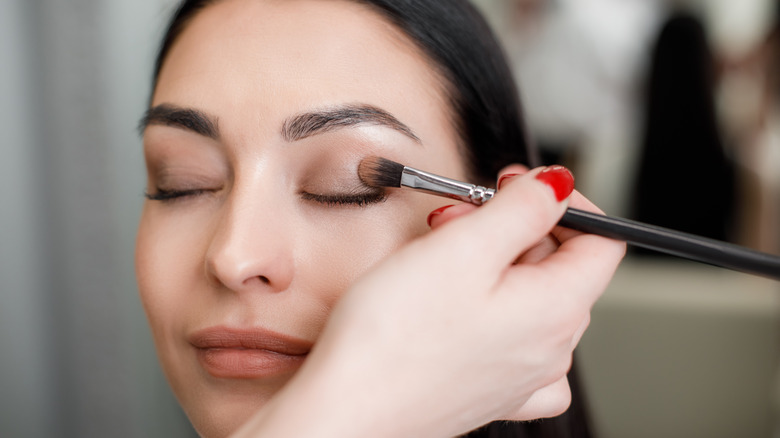 Olena Yakobchuk/Shutterstock
We may receive a commission on purchases made from links.
Applying eyeshadow is an art that has to be mastered. Whether you're simply trying to follow fall 2023's hottest makeup trends or warm up to the cold season with pumpkin spice makeup, it can be challenge figuring out how to apply these products evenly and to your liking.
Although powder shadows have reigned supreme for a long time, cream shadows have been making their way back into the market, in part due to their long-wearing capabilities and simplicity. Cream eyeshadow stays in place, looks effortlessly easy, and can be applied in a matter of seconds. However, improper application can still lead to issues like creasing.
According to makeup artist Tobi Henney, half the battle depends on the look you're going for and what tools you're most comfortable using. Cream eyeshadow can be applied like powder, with a flat brush swept across the lid, or with clean fingers that can help warm up the color and spread it across the lid evenly. In addition, having a cream base allows the color to last longer with no chance of smudging.  Whether you're a makeup pro or just getting started, there's a cream eyeshadow that's perfect for you. Let's get started.
Prime the eyelids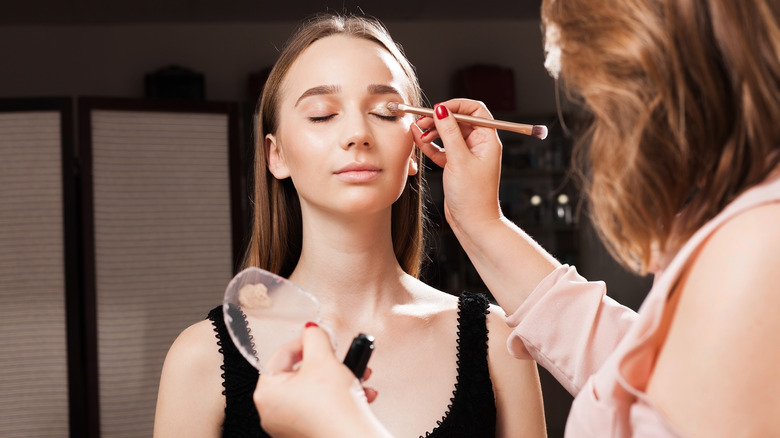 OlegMemo/Shutterstock
To get ensure your cream eyeshadow stays on all day, it's essential to prime the eyelids. Per IPSY, this is especially important those with oily lids, as they can quickly sweat off cream eyeshadow. Using the primer of your choice (or concealer and pressed powder), spread the product across the whole eyelid and up to the arch of your brows. If you're someone who loves to put a little shimmer in the corner of their eyes, make sure the primer reaches each corner of the lids as well.
Priming the eyelids is also an important first step when you're going for a flawless application. Primer not only holds eyeshadow in place, it also evens out the base of the lid so that eyeshadow isn't clumpy, cakey, or overdone. Once your canvas is effectively prepped, it's time to jump into the application process.
Wipe off excess product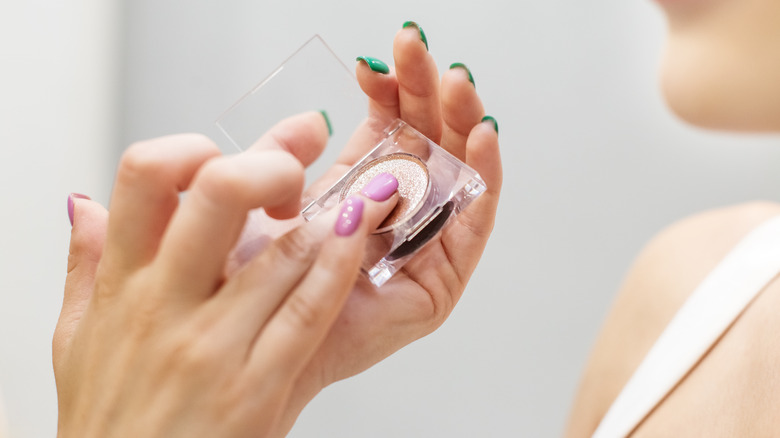 Olha Romaniuk/Getty Images
Since cream product can be quite pigmented, it can be easy for it to look very heavy. As Henney explained to Byrdie, "I find that if you go straight from product to your eye, it's going [to] get a little bit messy and you may have a little bit too much product on your makeup brush," emphasizing that it's best to make sure all excess product is gone. Although cream eyeshadow is stiffer than traditional powdered eyeshadow, there are still flakes that stick to brushes and end up on our lids.
Because of this, be sure to always tap off excess product before applying to your lids for the best application. If you're using your fingers, gently rub the cream color until it warms in your hands, quickly and effectively removing any flakes that would stick onto a flat brush. Before applying the cream to the lid, take a look at your finger to make sure the eyeshadow is ready for application. If you're unsure, apply a small amount of product to your hand to see how it goes on. Once all is well, it's time to gently sweep the cream shadow across the lid with the applicator of your choosing.
Apply color across lash line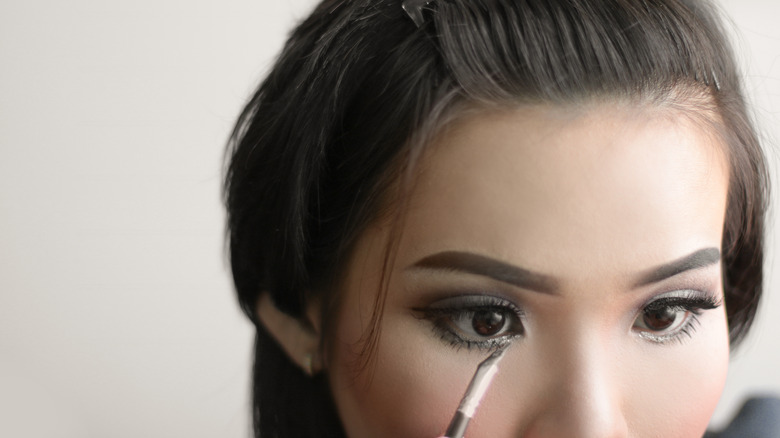 Melimey/Shutterstock
It may seem like there's nothing to eyeshadow beyond applying it to the lid, but there are a number of ways to make cream eyeshadow stand out. For a bit more glam, use a thin brush to trace the cream shadow across your bottom lash line and into the corners of the lids. Imitating your top lid by applying the same color to the bottom lash line can quickly enhance any makeup look, add depth to the eyes, and bring some drama to the function.
You may be used to having eyeliner enhance the waterline, but it doesn't always look right, especially with glittery or bold colors. Rather than using black or brown liner, use a thin, angled brush to slowly trace the cream shadow (or matching shade) as close to the waterline as possible. For a more unique look, line only the front half of the waterline and bring it up to the corners of the eye.
Setting spray on the lids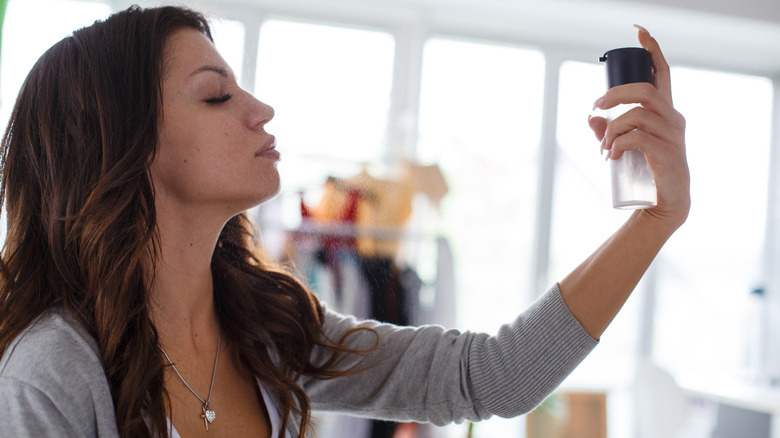 Fotostorm/Getty Images
Using a setting spray on the eyelids will be a game changer for future makeup looks — you'll never worry about your makeup smudging again. On top of that, it also help enhance your eyeshadow pigment. Once you're satisfied with the shade of your eyelids from your cream shadow, carefully spritz setting spray onto your closed lids, being careful to not let the product get inside your eyes. If the products allow it, gently tap the eyelids to make sure the sticky formula is absorbed and eyeshadow is set in place.
Unlike powder shadow, which can be naturally mattifying, cream formula require a little extra help to not look so oily. Setting spray provides a matte finish to the cream shadow that helps your shadow last all day. However, make sure you're conscious of each product's ingredient, avoiding alcohol, parabens, or sulfates. Instead, opt for vegan and cruelty-free products like Rare Beauty's Always an Optimist 4-in-1 Mist ($14). Once your cream-based eyeshadow look is complete and the setting spray has dried, you're ready to hit the town.