Everything To Know About Your New Skincare Secret Weapon, Edelweiss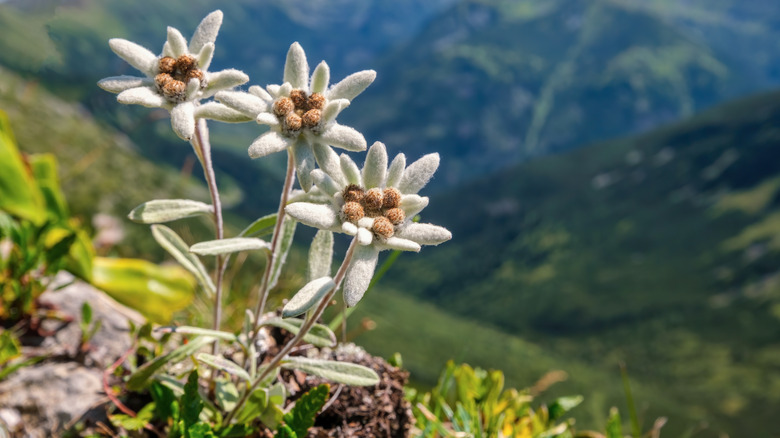 Kluciar Ivan/Shutterstock
Edelweiss isn't just a song from "The Sound of Music"; it's also a pretty powerful flower used to help you maintain healthy skin. This small water flower is native to the Swiss and Austrian Alps. While being known to resiliently survive harsh mountain conditions, its extract has also become quite a skincare superhero in recent years due to its antioxidant and anti-inflammatory benefits. Though there's still more research to be done, edelweiss is becoming more well-known in the skincare world.
Edelweiss was first used in traditional folk medicine to treat inflammation for many years, and scientists are still finding the plant useful in the present day. The flower is quite difficult to come by, so companies have begun using its stem cells and replicating them for cosmetic use. When looking for it on the shelves or online, it's often listed by its scientific name, "Leontopodium alpinum extract" and mixed in with other skincare ingredients. If you're looking to give your skin another layer of protection and care, you may want to give edelweiss a try.
Antioxidant and anti-inflammatory properties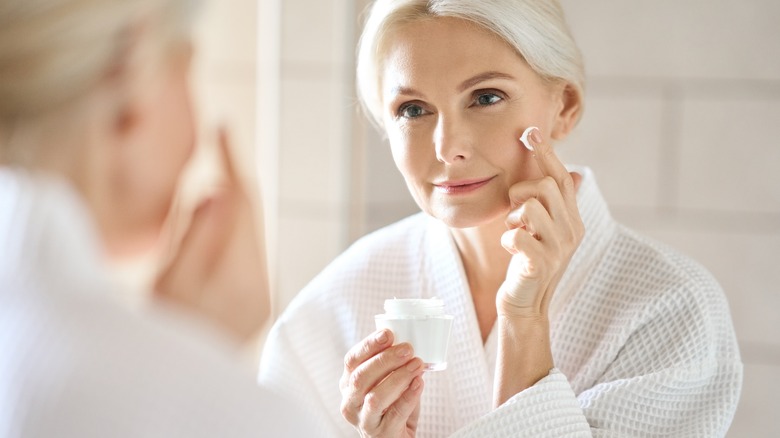 Ground Picture/Shutterstock
Similar to vitamin C and retinoids, edelweiss has been shown to have antioxidant properties. Antioxidants protect the skin by helping to prevent cell damage from UV rays, which often speed up skin aging and damage. They can help our skin stay hydrated, soft, and healthy. A 2020 study found strong antioxidant properties in edelweiss, as it helped improve eye wrinkles, skin elasticity, skin density, and skin thickness.  
If you have sensitive skin, edelweiss is not likely to cause irritation. Dermatologist S. Manjula Jegasothy, M.D. told Refinery29 that edelweiss is "a great botanical to try for those with eczema or sensitive skin." It may be a good alternative if vitamin C is too harsh on your skin. 
Edelweiss is also known for its anti-inflammatory properties. In European folk medicine, it was used to treat inflammatory conditions like gastritis and colitis, along with respiratory issues like tonsillitis and bronchitis. These benefits have transferred over into modern skincare to help reduce redness and dry skin. A 2012 study, for instance, found that edelweiss cell cultures could be an anti-inflammatory source to help with chronic inflammatory skin diseases. 
Using edelweiss in your skincare routine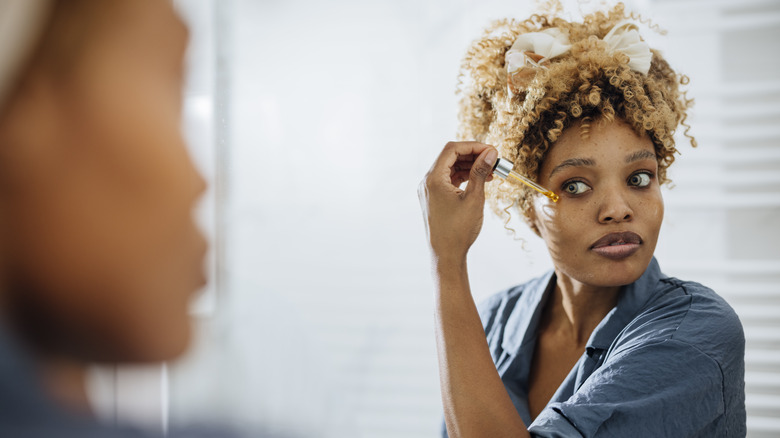 Miniseries/Getty Images
Edelweiss is applied topically after washing your face, and it can be used along with your other products. "As an ingredient with great anti-inflammatory, antioxidant, and cell-strengthening properties, it works with almost all other ingredients," cosmetic chemist Krupa Koestline told InStyle. 
Skincare brands will often use edelweiss extract in serums, creams, or face oils, though brands like The Body Shop make cleansers with edelweiss as an active ingredient. With a serum, you're getting a more concentrated dose of edelweiss. Apply it while your skin is still damp to allow it to absorb deeply, and massage it in. Don't forget to finish up with your favorite moisturizer. If you're using eye cream, moisturizers, or oils with edelweiss in them, these should be the last few steps of your routine. 
Because of its rarity, edelweiss doesn't come cheap. The most expensive edelweiss products sell for well over $100, including True Botanicals Renew Repair Nightly Treatment, which goes for $140. On the more affordable end, The Body Shop sells a line of edelweiss-based products, including their $27 Edelweiss Liquid Peel. In between these two price points is Elizabeth Arden's Advanced Ceramide Lift and Firm Night Cream for $92, which combines edelweiss extract with ceramides to strengthen the skin's barrier. If you're new to edelweiss and on a budget, it might be best to try out cheaper options and do a patch test before investing in some of the pricier options.