The Key Things To Know To Apply Your Eye Cream The Right Way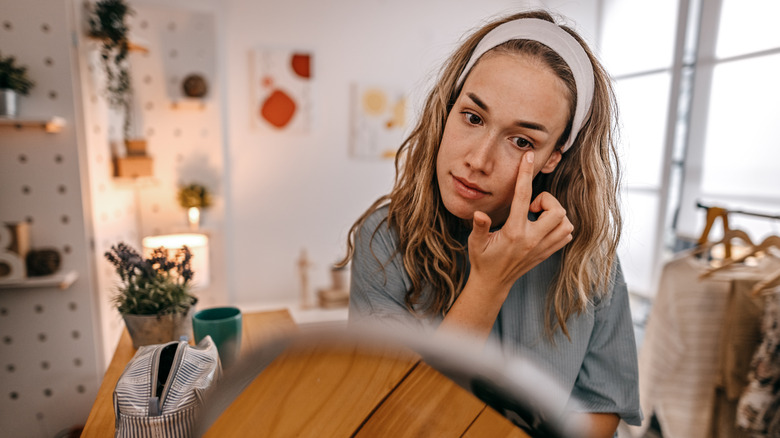 Mixetto/Getty Images
We may receive a commission on purchases made from links.
Even with the best facial moisturizer, you still need an eye cream. This product is non-negotiable in a comprehensive skincare regimen, especially one targeted at anti-aging. An eye cream needs to be specific for the area it's being applied. "The products you use on the rest of your face are not meant for the eye area," dermatologist Caroline Robinson told Shape. So you do need something separate for the eyes. There's a lot to know about eye creams, and while an eye cream can't necessarily turn back time, a product that brightens and moisturizes the area is crucial to maintaining a fresh face.
This is because the skin under the eyes is significantly thinner and more fragile than the skin on the rest of the face. Because of its delicate nature, under-eye skin is the first area to show signs of aging. Wrinkles and crow's feet appear while dark circles show fatigue. With so much happening in this area of the face, it's imperative to apply an eye cream in the right ways. Apply an eye cream twice a day, after you wash your face in the morning and the evening. Once you've cleansed and toned, apply your eye cream before you moisturize your face, dermatologist Dr. Muneeb Shah, M.D. told Bustle. While those are some of the basic points, there's a lot more to know about applying eye cream.
Apply eye cream with your ring finger
It's best practice to be gentle when applying eye cream. This is why experts recommend that you apply it with your ring finger, since that finger is the weakest and naturally applies the least pressure. You only need a pea-sized amount for both eyes; start by applying the eye cream in the inner corner of your eye and work your way out to the outer corner, near your temple. Use light, gentle tapping motions so that your skin absorbs the product and you stimulate circulation. You don't want to tug the skin or rub in the product at all. Once you've reached the outer corner, you can gently tap your way back towards the inner corner of the eye in a gentle, semi-circular shape.
Your eye cream will stipulate whether or not you can apply it to your eyelids and brow bone. If the product doesn't recommend that, avoid applying anything to this area. If it gives the okay, gently pat a small amount onto your eyelid. Part of the concern is about getting eye cream in your eyes. It can be irritating, so unless specifically recommended for other parts of the eyes, you want to use it under your eyes only. "Eye cream will warm to your body temperature and [possibly shift], so it could be a potential irritant if it were to get into the eye throughout the day," Kirsten Petersen, Senior Regional Education Manager for IT Cosmetics, explained. To avoid irritation, apply only a small amount.
Choosing the best eye cream for you
Different eye creams target different issues. Some target dark circles and puffiness, using antioxidants like ferulic acid and vitamin C or niacinamide. Other eye creams target wrinkles and crow's feet by using hyaluronic acid, peptides, and retinol; What you choose really depends on your eye goals. However, most eye creams target a range of these issues, with added ingredients to address dull skin and puffiness, along with moisture to target aging. For instance, Eight Saints' All In Eye Cream has caffeine and vitamin C for brightening and under-eye bags, plus squalene and hyaluronic acid for moisture. Plus, it's only $44 for 0.5 ounces. Check out the ingredients to see what addresses your needs.
Let's be honest. Price can also play a factor in choosing an eye cream. Certain eye creams can cost a small fortune. La Mer's Genaissance De La Mer The Eye and Expression Cream rings in at $520 for 0.5 ounces. A good deal less expensive, SkinCeuticals A.G.E. Eye Complex Wrinkle Eye Cream is $105 for 0.5 ounces. While these eye creams get rave reviews, for many, the price is just too steep. Thankfully, there are popular and effective eye creams that are much more affordable. La Roche Posay Hydraphase Intense Hyaluronic Acid Eye Cream is $19, while Paula's Choice Anti-Aging Eye Cream is $15. So there's no need to break the bank when it comes to a decent eye cream.
Incorporating bonus tools in your eye cream ritual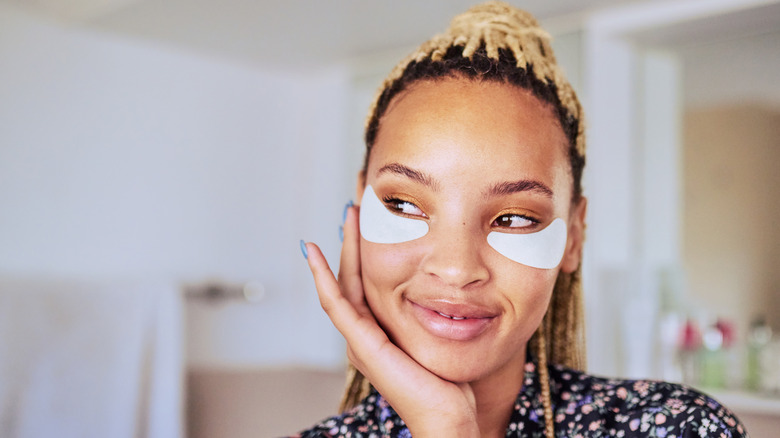 Laylabird/Getty Images
While simply using eye cream is a wonderful step in a comprehensive skincare regimen, there are some added tools and products that can help you make the most of it. By no means should you feel required to use these, but if your eyes are an area that concerns you, it's worth checking out some extra steps.
Just like we use serums on our faces, there are several fantastic, layer-able eye serums that you can apply before your eye cream. They're not as thick as eye creams, so you apply them first; since they're typically made with a water or gel base, they sink into the skin easily. Plus, they're super-targeted for various concerns, so you can address dark circles or puffiness, plus follow up with an eye cream. Eye serums tend to work really well with eye patches, as the silicone patches help the serum absorb more effectively. The Dieux x Violette: Forever Eye Mask is a cult favorite.
Eye rollers, like jade rollers, are another amazing device to target concerns around puffiness and under-eye bags. Gently roll them under your eyes after you've applied eye cream, to allow the product to fully soak into the skin. The cooling effect can help reduce puffiness. If this is a concern of yours, put both your jade roller and your eye cream in the fridge to boost the cooling benefits.