Malbec-Toned Nails Are The Most Elegant Cold-Weather Mani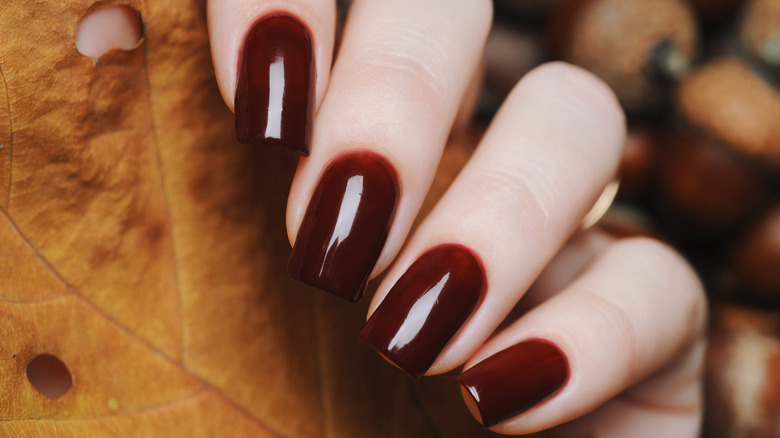 Marina Migukova/Getty Images
We may receive a commission on purchases made from links.
As the air becomes crisper, our nail polish shades become warmer with fall and winter palettes. Deep reds and browns are especially popular this time of year. In fact, celebrity manicurist Julia Diogo told Vogue that her clients' favorite shade this season is a "wine brown with grape undertones," known as malbec, inspired by the red wine.
This shade is one of the coziest fall manicure trends of the year. It's similar to a maroon or burgundy, and it looks great as a solid manicure or paired with other colors and styles. Don't have this color on hand? It's super easy to find online. Try Essie's "Wicked" shade or the "Over the Maroon" shade by 100% Pure. For something a bit brighter, go for OPI's "Got the Blues for Red." If you prefer a matte manicure, try out the "Matte About Malbec" polish by Painted Polish. You can enjoy your classy manicure with a glass of red wine or a soothing cup of tea.
Try as a French tip manicure
Nothing says elegance like a French manicure, and you can add a touch of color to your tips with this shade. Malbec is very versatile and not only looks great as a solid color but also on your tips or as an accent nail. 
Along with a brown-tipped French manicure, add malbec to your fall and winter color palettes. Whether you like to keep your tips long or go for a shorter look, malbec is a stunning choice for fall and a transition into the winter months as well.
Pair with other tones
This luscious Malbec shade can be paired with lighter tones, like the pink and burgundy combo pictured above. For more of a contrast, a white or beige polish can really make the malbec pop. 
Play around with different shapes and lines. If you like a bit of glam with your fall manicures, this shade looks great with a touch of glitter, whether it's pink, silver, or gold.