Plaid Nails Are The Coziest Fall Manicure Trend For 2023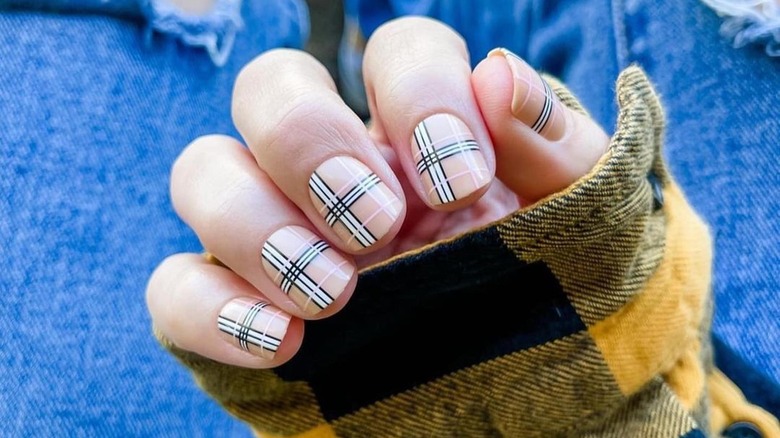 We may receive a commission on purchases made from links.
We know fall is arriving as the air gets cooler, pumpkin spice pops up all over menus, and of course, plaid is in style. This year, it's not just on flannel shirts and sweaters, but on our nails, too! Among the fall 2023 nail trends to have on your radar is the plaid manicure, a simple and fun way to rock a fall color palette on your fingertips. 
The best thing about this trend is that it's not limited to one basic plaid look; you can customize it however you prefer. It works on both long and short nails, as a full set, or as an accent nail. There are a few different ways you can get your own plaid manicure, and we're here to provide you with all the manicure inspo you need. Choose your favorite warm and earthy tones, and you'll be ready for all your favorite fall festivities in no time. 
Boxy plaid nails
There are many different types of plaid patterns you can choose for your nails, including this colorful square pattern. Start with a solid base and choose three to four colors that complement each other. Paint the first color vertically on one half of the nail. Then, take the other colors and paint them horizontally in different sections of the nail. In the video above, the nail artist uses jelly polishes on the top layers so that the colors seamlessly blend together. You can alternate where you put each color on each nail to add some variation.
Subtle plaid nails
If you'd rather have a more subtle plaid look, use a very thin brush to paint fine lines. You can keep the base nude or a solid color, and then use your thin brush to create cross shapes. For the look above, nail artist and content creator Samantha Marie painted the tips of her nails a chocolatey brown to compliment the white and orange plaid pattern she created. She also added diagonal lines to replicate the stitch pattern on a flannel shirt. 
Get plaid nails with nail stamping plates
Low on time or can't get the straight lines right? We got you. The easiest way to create a plaid manicure is to use nail stamping plates. Paint a solid base on the nails and let it dry. Then, pick a different color and paint it on the plate. Use your stamp to transfer the polish to your nails. For more lines, add another color to a different stamping plate. Seal it all in with your top coat, and there you go! 
Black and white plaid manicure
Arguably, black and white work well with any outfit and during any season. This plaid look is a fun way to wear neutral tones and still capture that fall feeling. Plus, it definitely spices up a simple black-and-white manicure. You can go for a white background with black lines, or reverse it with a black background and white lines.  
Burberry-inspired plaid manicure
Have a Burberry bag or jacket? Match your classy look with an even classier manicure. This is another popular take on this trend, utilizing warm tones like tan and maroon for a perfect fall palette. Wear it on long tips as a French manicure, or you can also go for a short nail look.