The London Fashion Week S/S 24 Trend You Can Bring Into Your Wardrobe Right Now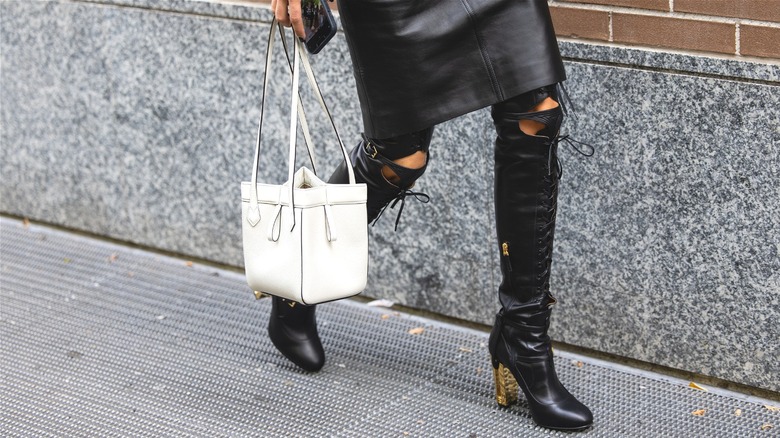 Getty Images
Styles worn by runway show audiences during epic fashion weeks are often just as exciting as the collections themselves. If there's one takeaway from all the London Fashion Week Spring/Summer 2024 events, it's that over-the-knee (OTK) boots are finally back. After years of ankle boots and booties dominating the scene, many would probably agree this is refreshing. Get ready, OTK boots, in all their boot-stomping varieties, are here to stay.
Whether your outfit calls for delicate designs and skinny heels or protective and practical armor, thigh-high styles are a great way to get noticed. Socks, stockings, leg warmers, and especially OTK boots are an opportunity for us all to decorate and celebrate our amazing gams the serve us well.  Spice up your fall/winter wardrobe by getting creative with the form and function of your footwear. During these cooler months, they also help keep your legs warm. OTK boots can either be the signature focus of your outfit or play a supporting role for the entire look. 
Focused on a finishing touch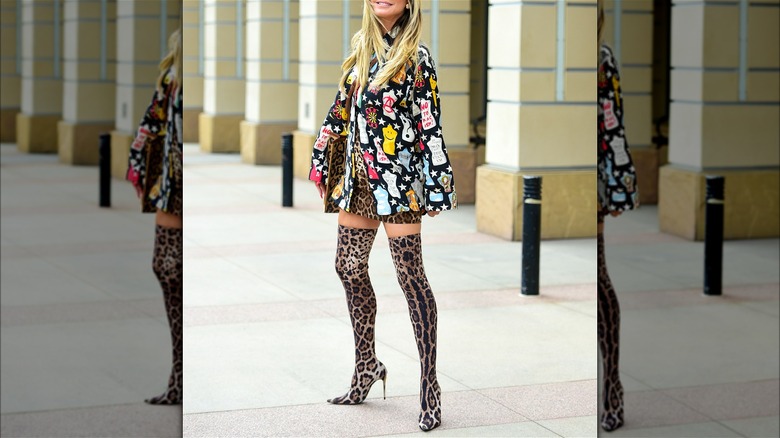 Getty Images
Many agree that OTK boots are a great investment for your fall/winter style. Since OTK boots are such a large part of a single look's real estate, there's a quick and easy choice to make when wondering how to wear your pair. Ask yourself if you're looking to spotlight your boots as the hero piece of your outfit, or if you would like your boots to blend in with an overall style and silhouette. That will determine if you go for a loud, printed leopard boot or a more classic black leather style. Take into consideration where you are planning on wearing your OTK boots to know if you're ready to show them off or go subtle under a longer skirt, tunic, or jacket. 
Blending over-the-knee boots into an outfit is a great way to elongate your legs especially with an A-line or wrap dresses. Keep skinny jeans or leggings tucked inside for a streamlined effect, and consider wearing a long, loose-fitting top or sweater for balance. Layering is also a great way to incorporate over-the-knee boots into your fall or winter outfits, such as tights or leg warmers. And don't be afraid to experiment with textures to add depth. A pair suede OTK boots with leather leggings and a knit dress is an interesting mix and create proportions that are in balance. Like a good accessory upgrade, even the wildest designs and prints can go from the point of the your look to simply being the final touch to making the entire outfit work.
Look at me stand-outs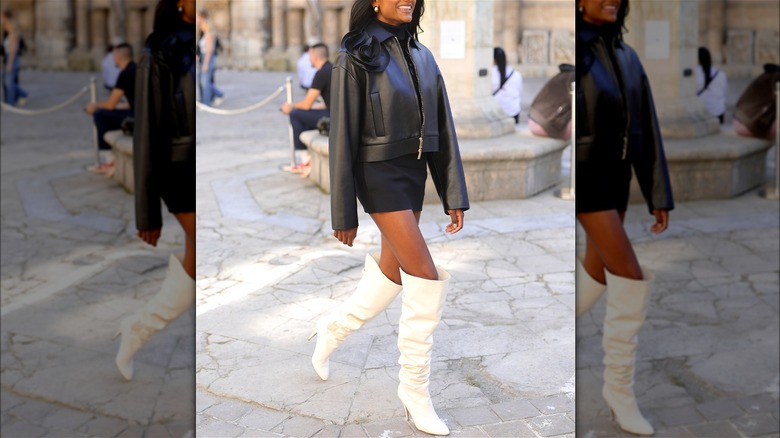 Getty Images
If you've swapped your rent money for a precious pair of couture over-the-knees in a knock-out, eye-popping design, you'll likely want to wear contrasting colors or solid, stable patterns in your clothing choices so your footwear is the star of the show. Neutrals or monochrome looks on top, especially a tailored short with a peek-a-boo hemline, can give a lot of power to your OTK boots on the bottom.
Some OTK pairs are thick and bulky with rolls of fabric or leather padding the shines and disguising the knees. Others have laces and straps or a unique feature at the top or the toes, while some are more lean in nature, following the contours of the shape of the leg. Regardless of your form up top, the silhouette of your OTK boots should yell out "look at me!" Simple and bold, opposites can do a lot for turning heads. White against black or primary and tertiary colors together will stand out easily, especially in motion.
When shopping for a favorite pair or OTK boots to put on display, look for a pair that suits your personal style and body type. Rent aside, London Fashion Week Spring/Summer 2024 trends made OTK boots so popular this season, you'll find many different styles and looks for every budget. Feel good knowing you're not only adding a statement piece to your wardrobe but also a useful staple. Plus, there's nothing like the confidence of wearing what you love and knowing you look good doing it.