TikTok Has The Ultimate Low-Bun Hack For A Style That Stays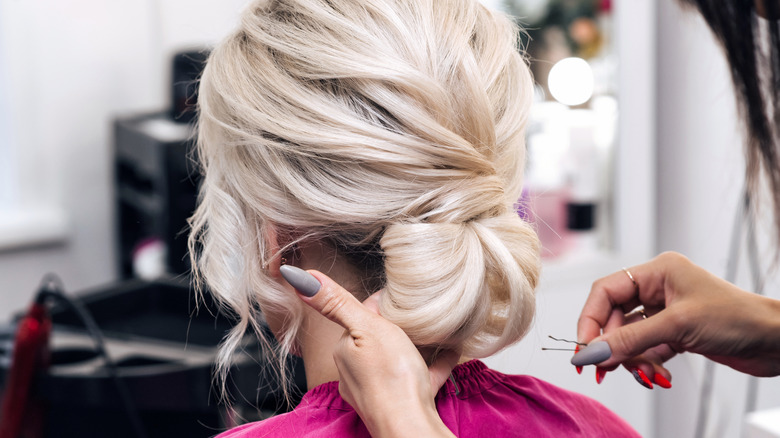 alexkoral/Shutterstock
If you're anything like us, you've probably spent what feels like a lifetime trying to find a bun technique that actually works. We've been there. We put your hair up and stick in as many random bobby pins as possible, but, shocker, it just doesn't seem to hold. After about 10 minutes, we just end up looking like we just rolled out of bed and fell into a hedge backwards.
Luckily, thanks to social media, we now have access to tips straight from the pros. When it comes to buns and other updo hairstyles, there are countless TikTok videos out there showing how to pull your hair up into a style that actually looks cute and stays. But there's one in particular from hairdressing legend Chris Appleton that we (and pretty much the whole of beauty TikTok) just can't get enough of. Allow us to introduce you.
Chris Appleton's easy low-bun hack is a gamechanger
Praise be the hair saint that is Chris Appleton. The mogul has worked with anyone who's anyone in Hollywood (seriously, we're talking the likes of Jennifer Lopez, Kim Kardashian, and Katy Perry here) and now he's helping us with our little old buns. Appleton took to TikTok to show a frankly mind-blowing hair hack that's unbelievably quick and easy.
All that's needed for Appleton's bun hack is a single elastic, some bobby pins, and a bit of hair spray. To start, grab your hair in a ponytail using a standard hair elastic, but stop once you have about one go around of your hair tie left. Instead of pulling all of the hair through to the end, use your thumb and index finger to create a loop of hair, leaving the ends hanging down. Then, pull on either side of the looped hair to fan it out. That's your bun section.
Next up, grab the two section of hair that are sticking out on either side of the ponytail and twist each one. Pull these strands upwards towards the ceiling and cross them over at the top of your ponytail, securing each piece with a bobby pin. If you have thicker or longer hair, you may need a few pins to keep it extra secure.
Other easy bun hacks
It's safe to say TikTok was pretty impressed by Chris Appleton's bun hack – and they made that pretty clear in the comments section. "As a nursing student who can only wear [buns], this is saving me," TikToker @MadelineHuggard wrote in the comments. 
It's understandable why busy folks would love this trick. Part of what makes Appleton's bun hack so helpful is that it requires no fancy tools or dreaded accessories (remember sock bun inserts?) to work. All you need are  some bobby pins, an elastic, and your own hair. Best of all, it takes fewer than 30 seconds to style.
If the low-bun look isn't your thing, don't worry. Appleton has blessed us with far more than the low bun hack. His TikTok is a treasure trove of advice for those of us who struggle with up-dos, including one clip that demonstrates how to get that easy messy bun so many of us crave. And trust us, if you can master the low-bun technique, you can do this one, too! Start just like you did with the low bun, but this time create two loops, one on either side of your head (think Princess Leia buns kind of placement). Then, push one loop through the other and secure the piece you pushed through with a bobby pin. Next up, all you have to do is grab another bobby pin (or, again, a couple depending on the length and thickness of your tresses), set with hairspray and you're done. Again, it really is that simple.