6 Outdated Boot Trends You Should Walk Away From This Fall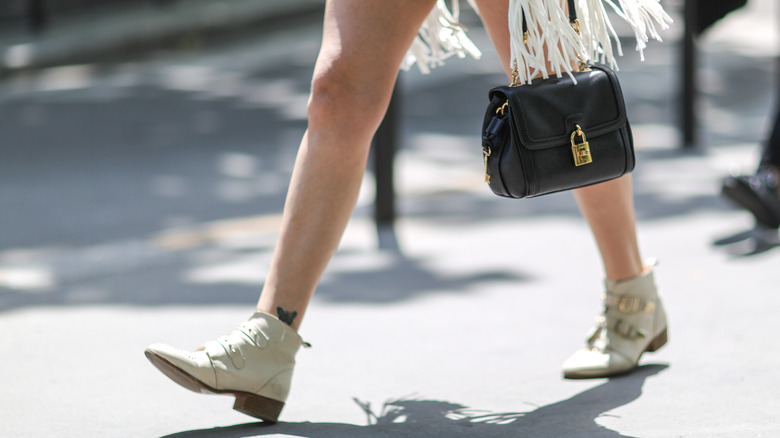 Edward Berthelot/Getty Images
Not every boot is timeless. Sure, there are staple trends that never seem to go out of style, no matter how unique they are. Denim boots have made a major return, thanks to the resurgence of all things denim as we upgrade our retro game. Another boot trend that seems to never go out of style is the classic cowboy boot; these gems are back with a vengeance, proving that durability and style can work hand in hand. Another eternal favorite is the simple, knee high leather boot that works well over jeans or under skirts. This boot's workability is what makes it so classic. 
However, there's a whole arena of winter boots that are out of style. Since everything this fall is geared towards sleek silhouettes, and this includes footwear, particularly boots. With this in mind, we're very eager to walk away from boot trends that make legs look shorter or make the leg line appear stumpy. We're all about length and sleekness, so these are the boots to avoid. 
Puffer boots make feet look huge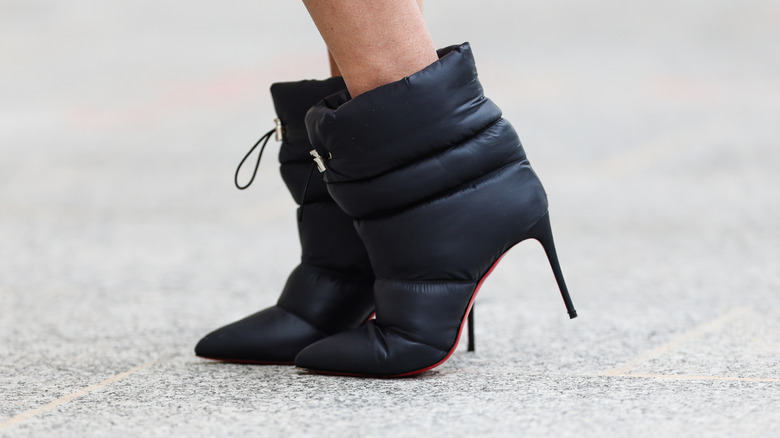 Edward Berthelot/Getty Images
Puffy boots had their moment. The inexplicable pairing of boots with the texture of a warm winter coat certainly seemed novel while it lasted, but it's time to pack them up. For one, the quilted design adds unnecessary width to the feet, creating a silhouette that appears thick and heavy. One appeal that puffer boots offered was the warmth, but you can still achieve comfort and insulation with other kinds of winter boots, like the Ilka Waterproof Leather boots by Overland. Keep the puffer texture, but let's relegate it to coats only. 
Lace-up stiletto boots have one thing too many going on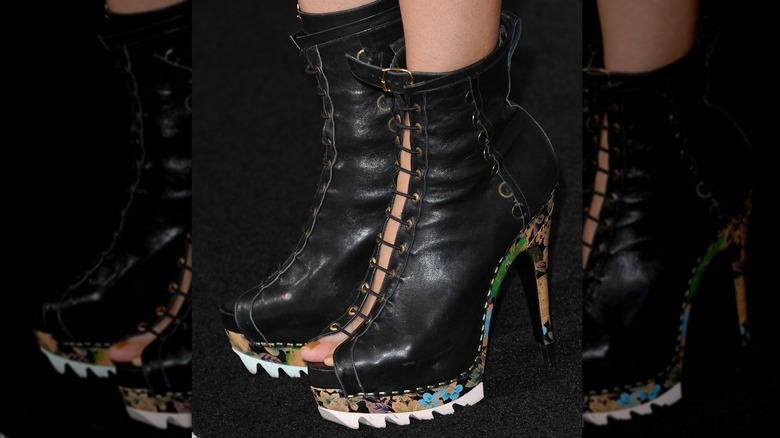 Jon Kopaloff/Getty Images
The lace-up stiletto boot trend is a thing of the past. While we have no issue with stilettos, per se, the problem with this combination is that there's a lot going on. The sky-high heel, in combination with the elaborate business of the laces and metal eyelets on the front of the boot makes for a cluttered looking shoe. In addition, most have platform soles and a peep-toe front, where an opening in the toe box allow some of the toes to awkwardly pop out. We're much more interested in the second-skin leather knee-high boots that look well-constructed to fit the foot and leg. 
Retire the ankle bootie
Joseph Okpako/Getty Images
Because of their awkward height, it's time to avoid the ankle bootie. They're an impossible length to work with. Are they shoes or little boots? Who knows. The ankle boot shortens the leg, making the lower half of the body appear stumpy. Although the ankle boots were great when skinny jeans were all the rage, as fashion moves toward embracing baggier, wide-leg styles, we need something that can stand up to all that fabric.
The ankle boot just cannot deliver in that regard. To balance everything out, go for a proper boot that's thigh high or knee high and a pointed or block heel. If you're going for a dressy look, stick with regular pumps. 
Shearling boots with ribbons and bows have been dethroned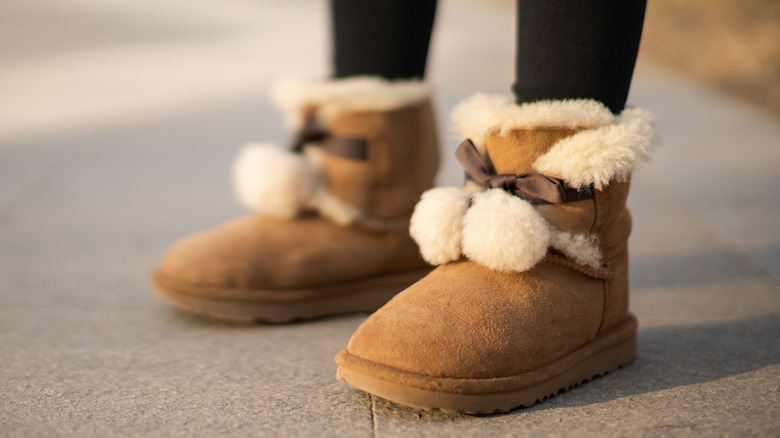 Kool99/Getty Images
Shearling boots, such as those belonging to the brand Uggs, have been a streetwear staple since the early 2000s. The various iterations that have emerged since they first became popular aren't going anywhere. For instance, the Ugg mini platform is one of the hottest shoes of the fall, proving the soft boot has certainly stood the test of time. But certain trends around the popular shearling boot are now very passe. Short shearling boots with bows and pom poms are not in line with this season's sleekest looks. The Ugg isn't going anywhere, but versions like the Bailey Bow II boot, with bows up the back of the leg, are unlikely to be on trend anytime soon.
Slouchy boots are too hard to style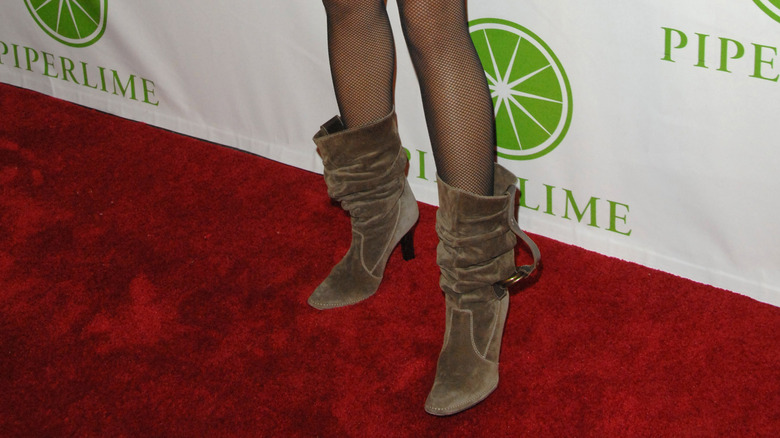 Jason Kempin/Getty Images
Another favorite of the early 2000s and the 2010s was the slouchy boot, but this is no longer a suitable choice. Editor Anna Laplaca told Who What Wear why she wasn't reaching for slouchy boots any more. "They may have had some airtime on the runways recently, but I've always found them to be tough to style," they told the publication. The added folds, necessary to create the slouchy look, add unnecessary bulk to the ankle and calf area. Instead of enhancing long leg lines, slouchy boots create a mass of texture right around the ankles. Pass.
Combat boots are taking a back seat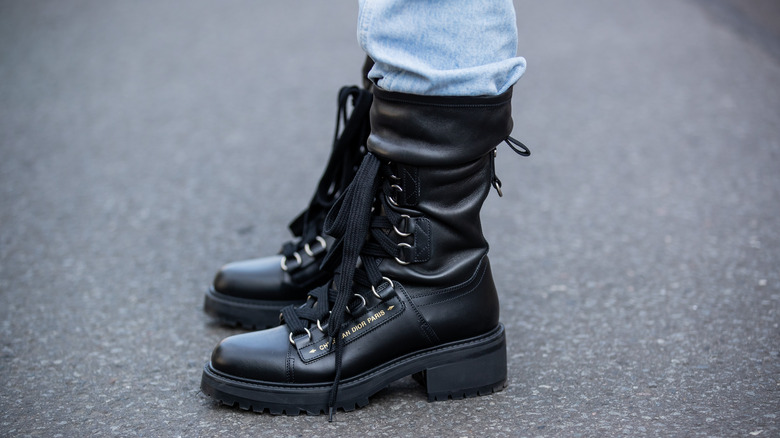 Christian Vierig/Getty Images
While combat boots have long amped up the cool girl factor in any look, the strong-and-sturdy shoes are taking a backseat this fall. This is because there are new, trendier iterations of the structured, industrial boot on the market. Engineer boots have kicked combat boots out of the way as the most versatile footwear of the fall, along with the edgy moto boot. It's not that combat boots have failed us in any way (and just FYI, we recommend storing your Docs for next season, not throwing them away). There are just more interesting options out there right now than classic, lace-up combat boots , and we're steering towards the thick buckles and detailed hardware of engineer boots.