Here's How To Determine The Perfect Sunglass Silhouette For Your Face Shape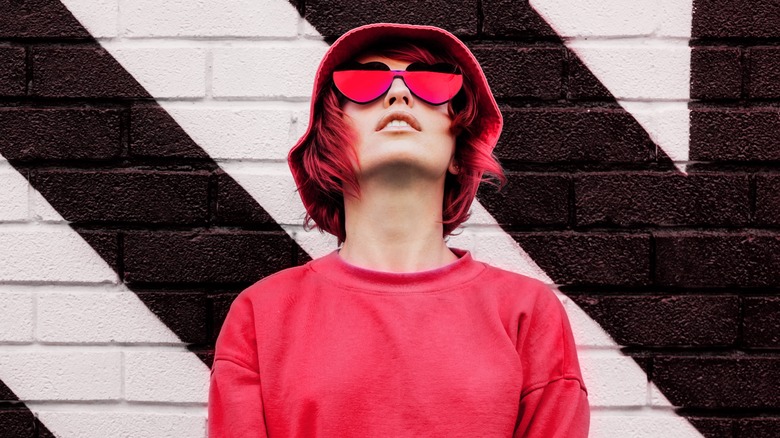 Okrasiuk/Shutterstock
We get it. Buying new sunglasses can feel like a never-ending process. You could easily spend hours trying to find something that's actually flattering without making your face look too round, square, or wide. But don't get too disheartened, because there's a way to make the whole process a little easier.
First thing first. Determine your face shape. Once you have this part down, you'll be able to instantly veto certain shapes and styles and automatically narrow your selection. You can do this by pushing your hair back and looking at yourself in a mirror. If the widest part of your face is between the cheeks, that probably means you have a round face. If your face is a good amount longer than it is wide, then you've been blessed with an oval face. For those with a forehead that constitutes the widest part of the face and a more prominent chin, you have a heart shaped face. Got a more angular jawline that's in line with your cheeks and forehead? Then you have a square face. There are also triangular faces, where the upper half is noticeably thinner than the bottom. If you're still struggling, draw the outline of your face on the mirror. Seeing the outline should help you workout what you're working with. Now we've got that down, let's determine what sunglasses silhouette will work for you.
If you have a round face, avoid round sunglasses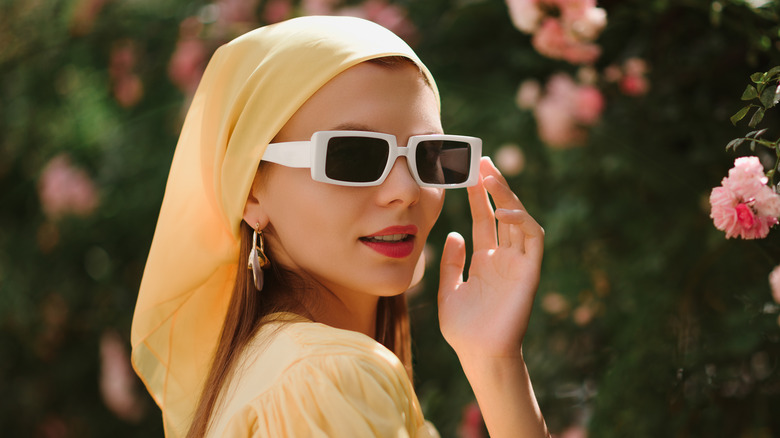 Victoria Chudinova/Shutterstock
If you've determined you have a round face, you'll want to gravitate more towards angled sunglasses rather than round silhouettes. This is because curved edges mimic the roundness of your face and exaggerate it, which could create an unwanted baby face effect. On the other hand, stronger shapes like hexagons, rectangles, or squares enhance the angular parts of your face. 
Chic cat-eye sunglasses or any frame with a sharp, upward angle towards the top of the head can also make round faces appear more contoured. That, in turn, will help the face to look longer instead of wider. "We recommend you go for styles that contrast and lengthen the look of your soft, curved features," Specsavers' frame stylist Bianca Swan explained to The Sun.
Equally, oversized sunglasses are another solid option. Because rounder faces can sometimes appear larger than others, giant sunnies work create the illusion of a smaller face. Not to mention, they'll instantly bring the glam, too. What a win-win! Just make sure you're paying attention to your features so you don't totally swamp your face. As makeup artist and glasses expert Bobbi Brown told Allure, "Make sure they're the right proportion. The larger your face, the larger the frames should be."
But those with square or oval faces can totally rock round sunnies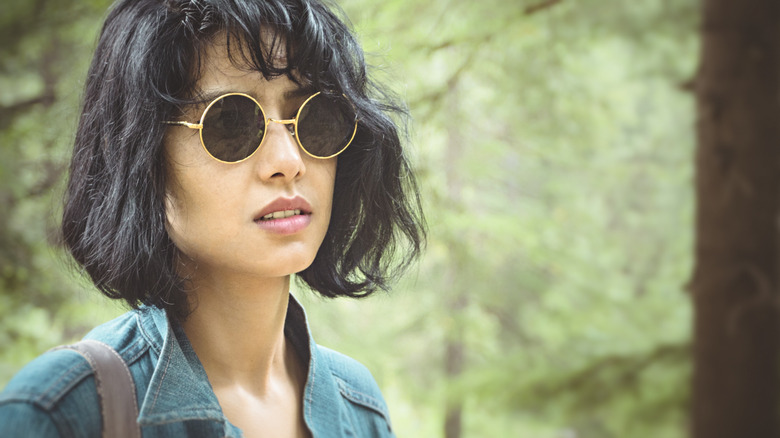 Gawrav/Getty Images
Generally, a good rule of thumb to follow when shopping for sunglasses is to choose a silhouette that is opposite to your face shape. By that logic, square-faced beauties can usually pull off round sunglasses. Basically, the idea is that round sunnies work to soften more angular features like a sharp jawline. As style expert Grace Woodward told MailOnline, "A square face is defined by a broad, deep forehead, a wide jaw and a square chin. Oval or round frames will balance this face shape."
The same can be said for those with oval faces. Because round sunglasses tend to have wider lenses than other frames, they can help balance the lengthiness of the face. And just like those gorgeous people with round faces, if you have an oval face, oversized shades are also a solid pick for keeping your features balanced. Oval faces are the lucky ones though, as you have the pick of almost any sunglasses silhouettes and can pull of a wide array of shapes easily. "[Oval] suits almost all frame shapes, so be adventurous! Rectangular and geometric shapes will look better than round frames," Woodward said.
Though heart-shaped faces have a different rule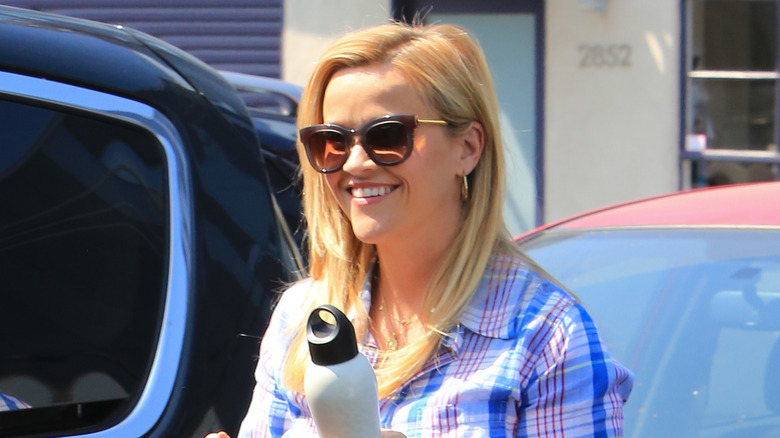 Bg004/bauer-griffin/Getty Images
We know, we know. We're contradicting ourselves a little here. But that's because heart shaped stunners are the exception to the opposites attract rule when it comes to sunglass silhouettes. Those who have this face shape — like Reese Witherspoon, for instance — will find their most flattering shades in shapes that mimic their actual face. Aviators and cat-eye sunglasses are usually a win here because, just like heart shaped faces, they tend to narrower at the bottom and wider at the top. "A heart-shaped face has a broad forehead and tapers to a small, neat mouth and chin so suit slender, rounded or square styles," Grace Woodward explained to MailOnline.
When choosing frames,  pay attention to your specific features, as the severity of them will help determine the silhouette that works best for you. "If you have small, delicate features, don't choose large, heavy frames. If you have more dramatic features, you can choose larger frames," Bobbi Brown shared with Allure.
Just like oval-faced people though, heart-shaped faces have an easier time shopping for sunglasses than most others, simply because there are more options. "Heart shapes feature both soft and straight lines, so the world's your oyster when it comes to frames," Bianca Swan told The Sun. Lucky you!
While triangular faces will want to go bold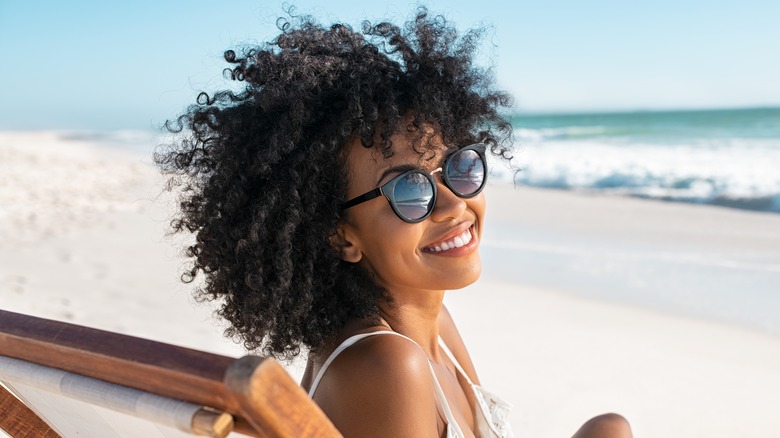 Ground Picture/Shutterstock
Triangular faces tend to be a lot narrower at the top than the bottom, so the ideal pair of glasses will add width on the top to the naturally slimmer forehead. The best way to do this is to avoid frames that appear too soft and go for something more striking. "[A triangular face] needs bold, strong shapes to add balance to the face. Avoid small, narrow frames," Grace Woodward suggested to MailOnline. Just like for round and heart shape faced people, stylish cat-eye sunglasses are a fine option that will draw the eye up the face (just like when you contour a narrow face). They'll also add some width to the forehead area.
But we know this is a lot of information to take in and it can be more difficult than you think just to know your own face shape. The good news, though? There are ways to make the sunglasses shopping experience much easier. Many sunglasses companies actually offer online solutions to finding the right silhouette for you. Outlets like Ray-Ban allow you to enter personal data like face shape and eye color on their websites. They then use that information to offer up sunglasses options that are most likely to suit you.