Does Rice Water Have Skincare Benefits? Here's What To Know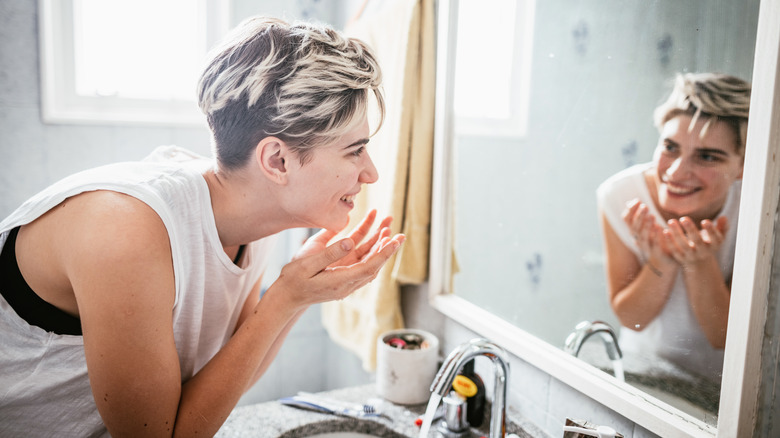 Vasare/Getty Images
Another day, another skincare trend, but this time the trend is coming straight from your kitchen. While you may have tried rice water on your hair, did you know it might also have benefits for your skin? That's right, the cloudy water your rice comes out of might just be the secret to beautiful skin. Even though rice water has been used in Japan as part of hair regimens for over 1,000 years, its use in modern skincare is still relatively new (as a result, long-term studies are not entirely documented yet). That said, there has been promising research into rice water's ability to soothe, tone, and even protect your skin.
While science doesn't move quite as fast as TikTok, it's easy to see why people are so excited about the potential for the rice water skincare hack. A bag of rice itself is relatively cheap, and as long as you have time to cook it, you could potentially have months worth of skincare product on hand for a fraction of cost for fancy skincare elixirs at the beauty supply.
This can be music to the ears of too many of us who have spent more money than we wanted to try out skincare routines that ultimately didn't work out. Let's explore rice water and see if it could help your skincare routine.
What rice water can do for you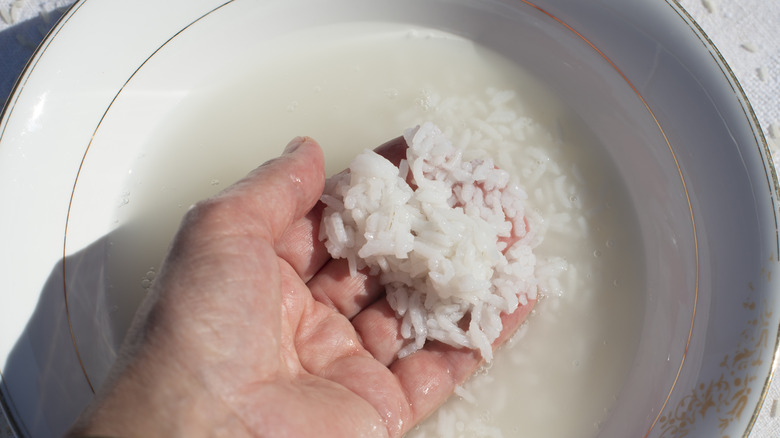 Drazen_/Getty Images
There is a lot of anecdotal hype for rice water's benefits, which makes sense given the push to use more chemical-free at-home ingredients in beauty routines, such as natural makeup removers. Since rice water's use in skincare is still a relatively new concept, there isn't a full scientific account of exactly what it can and can't do for your skin. However, just because the research is new doesn't mean there hasn't already been some exciting findings. Scientifically speaking, some studies have hypothesized that using fermented rice water on the skin could improve the appearance of sun damage, due to its ability to encourage collagen production. This extra collagen can help to prevent wrinkling while also keeping your skin smooth.
Speaking of sun damage, there is also some evidence that rice water and fermented rice water can serve as effective natural sunscreens when mixed with other plant-based ingredients. As if that wasn't already good enough, another 2018 study following 12 people who applied rice water gel to their skin daily for four weeks showed that it boosted overall hydration by 10%.
Some anecdotal benefits include skin-soothing from blemishes, eczema, or other skin conditions as well as skin lightening. Even though influencers might swear by these results, there is currently no scientific research to support the effectiveness of rice water for soothing or lightening. With that being, it doesn't mean these results have been disproven either, so keep in mind that research is still ongoing if you decide to try out this trend.
How to make rice water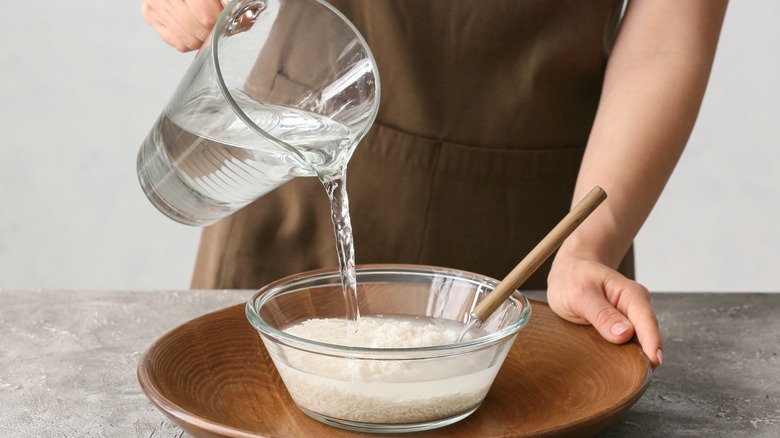 Pixel-Shot/Shutterstock
There are a few easy ways to make rice water at home. To create regular rice water you can take two approaches: soaking or boiling. For soaked rice water, simply place water and rice into a bowl, pan, or container of your choice and let the rice soak for a minimum of thirty minutes. After the rice has softened, press it down with a flat tool (spatula, spoon, etc.) to best release helpful chemicals in your rice. At this point, you can strain the rice and save your water in an airtight container in the fridge for a week. Boiling your rice water involves, you guessed it, boiling your rice and water together on the stove (this method saves you the time it takes for the soaked process). After you bring your mixture to a boil, remove it from the heat and repeat the same process as soaked rice.
For a stronger homemade mix, consider making fermented rice water. Use the soaked rice process except, instead of storing it in the fridge right after pressing the rice, leave the rice water on your counter (or anywhere at room temperature) for two days. Now, this is going to sound a little gross, but once your mixture starts to have a sour smell, it's ready. It can be helpful to dilute this mixture further with water before using, and like regular rice water, should be placed in the refrigerator for added longevity for up to a week.