Emma Watson's Favorite Perfume Is An Earthy, Floral Fragrance Fit For A Witch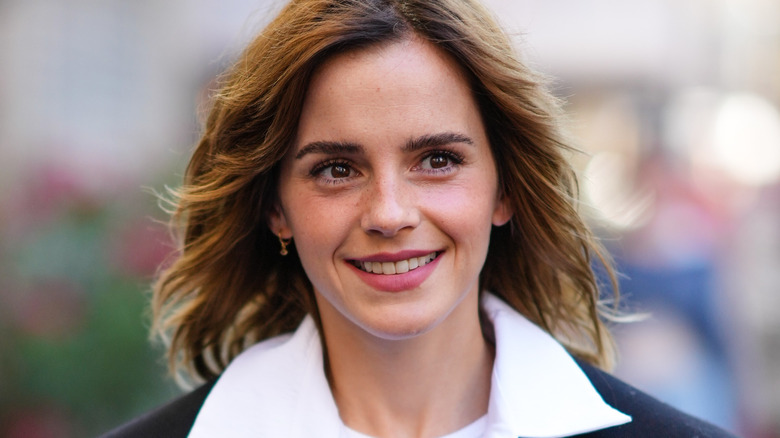 Edward Berthelot/Getty Images
Emma Watson grew up before our eyes to become one of the most naturally stunning and stylish celebrities on the planet. First shooting to stardom when she was just a child in "Harry Potter and the Sorcerer's Stone" all the way back in 2001 (yes, it really was that long ago), Watson has gone on to nab herself a slew of other huge roles in the likes of "Little Women" and "Beauty and the Beast." But it's not just on the big screen where she's made huge strides.
Watson is also a powerhouse in the fashion world, having appeared in campaigns for some of the biggest fashion houses in the world; Burberry, Chanel, Christian Dior, Calvin Klein, and Lancôme just to name a few. It's no surprise then that so many people want to emulate Watson's classy and timeless personal style, all the way down to the perfume she wears. And we know exactly what the star reaches for when she wants to spritz on her favorite scent. Turns out, it's fit for a witch.
Emma Watson had a big hand in creating Lancôme's Trésor Midnight Rose campaign
It will probably come as no surprise to anyone who's closely followed Emma Watson's career to learn her favorite perfume is Lancôme's Trésor Midnight Rose. The reason why? She had a hand in making it! Yep, once again, Watson was caught living our dream when she teamed up with Lancôme to work on the fragrance released back in 2011.
The proud sustainable fashion icon told Women's Wear Daily at the time that she actually chose the color of the rose on the bottle (it's a regal deep purple, by the way, perfect for Watson), as well as having a big hand in the whole ad campaign. "I was involved in the concept for the [ad] film and the tagline, 'Catch my heart if you can,'" she shared, also revealing she had a hand in the costumes for the commercial. "I was very involved in the script. It's been really fun for me," she shared.
One thing you may not know about this star, though? She actually wasn't a big fan of perfumes before lending a hand in the creation of this one. "I didn't really like perfumes before because I thought they were heavy, but this one is really light and playful," she told British Vogue in 2011. "I feel lucky to embody a fragrance I am so crazy in love with."
Emma Watson's favorite perfume is floral yet sexy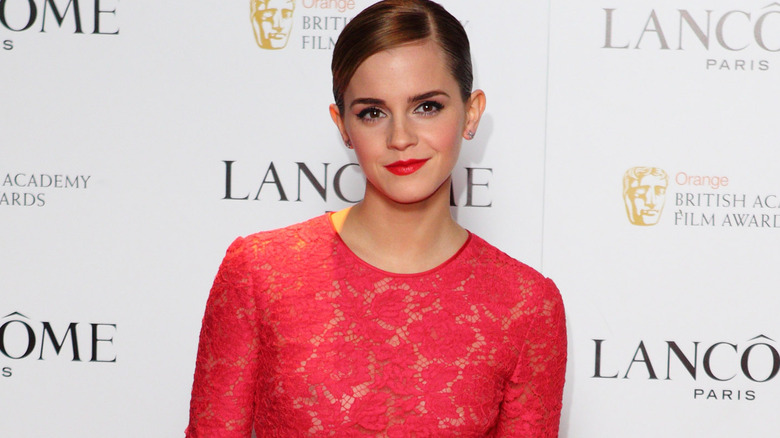 Mike Marsland/Getty Images
They say you can tell a lot by someone's favorite perfume. And, just like Emma Watson herself, Lancôme's Trésor Midnight Rose gives off a floral vibe with a sexy twist. The perfume has a floral yet woody musk scent plus it's fruity at the same time. The scent has top notes of jasmine, peony, blackcurrant, and pink pepper, with heart notes of rose absolute and raspberry. As for those all-important base notes? You'll find essences of Virginia cedar, vanilla, and musk. See, we told you this woody scent was perfect for a witch! Even if it's just a movie witch. It's no wonder Watson proudly described the addition to Lancôme's Trésor franchise as her favorite perfume to Harper's Bazaar back in 2011.
But when Watson's not wearing Lancôme, there is one other fragrance she has a thing for. Only, even she doesn't know its name. The star revealed she went to a French perfume factory at 11 or 12 years old, and her dad bought her the scent as a gift. "I don't know where else you can get it. I've tried to find it but I can't, so I just keep it with me as a good luck charm now," she told Into The Gloss in 2017. "If someone knows what it is, that would be amazing! I would love if someone could figure it out for me." The sleuthing starts now.