The Glamourous Audrey Hepburn-Inspired Hairstyle You Need To Try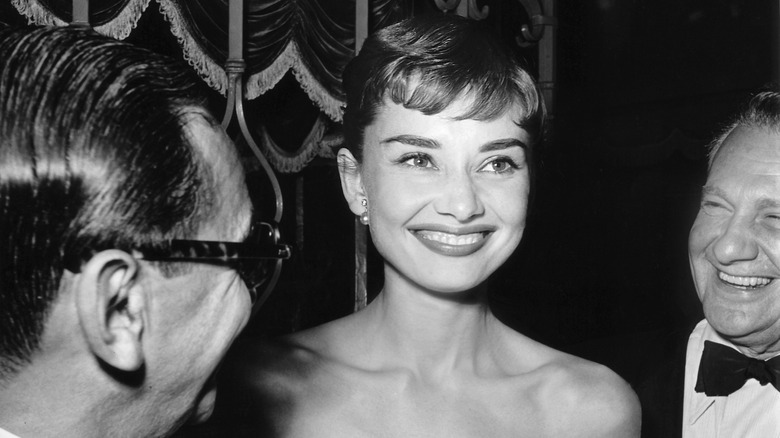 Km Archive/Getty Images
If you've every worn a little black dress (aka LBD), you've already given a nod to movie icon Audrey Hepburn and her sense of style. When she starred in the classic film "Breakfast at Tiffany's," her wardrobe gained almost as much as attention as she did. And, with her Oscar-winning turn in "Roman Holiday," and famous roles in "Sabrina" and "Funny Face," you've got plenty of projects in which to admire all of her beauty moves, including her hairstyles.
No matter what role she played on the big screen, or movie magazines she posed for, you could almost always count on seeing Hepburn's delicate features perfectly framed with her signature short bangs. In fact, she even got them cut on screen, in a famous scene from "Roman Holiday."
Often worn in a little bit of a tousled style, often brushed casually to the side as if wind-blown, the star's baby fringe lent a sophisticated and even edgy element to her upsweeps, ponytails, and pixie snips. Is it any wonder she's still inspiring tress trends today — especially amongst celebrities?
Lily James wears the bangs
Though you most often see Lily James as a blonde in films like "Cinderella" and "Mamma Mia! Here We Go Again," she's equally stunning as a dark brunette, as she proved at both the Critics Choice Awards (left) and at the Met Gala (right). Wearing very couture versions of the LBD at both events, she channeled Audrey Hepburn's mane in both color and style. 
Hairstylist Halley Brisker styled James' mane each time, and shared the star's upsweep and bangs for the Critics Choice Award were, indeed, influenced by Ms. Hepburn herself. 
For the Met Gala, Brisker created two different mane looks: one for the red carpet, and one for the after party. Lengths were pulled into a bun for the gala, then later released into a ponytail, giving James two of Hepburn's classic mane moves. She also had the matching micro-fringe for both, perfectly split into peaks.
Alexa Demie has the cut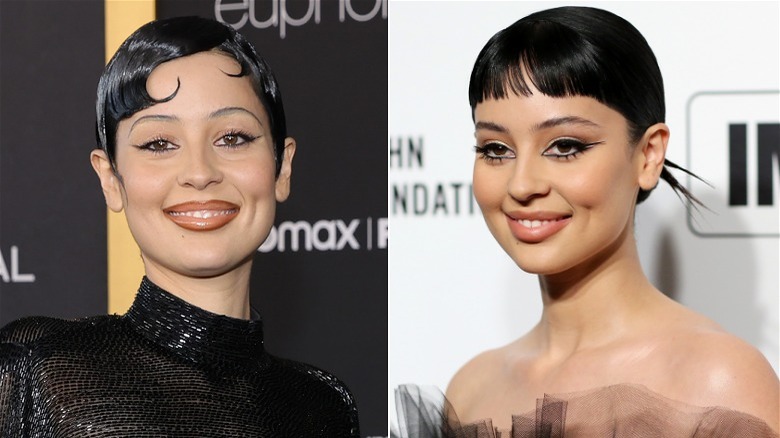 Phillip Faraone/Getty & Amy Sussman/Getty Images
"Euphoria" star Alexa Demie is known for her edgy vibe and fashion-forward style. While the rest of the world is indulging in the latest and greatest trends, she's ruling the red carpet with retro beauty moves like tweezed brows and bold lipliner. She's also done a few nods to Audrey Hepburn's tress silhouette 
Though the actor can be seen in "Euphoria" with flowing lengths, she had her mane chopped into a gamine pixie cut reminiscent of Hepburn's "Roman Holiday" snip. But, of course, Demie has added individual twists to make the look her own.
For the "Euphoria" FYC event (left), instead of doing a loose fringe look, Demie went bolder by splitting her baby bangs in two sections, then forming two precise curls with a dab of styling gel. On the red carpet at Elton John's AIDS Foundation viewing party for the Academy Awards (right), she wore her baby bangs lightly tousled with precision, but super sleek in texture.