Blush Tips To Help You Achieve An Ethereal Look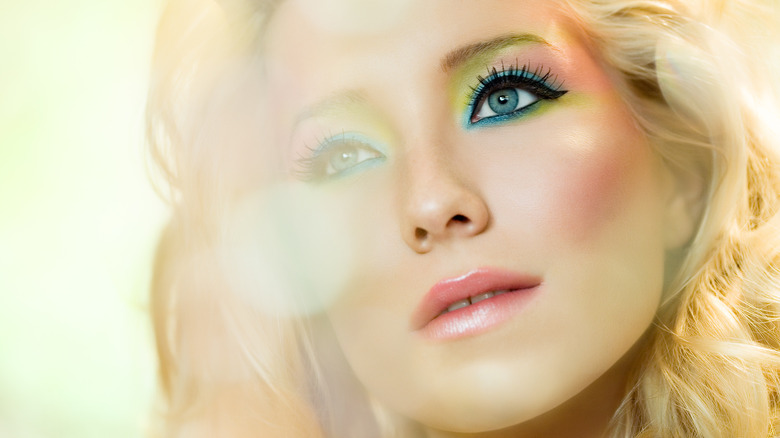 iconogenic/Shutterstock
The fun thing about makeup is that there are so many things you can achieve with it depending on your mood and what you're going for. You can make yourself up to be a vixen for a sexy night out or you can go with the soft glam look for more elegant events. One look that's particularly tricky to pull off without making it look like you're trying too hard is the ethereal look.
Looking ethereal comes naturally to some people. Look at stars like Saoirse Ronan, Doja Cat, and Halle Bailey; they don't have to do much to get that spirit-like glow. If you want to exude Tinkerbell at her full capacity, then the primary type of makeup you should be focused on is blush. The blush you use can either make or break your ethereal look. Bringing out your inner woodland fairy means learning which blush formulas and techniques to use.
Cream blush offers an even and natural blend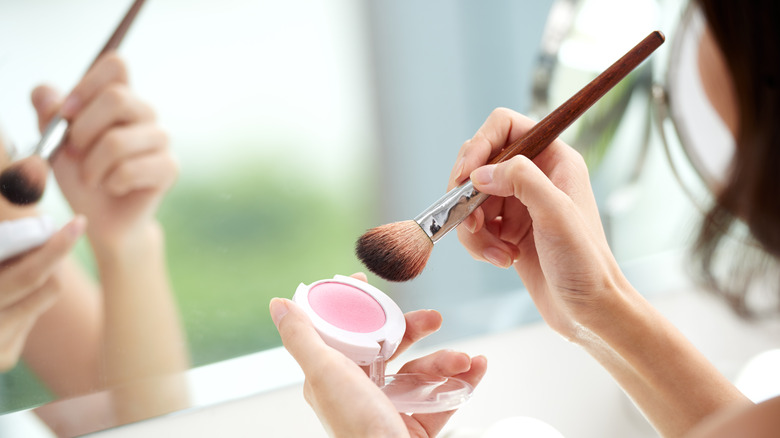 Dragonimages/Getty Images
The goal of ethereal makeup is to make you look otherworldly and angelic, as if you arrived through a portal from a fantasy world with magical elves and hobbits with evil rings. That means you need to tap into the product guaranteed to give you a cherubic glow: blush.
Blush not only accentuates the cheekbones, it also gives your face a healthy dose of color, as if you were a wee lad or lass. In a lot of fantasy and romantic stories, the characters live in lands where age and time run much slower so having a soft, youthful flush is important.
First of all, you need to establish what type of blush can create the look you're going for. Celebrity makeup artist and founder of KIMIKO, Dani Kimiko Vincent told PureWow that cream blush is the best way to go when creating an ethereal look because of its ease of use. A great cream blush to use for your look is the Ilia Multi-stick cream blush which is available in 12 shades to match most skin tones. This award-winning blush also comes in a stick form for easy application. Getting the right type of blush is only the first step. You also need to know how to wear it to achieve the ethereal flair.
Go for sweeping motions along your cheekbones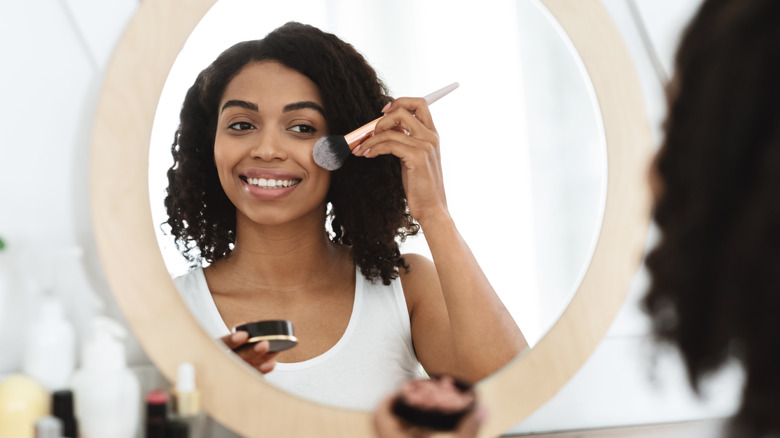 Prostock-studio/Shutterstock
Now that you've gotten your product, you have to know the proper way to apply the cream blush to create the otherworldly effect you're going for. Makeup artist and influencer Zabrena gives us the 411 on how to apply the blush in a YouTube tutorial video.
Make sure to use blush that matches your natural flush color, dab some of it onto your cheekbones, and work it into a seamless blend along your temples. She used two different shades in the video, one rosier and one a bit paler. This will make the color mesh better with your skin and provide some depth. 
Of course, the type of brush you'll use is also high on the priority scale, so you'll love the Fenty Beauty Face Shaping blush brush which has a perfect angle to it. For an ethereal look, you can also use your fingers to blend in the blush, as long as you make a job of it. The idea is light and airy, like a hummingbird's flutter or delicate fairy wings. You need to look like you'll sprout wings and fly away at any moment.