Here's What Went Down With Paskho After Shark Tank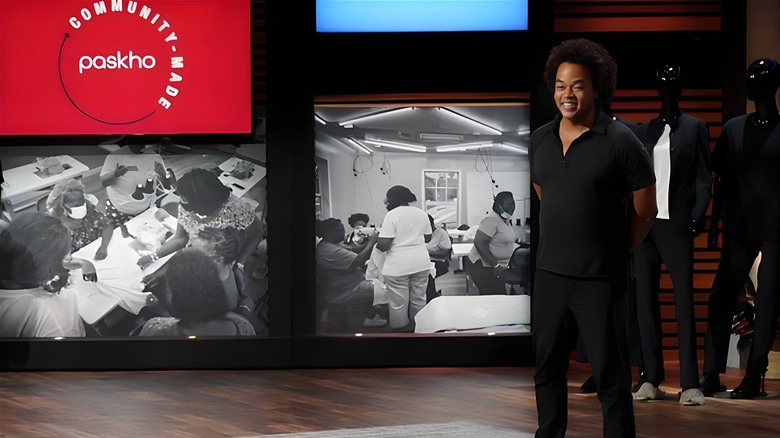 Shark Tank
You might remember Paskho as the eco-friendly apparel brand that appeared in Season 13 of Shark Tank. The brand's aesthetic focus was (and still is) on creating high-quality and comfortable travel clothing in sustainable ways. However, the company's dedication to overcoming racial and social inequality through job creation and living wage standards is what makes the brand truly special. Ultimately, Pashko is less about its actual clothing and more about its company's social mission.
Paskho was founded by Patrick Robinson, a veteran fashion designer whose career has included working for fashion houses like Giorgio Armani, Anne Klein, Perry Ellis, Paco Rabanne, and Gap. After working in multiple different levels of fashion, Robinson noticed inequities to which he couldn't continue contributing. In response, he launched the Paskho Community-Made Initiative as a way to do more for struggling communities while also designing high-quality products.
Today, Paskho is focused on not only moving away from the dangers of fast fashion but also on revitalizing American manufacturing by allowing makers in the US to make Paskho's products. Robinson argues that, by bringing 100% of Paskho's manufacturing back to the US, they can create jobs in underserved communities and combat social injustice. Not bad for a pair of chic travel pants. This brought Robinson to Shark Tank, where he presented his vision with the hopes of getting a $500,000 investment.
What happened to Paskho on Shark Tank?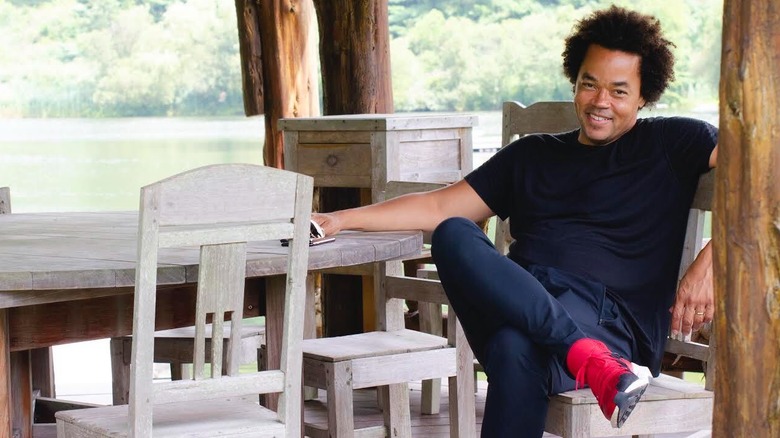 Vogue/Pashko
Despite Robinson's illustrious career and outstanding social messaging. none of the investors on Shark Tank chose to invest in Pashko during the episode (which aired in October 2021). Despite this, Robinson's dedication to not only environmental sustainability but also social equality impressed the Sharks. It's worth noting that Paskho's creation in 2015 was due to a successful Kickstarter that didn't have nearly the focus on social equality that it does now. However, the death of George Floyd in May 2020 spurned Robinson's expanded vision for the brand.
In order to continue expanding his production location and abilities, he asked the Sharks for a $500,000 investment in exchange for a 2.5% stake in his company. While most of the Sharks emphasized their lack of expertise in the apparel and fashion markets, the high cost of production was ultimately seen as a negative. Even though Robinson told the Sharks that the company's 2019 sales came to $6.7 million, the problem came down to a lack of overall profitability due to both supply chain issues and a very high customer acquisition cost ($95 per a single pair of pants, to be exact). 
The Sharks argued that Robinson had a marketing problem, with an inability to reach customers through his brand. This lack of greater customer acquisition, combined with the fact the company wasn't yet profitable, led each of the Sharks to decline Robinson's pitch and Robinson left the show with no investment deals.
Pashko After Shark Tank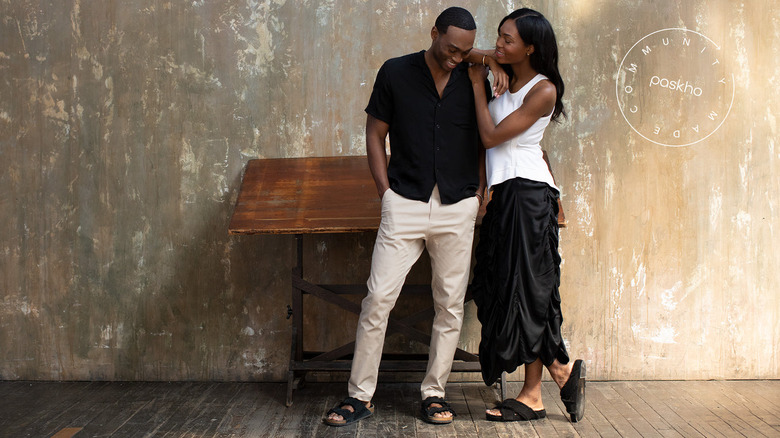 Pashko
Despite the Sharks claiming that Robinson had a marketing problem, fans of the show were impressed by Paskho. Many even fought back on social media against some of the attacks that the Sharks lobbied at Robinson, showing how supportive people were of Robinson's vision to help end the racial wealth gap affecting underserved communities. All press was good press in this instance.
Financially, Paskho had actually been previously invested in by a non-profit organization, Souls Grown Deep, in early 2021. Their $600,000 investment went towards the establishment of a localized production pod in an impoverished area in Boykin, Alabama known as Gee's Bend. This production pod led to the training of seamstresses and quilters in the area, who now make Paskho clothing while earning a living wage. While the initial investment pre-dates Robinson's time on Shark Tank, the process of developing this manufacturing pod took over a year to fully establish. This pod's successful implementation helped Paskho continue its journey of moving manufacturing to the US, and even allowed the brand to work on production pods in other places.
Is Pashko still changing the fashion world?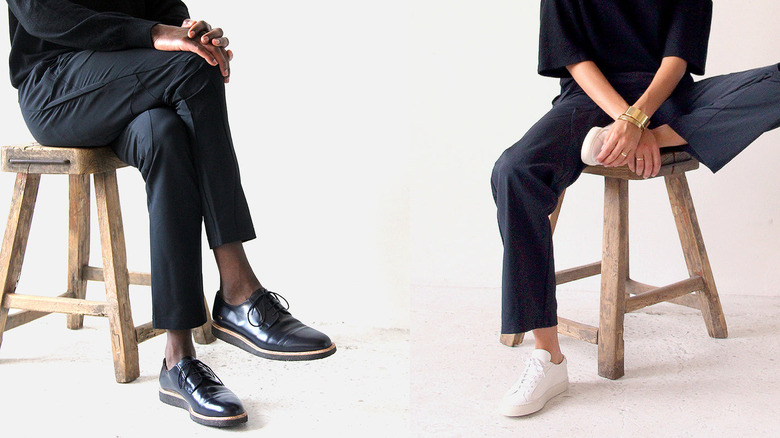 Pashko
Paskho is still changing lives and creating chic travel wear. Given the financials presented on the show of past sales amounts from 2019 and 2020, the company is estimated to be worth around five million dollars, but additional partnerships since Shark Tank (specifically for manufacturing pods) could have led to increased profitability. With that being said, Robinson has been very transparent on Paskho's social media that the journey is not easy, and the company still struggles to fulfill its mission and change people's minds about clothing (while also embracing slow fashion).
In keeping with Robinson's attempts to change the fashion world, Paskho's community-made clothing line allowed it to put its mission up front when selling its clothing. By establishing a specific line (of both women's and men's clothing) that is community-made in a Paskho production pod, consumers can know they are directly supporting Paskho's mission. The brand has also introduced crowd-funded items in the past, which are pre-ordered special items meant to ensure no additional waste is created. This crowd-funded studio allows consumers to help support Paskho's community-made endeavors while also ensuring sustainability.
What's next for Pashko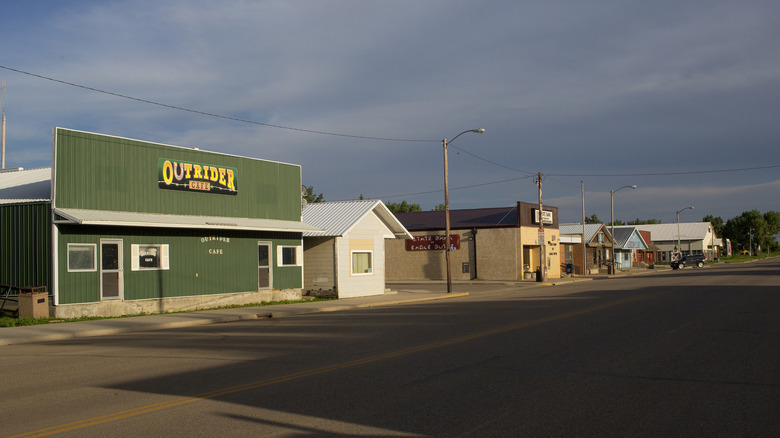 Andrew Lichtenstein/Getty Images
Paskho has been developing a brand new production pod located in the Eagle Butte community of the Cheyenne River Reservation in South Dakota. Dubbed the "Oyate" Pod by the community there (Oyate is the Lakota word for "people"), this pod marks a new home for Paskho in South Dakota. Much like Gee's Bend before it, this production pod brings manufacturing and sewing jobs directly to an impoverished area, where training and skills are nurtured for the creation of Paskho clothing.
By training a sewing pod of six people at a time, Paskho ensures their makers learn from a master sewist and are given time to develop their seamstress skills. As of March 2023, the Oyate pod employed 6 makers, and was looking to grow with the addition of 12 more sewers in two additional pods. While there is no official word on where the next Paskho pod location might be, there is sure to be more. Robinson has made it clear he has no intention of stopping anytime soon, telling the Alabama News Center, "My long-term goal is a big one. My long-term goal is to actually be able to manufacture not just clothes, but multiple products in communities across the United States." The future is bright at Paskho, as they continue to change the lives of the most underserved people across the country. Robinson elaborated, "We've just started a seed, but it's going to grow."