We're Sorry, But Dyson's Hair Products Can't Be Duped. Here's Why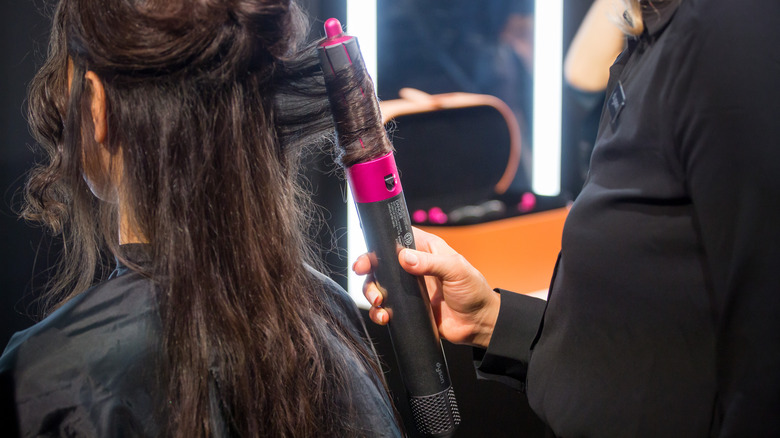 Bloomberg/Getty Images
Chances are you've seen a video somewhere showcasing the incredible wonder that is Dyson hair care products. From dogs to dolls to humans, these magic wands, dryers, and straighteners seem capable of transforming all hair into the ideal hair fantasy. That fantasy is, however, usually halted immediately upon seeing the price tag. With the Airwrap sitting at $599.99, the Corrale straightener at $499.99, and the Supersonic hair dryer at $429.99 it can be hard to commit to Dyson haircare tools despite how wonderful they might seem.
These price tags often lead people to seek out less expensive alternatives that might be able to create the same effect. While this idea is great in theory, it ultimately misses what makes these Dyson products so special (and why they are so expensive in the first place). More often than not, dupe Dyson products have a similar appearance but a very different impact on your hair. From a focus on diversity to a dedication to causing less damage, there's a really good reason that the Airwrap has won Allure's Best of Beauty Award four times (and that Dyson products are consistently included in beauty list must-haves). This unique technology and company focus is also exactly what makes it impossible to duplicate for less.
Why Dyson technology is unique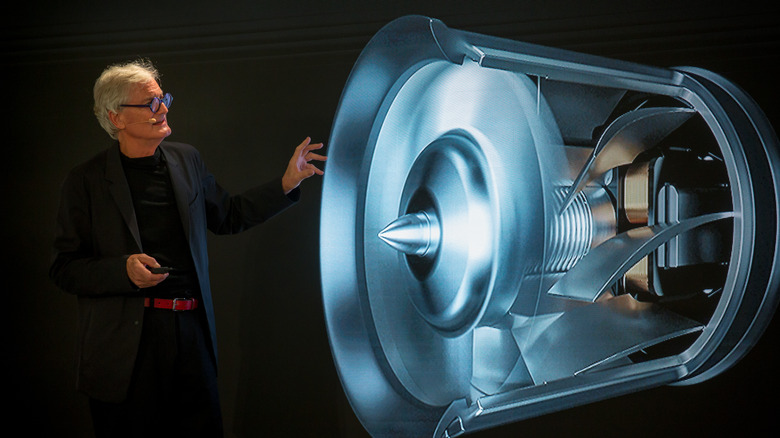 Bloomberg/Getty Images
You've probably seen the commercials of Sir James Dyson explaining his vacuum cleaners, but how does that relate to your hair? One of the key differences that separates Dyson products from the many dupe products out there is the lack of heat damage. Dyson prioritizes the health of a person's hair within all of its haircare products by creating tools that ensure your hair stays stronger in the long term. For instance, the Airwrap utilizes something known as the Coanda effect, in which high-velocity air creates a kind of vortex inside the rounded shaft of the tool. This allows you to dry and style your hair with substantially less heat damage than a traditional blow dryer or curling iron.
Dyson also utilizes what it refers to as flexing plates for its Corrale straightener, which allows you to use less heat to achieve the same smooth look as a regular straightener. As most of us know, straighteners have a tendency to be very damaging, so the Coralle advertising that it creates half the thermal damage of a regular plated straightener is an absolute game changer. Dyson also recently released the Airstrait, a wet-to-dry straightener that causes no heat damage by utilizing air. In fact, Dyson advertises the Airstrait as capable of propelling 11.9 liters of air through the machine per second. This new technology dries and straightens your hair at the same time, saving you a LOT of time while ensuring your hair remains smooth and frizz-free. (This technology is incredibly unique, so please don't try to wet straighten your hair with a dupe product.)
How Dyson prioritizes diversity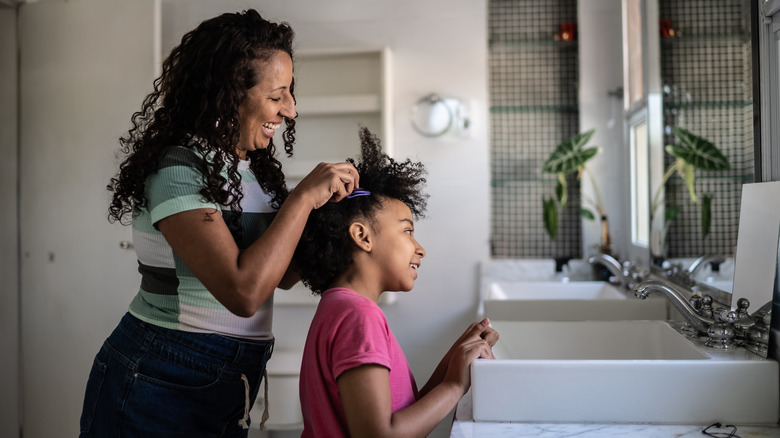 Fg Trade/Getty Images
Perhaps one of the best things about Dyson products is their focus on diverse hair textures and types. The inclusivity of their technology allows for great hair care regardless of your natural texture, which makes these tools great options for a wide variety of people (because curly girls have enough to worry about). The haircare market has rather famously excluded Black women from its focus throughout the years and this has led to a lack of diversity within products and tools designed for textured hair. From a general lack of exposure and training for textured hair within beauty school programs to the beauty industry's obvious preference for straight hair, there is a noticeable gap. This is what makes Dyson's rigorous testing on all hair types, including natural and textured hair, so special and important. Its products are truly for everyone.
If that wasn't cool enough, Dyson has also been working to level the gender pay gap within the company and has released an annual report detailing its progress since 2017 — as of 2021 women at the company are actually paid more by 2.6%. Dyson has also worked to increase the number of female-identifying students in its engineering institute and consistently advocates for more women in STEM. This means that not only are its proprietary products incredible, but you can also feel good about choosing to spend your hard-earned money on them.