What Is Eyebrow Lamination And What Can It Do For You?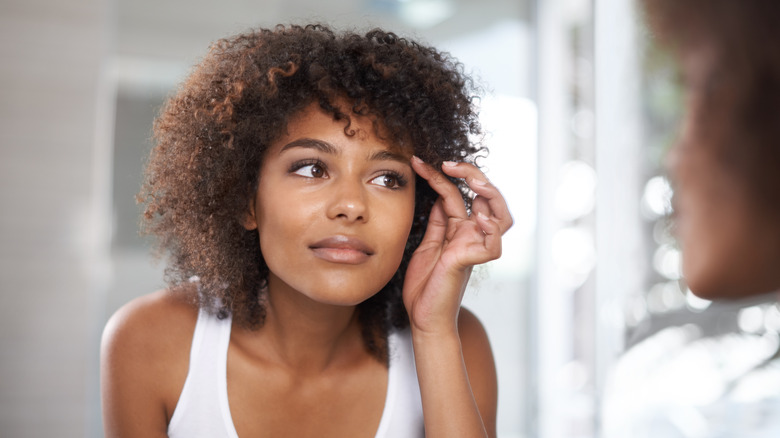 Peopleimages/Getty Images
From microblading to threading to plucking to lamination, it can often feel like there are a million different eyebrow treatment processes to choose from. Chances are you might've heard of eyebrow lamination, especially if you regularly frequent salons and/or estheticians. However, whether you have a friend, coworker, or favorite influencer singing the praises of eyebrow lamination, it can be equal parts tempting and intimidating to try a new eyebrow treatment for the first time. Eyebrows, while incredibly important for framing your face, can be difficult to nail down. From thickness to texture to preferred end result, selecting the right eyebrow treatment for your specific brow line can involve a lot of research. 
Trying a new eyebrow technique like lamination can be especially daunting if you're unfamiliar with the method and how it differs from other brow processes. If you're not sure what lamination looks like, it creates the vertically brushed-up, high-shine, smooth-finish eyebrows you've probably spotted on TikTok. While the look might not be for everyone, its increasing popularity begs the question: is eyebrow lamination right for you? Let's explore what makes lamination different from other eyebrow treatment options, and who the process works best for.
What makes lamination different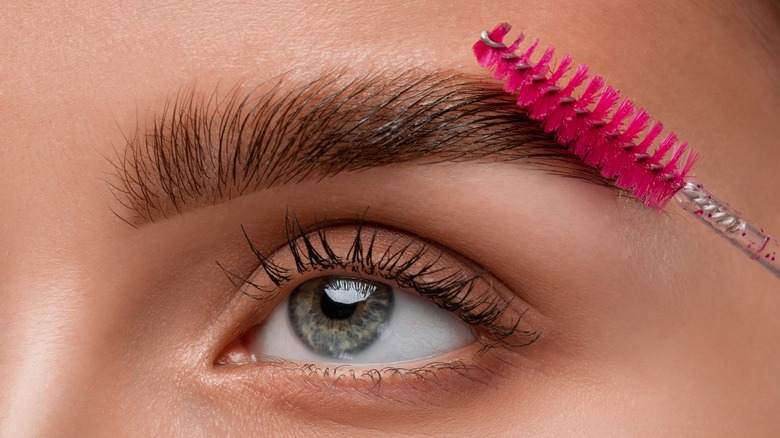 dimid_86/Shutterstock
Joey Healy, a brow expert, explained to Elle, "Brow lamination is a chemical treatment process to the eyebrow hair, in which the intention is to take out any of the curl or kinks or texture and make the brows lie very flat and straight." The treatment used for this process is the same used for eyelash perms, as it allows the eyebrow hairs to be repositioned into a new overall shape. This new shape can help improve the appearance of eyebrow fullness for up to eight weeks. Not bad for a half-hour process, right?
Unlike microshading, microblading, and microfeathering, which are semi-permanent tattoo processes that add the illusion of more hairs (by filling in areas of your brown line where skin might show through), lamination strictly styles your existing eyebrow hairs. This means that, unlike tattooing, this process is inherently less permanent which can be great for anyone who likes to keep their options open. On the flip side, if you find you don't like the end result of your brow lamination treatment, you have to wait several weeks for your eyebrow hairs to relax and loosen again. 
Could brow lamination be right for you?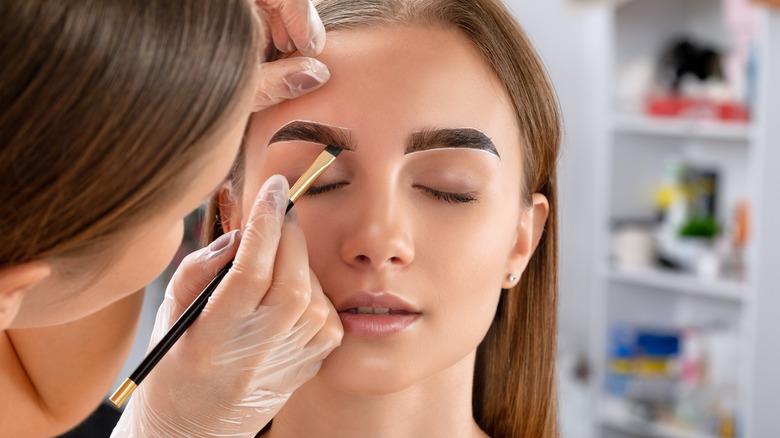 dimid_86/Shutterstock
Lamination can be a great option for those with thicker eyebrows or those who want to give their thin eyebrows a boost of fullness. Lamination can also help tame any textured or even curly eyebrow hairs that are difficult to keep in place. So, if you're someone who regularly uses eyebrow gel, lamination could be a great way to skip this step in your beauty routine for a few weeks. 
It's important to remember that brow lamination is not interchangeable with microblading so it's important to analyze not only your current brows but also to make sure you have a clear idea of what end result you're hoping for before deciding between processes. Lamination can absolutely give you shape and fullness, but may not be the best option for those looking to fill in any sparse areas of the brow. It's also important to note that the chemicals used in brow lamination can lead to allergic reactions and cause dry skin so finding the right brow specialist can be key in getting the results that you want.