The Benefits Of Dry Vs. Wet Cutting For Curly Hair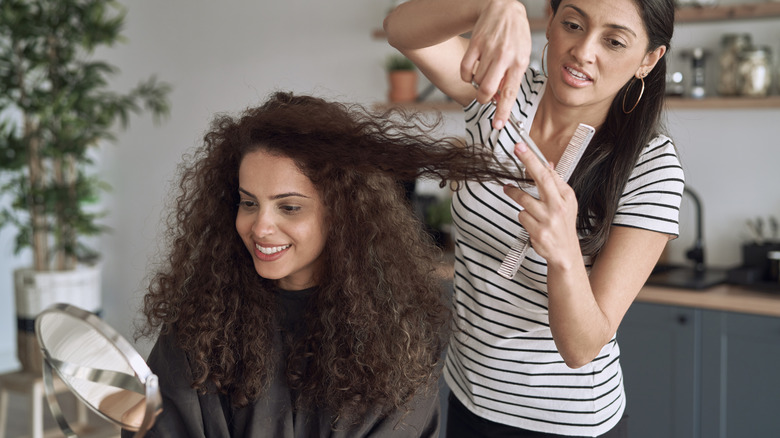 Gpointstudio/Getty Images
For curly-haired people, a salon visit is rarely, well, as straightforward as it is for folks with straight hair. For those who haven't yet found a stylist they can trust, getting their strands cut by someone who knows how to work with textured locks can be a game of chance since, unfortunately, only 19 states require their hair stylists to receive formal training in working with natural or textured hair (per The Puff Cuff).
If you're blessed with a head of natural curls, it is important to understand what works best for them so you can avoid the usual curly-hair problems — and that involves more than using the right hair products, tools, and accessories. You also need to know the right styling techniques for textured strands. That way, you're better equipped at working with a stylist and sparing yourself from getting an unflattering 'do.
One crucial matter is knowing which is better for curly hair: dry or wet cutting? While a typical salon visit starts with getting your locks washed before getting them cut and then dried, it's worth questioning if switching those latter steps might be better. After all, depending on the hair type and porosity, curly hair can shrink by up to 90% of its length once dried, per Naturally Curly. (This doesn't indicate damage, by the way; shrinkage is natural for curly and textured hair.) Unless you plan to sport a wet look 24/7, having your curls cut when they're dry might be a better option.
Dry cutting reveals the hair's natural movement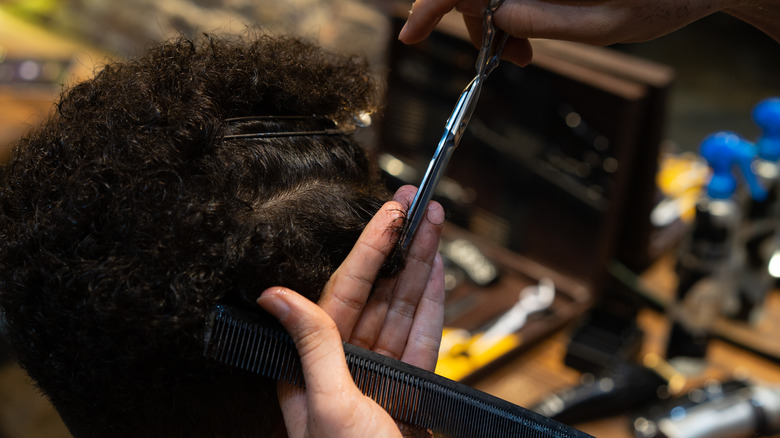 Byakkaya/Getty Images
Many stylists prefer to cut hair while it is dry. Seeing how a client wears their locks naturally provides helpful information for determining an approach that would work for different hair sections and from all angles. How would a fringe fall against the forehead when a client has a cowlick? What layering techniques and tools add movement to tighter curls? Dry cutting lets a stylist tailor their approach to address such concerns by taking into consideration the hair's natural behavior. "Cutting dry allows the stylist to create shape while customizing for the individual in the chair and each individual curl on the head," Molly Owen, VP of Education for DevaCurl, explained to Naturally Curly.
It also doesn't hide potential styling issues. Unlike wet cutting where the hair gets trimmed while it's weighed down and shapeless, dry cutting reveals the sections with naturally uneven textures or curl patterns. It then becomes easier for the stylist to know where to reduce bulk for clients with thick hair or add volume for those with thin, fine strands. According to ColorProof's Director of Education Erica Conan (per PopSugar), this helps the resulting style retain its shape even as it grows out, maximizing not just the haircut but also the time and cost allocated for it.
Wet cutting is great for precision cuts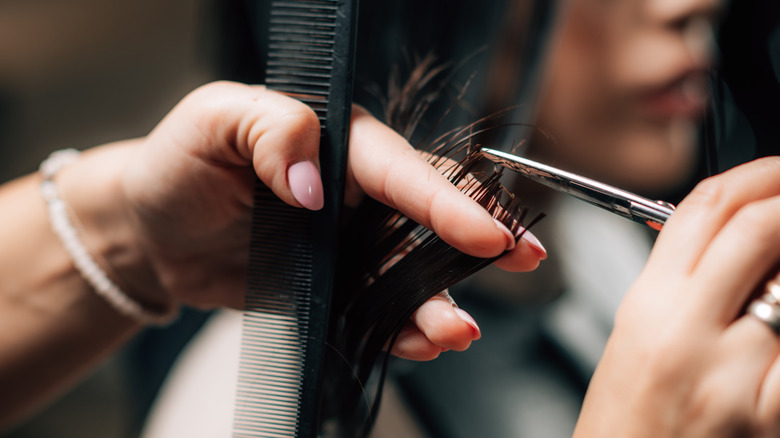 Microgen/Shutterstock
When it comes to wet cutting, its biggest pro is the control it affords a stylist, especially when doing short, tapered cuts, according to celebrity hairstylist Teddi Cranford (per Byrdie). Although shrinkage will definitely be an issue, curly-haired people looking to get a precise cut can find it attainable with this method.
Curly Hair Institute's Jonathan Torch doesn't cut curly hair dry but he does a thorough study of every client's hair, detailing to Naturally Curly, "Before I do the haircut, I analyze the curl, analyze the volume, touch the hair to see how much it expands." That way, he knows how to manipulate the waves and coils even when they're wet.
Another benefit to this method is how it can optimize your salon visit. While you can definitely ask for a shampoo and blowdry during an appointment, some stylists who are dry-cutting aficionados may request clients to come in with already-washed and air-dried hair, not just to cut down on the steps but also to avoid hair-product build-up on the scalp. That's great news for those who aren't into lengthy salon visits. With wet cutting, in comparison, you are guaranteed to enjoy a scalp massage while getting your hair washed. You can even squeeze in a treatment if you feel like it since the blowdry happens at the very end of your appointment. As a traditional styling method, wet cutting offers you the chance to truly treat yourself while in the salon.
Many stylists combine the two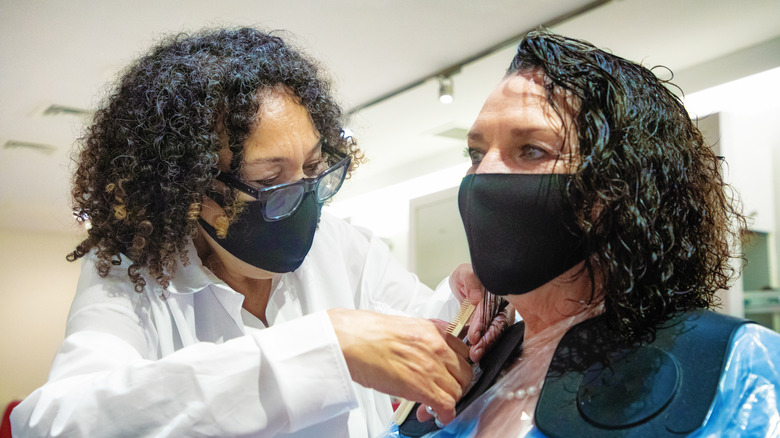 Nicolasmccomber/Getty Images
With both methods offering their respective benefits, you don't have to make a strict choice between the two. Combining them is actually a technique practiced by many stylists since the strengths of both hair-cutting methods make styling a variety of textures much smoother.
Erica Conan sees the mix of both methods as especially beneficial for people with fine or thin hair. She explained to PopSugar that wet cutting can achieve the general baseline of a desired hairstyle and then dry cutting will take care of the overall finish. "Dry cutting is great for providing additional texturizing and fine-tuning post-blowout when the actual shape and fall pattern are visible." It's a similar approach to Teddi Cranford's who detailed to Byrdie how she'll switch from using a razor to cut hair to blow-drying and brushing the strands to begin giving them some movement. "Once I can see the hair dried and styled, I will go in with my shears as a final step on dry hair to tweak parts of the haircut that I couldn't previously see when the hair was wet."
Aside from its versatility, the combination of dry and wet cutting also lets you explore other ways of wearing your hair since you can see how it falls and takes shape at different stages of the haircut. Just be open with your stylist about your expectations and hair care routine so your curls get the treatment that will let them shine in their natural glory.