Colloidal Oatmeal: The Skincare Ingredient For Soothing Fussy Skin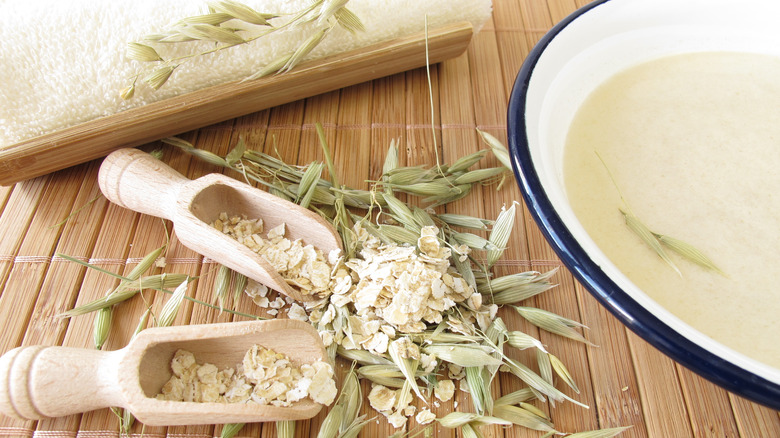 Heikerau/Getty Images
We may receive a commission on purchases made from links.
You may be dealing with itching, redness, and scaly patches if you've been blasting your skin with multiple active ingredients like retinol, exfoliants, or salicylic acid. You might have those anyway from other sources, like too much sun or forgetting to wash your face after workouts. There are lotions and potions galore at your local beauty shop and online, but colloidal oatmeal is one of the best ingredients to soothe your rattled skin. That might sound familiar to you if you've ever had chicken pox and made jokes about the oat soup bath you had to soak in. That was colloidal oatmeal as well. In fact, oatmeal has been used as an ingredient to soothe itchy and dry skin since around 2000 BCE in both Arabia and Egypt, according to the Journal of Drugs in Dermatology (JDD).
We've all eaten oats in one form or another, but how is colloidal oatmeal for skincare made? Board-certified dermatologist Hadley King, MD, told Allure about the process. She explained, "Colloidal oatmeal is produced by grinding the oat into a fine powder and boiling it to extract the colloidal material. It's a natural complex of lipids, proteins, peptides, and starches that soothe, nourish, and moisturize the skin." Let's look at how it can help you and which products contain the ingredient.
How can it benefit your skin?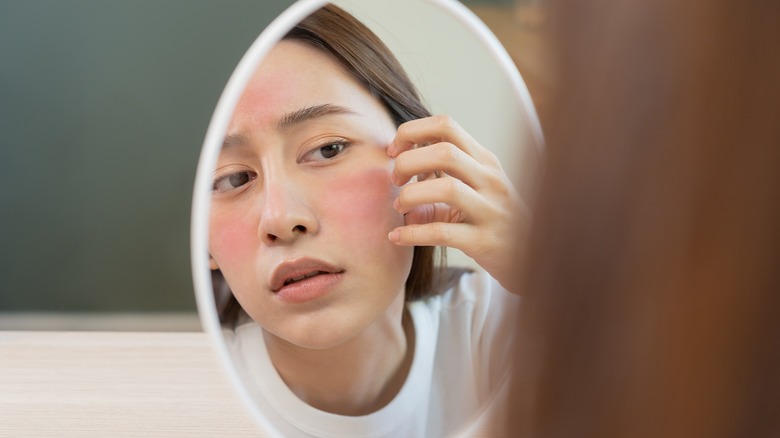 Kmpzzz/Shutterstock
Colloidal oatmeal is known for its soothing anti-itch and anti-inflammatory properties. American Academy of Dermatology Dr. Robert Anolik told Today about how it soothes the skin. He said, "Oatmeal leaves behind moisturizing polysaccharides, as well as lubricating fats on the skin's surface. This creates a surface skin that's better hydrated and a restored skin barrier." Another dermatologist, Corey L. Hartman, MD, told Allure that it can be helpful for "dry skin, contact dermatitis, and eczema." He also mentioned the "excellent safety record" for the ingredient. 
Safety is key here, especially when dealing with irritated skin. There are so many products out there with aggressive ingredients to exfoliate, prevent and treat acne, and help deal with fine lines. One at a time, they may work well for you (it all depends on your skin), but sometimes layering them can cause you to peel, break out, and deal with redness. Products with colloidal oatmeal can help deal with the damage. In fact, the first colloidal oatmeal products were out for sale in the 1940s, with the FDA saying it could help over the counter with irritation and itching in 2003, according to JDD. 
So, do we go harvest some oats or scrape the remnants of breakfast oatmeal onto our faces? Thankfully, there are plenty of products out there for the face and body that contain this beneficial ingredient.
Which products contain colloidal oatmeal?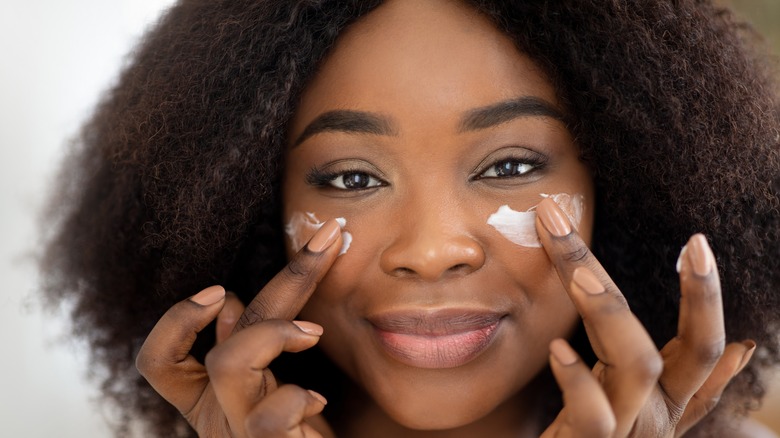 Prostock-studio/Shutterstock