Here's Exactly What To Look For When You're Trying To Find Your Perfect Hair Color Match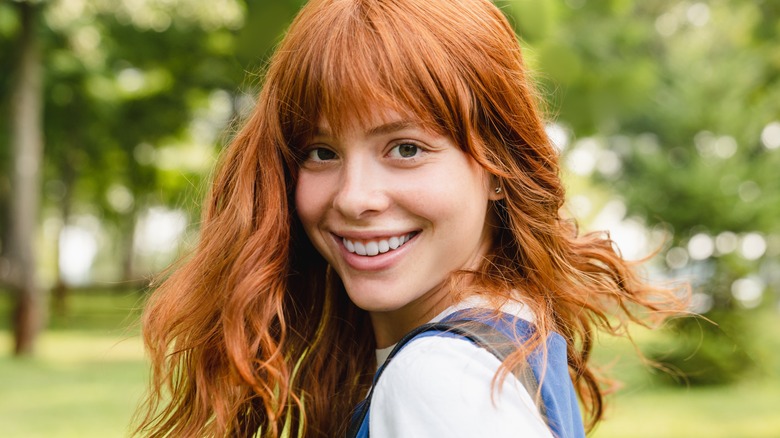 Inside Creative House/Shutterstock
In our early color experiments, we've all grabbed a box of hair dye from the drugstore and gone to town with a shade wildly different from our own. It's a thrill to try on a new hair color persona (and then dress differently too). At-home hair color is often more of an exploration of personal identity than a careful search for a truly flattering color. But for next-level hair color that suits you exactly, take a more thoughtful approach.
Your first stop is to look at your skin: your actual skin color can shift slightly from a suntan and get paler in winter, so adjust according to the season. Celebrity colorist Rita Hazan shared with InStyle to use your skin tone — how fair, light, tan, or deep you are — as a guide. Scroll through media to find celebrities whose skin matches yours and check out their hair color. Also, prep yourself with this summer's subtle (yet stunning) hair color trends, then save the ones you love from both lists to show your stylist.
Figure out your undertone
Step two is to figure out your skin's undertone. There are four basic undertone categories: warm (golden, peachy), cool (bluish, red, cool pink), neutral (mix of both), and olive (greenish). There's a misperception that darker skin is automatically warmer or that extremely fair people always have cool undertones — while it can be true, so is the opposite. Undertones operate independently of skin color.
Look at the veins on your wrists — if they're green, you could be warm and if they're more purple and blue, you could be cool. If your eye color is gray, black, dark brown, or ice blue, you're cool, and if they're amber, hazel, warm green or blue, or golden brown, you're warm.
Drape fabrics across your chest and shoulders to do a color test. People who look stunning in pure white or pure black clothes are usually cool, while warmer tones find ivory and cocoa less stark and more flattering. Neutrals can usually handle most shades, while olives need to avoid colors that make them sallow. For comprehensive undertone tests, Michelle Londyn's YouTube tutorial is fantastic, and Kelly MacPepple, Ph.D.'s YouTube channel has an energetic video for people of color.
Hair color shades for cool and warm undertones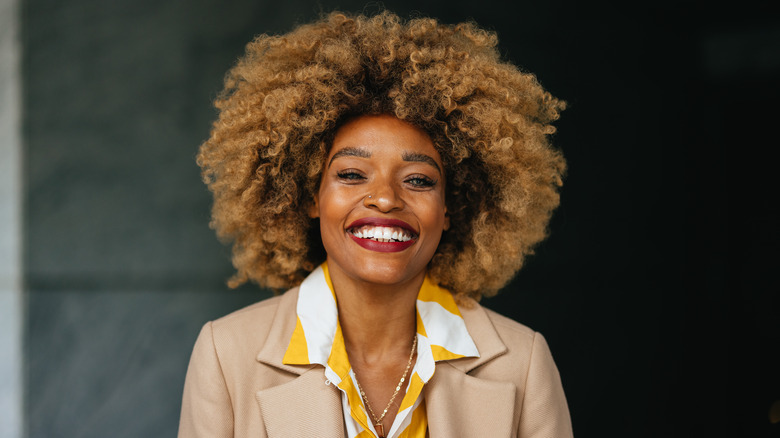 Miniseries/Getty Images
Now that you've found hair colors you like on celebrities whose skin shade matches your own, open your mind to other possibilities. For instance, you might be in love with the idea of an angelic halo of baby blonde hair. But if that shade isn't truly harmonious with your undertone or if your skin color is deep, consider caramel or butterscotch highlights instead.
For warm undertones, avoid colors with the word "ash" in the title, cool bluish-blacks, platinum, silver blonde, or anything that reminds you of an icy landscape. If your hair is lighter, a warmer strawberry blonde adds depth to your natural dishwater blonde. Golden blonde is less damaging than a lighter version, plus it has the warmth of brunette low lights. Honey blonde is more of a saturated hue than golden blonde. Autumnal reds and ginger colors are exciting. If you're a brunette, a golden brown adds interest, and bronze and amber work beautifully on tan and deep skin colors.
For cool undertones, you want to avoid anything golden, peachy, or orange. That doesn't leave red off the table, but it needs to be a cool red. Think cabernet or red velvet cake but not sunset. If your hair is already light, platinum or ash blondes with blue but not yellow undertones add energy. Cool sandy brown and chestnut are great colors for brunettes. People with cool undertones can go full goth with inky blue-black hair and look stunning.
Olives, neutrals, and other considerations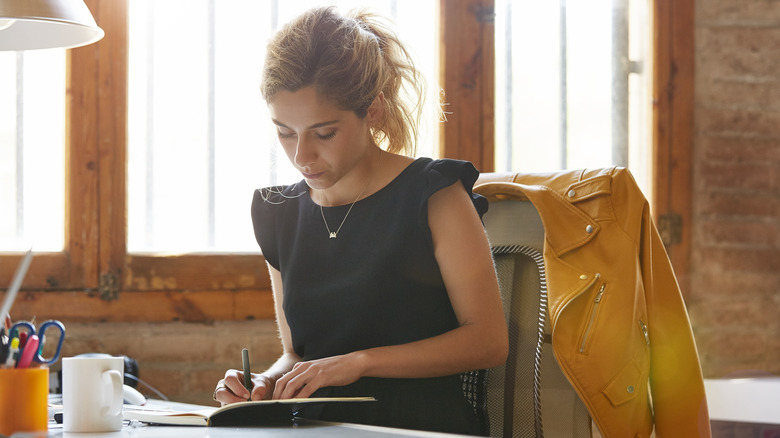 Morsa Images/Getty Images
People with a neutral undertone have the widest hair color options and will find most colors suitable. Olive undertones tend to skew either warmer or cooler, so follow the guidelines for the appropriate category. Olives tend to be underrepresented in beauty conversations, so working with a professional color analyst to understand what's flattering for you might be a worthwhile investment.
As you're choosing a hair color and consulting with your stylist, consider how much future maintenance is involved. Red hair fades quickly and light blonde is also high maintenance. Unfortunately, blonde dye is the most damaging to your hair over time.
To counteract damage from coloring, over-processing, and using heat styling tools, don't over-shampoo. Consider using a dry shampoo in between washes. As for other maintenance products, we used to only be able to get purple shampoo treatments at the salon to counteract the inevitable yellowing of dyed blonde hair. Now you can use purple shampoos at home. But what in the world is blue shampoo for, you may be asking? It pulls out the brassiness of dyed brunette hair. Take the hair colors you prefer, your skin color, your undertone, and your stylist's expertise into consideration — and boom, you've got a perfect hair color match.