So, What's The Deal With Skincare Essences?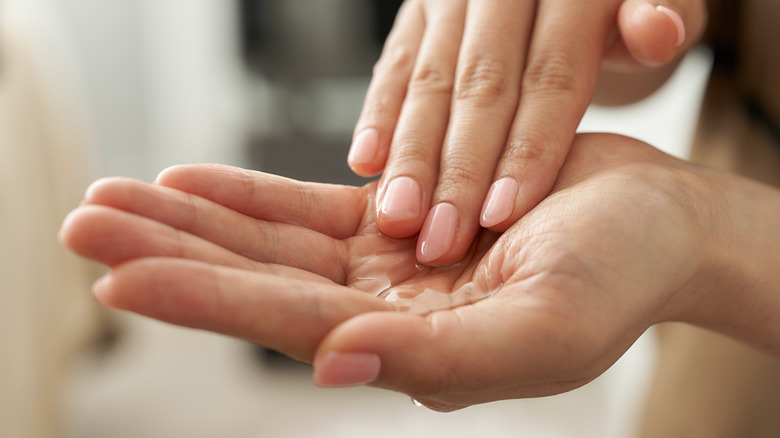 Mapo/Getty Images
So many skincare products, so little time — and money. If you're striving for a skinimalism-based routine, your priority is to pare down to only a handful of products. But doing so proves to be difficult if products like essences are often raved about on TikTok and by skincare experts. These exploded in popularity around the same time that the 10-step Korean skincare began picking up steam. They confused people at first because they have a similar viscosity as serums but aren't as potent, and they're applied the same way you do toners. But to clear the confusion, Dr. Hadley King, a board-certified dermatologist, explained to Prevention how it differs from the two products. "In Korean beauty, essences are lighter in weight, less concentrated than serums, and are used after a toner to add another layer of hydration before the serum is applied," she noted. 
Meanwhile, Alicia Yoon, founder of K-beauty site Peach & Lily, shared with Glamour that essences help in making the other products in your routine work better. "Think of skin as a sponge," she explained. "When dry, a sponge is brittle and doesn't absorb liquids well. In the same way, when skin isn't sufficiently hydrated, it's more difficult to absorb moisturizer, serums, and other treatments."
Judging from these explanations, it still seems that you may be ok excluding essences from your regimen. But there are also experts that advocate for their importance, and how they can benefit your skin in the long run.
How can essences help my skin?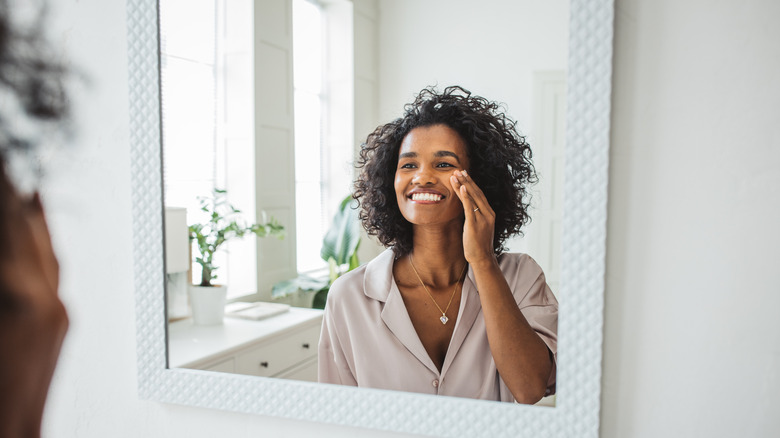 Svetikd/Getty Images
As it turns out, essences are not gimmicky products that are peddled by companies to get you to buy more. There's a reason why they have long been popular in Korea and other Asian countries. In fact, even Victoria Tsai, the founder of the skincare brand Tatcha, was skeptical of them at first but eventually became a strong proponent once she noticed how they altered her complexion. "It felt like water, but it was transformative," she told The New York Times. "My skin felt super-soft and plump, and when we saw our clinical results — how it instantly increased the skin's hydration — it confirmed my experience."
Now, how are essences able to transform one's skin despite being so lightweight? Julia Marinkovich, a representative for the brand COSRX, told Vogue that they're formulated to work in conjunction with the rest of the products in your routine. "They are multi-functional miracle workers that hydrate and rebalance the skin, housing many active ingredients that work to penetrate the skin much deeper, further enhancing subsequent skincare products and boosting the effectiveness of your whole beauty regime," she noted. 
K-beauty expert and Soko Glam founder Charlotte Cho also explained to told Refinery29 that aside from hydration, essences also help in "skin repair and cell turnover that will promote smoother, brighter skin with regular use."
How to incorporate essences into your skin care routine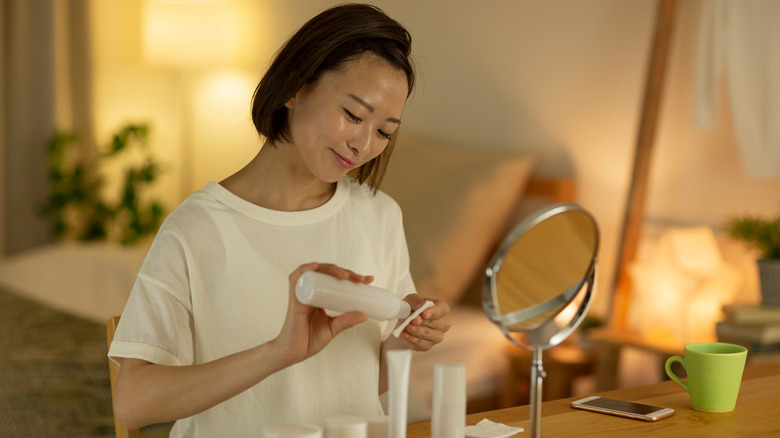 sukiyaki/Shutterstock
So, skin essences aren't vital to a skincare routine compared to heavy-weights like SPF, but they're helpful if your skin needs a boost in the hydrating and moisturizing department. If you do decide to include essences into your routine, the good news is they don't require much work. You don't have to wait a few minutes before and after application like with serums and acids. They can simply be added to your morning or evening skincare regimen, or both if you'd prefer. They are best used as a base layer right after washing your face. 
You can opt to use cotton pads for application, but you may only end up wasting product if you do so. It's better to use your hands instead. "Pour or spray the essence directly into clean, dry hands and apply it to the face in patting motions or small, upward circular motions to ensure the skin absorbs the product," dermatologist Dr. Corey L. Hartman told Shape.