Sarongs Offer Unlimited Versatility To Your Summer Wardrobe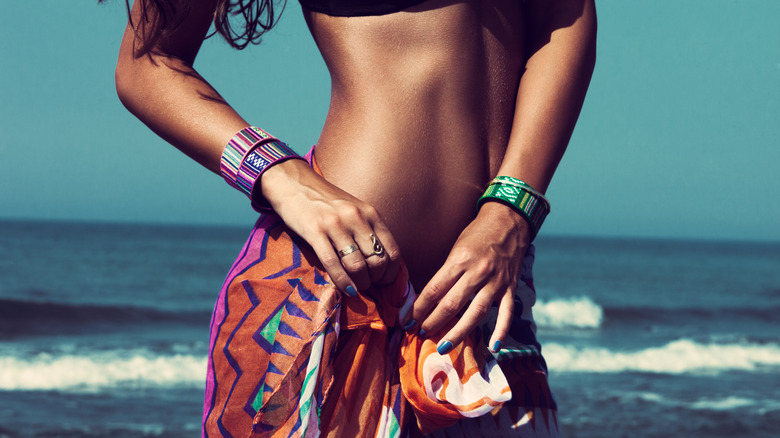 coka/Shutterstock
We may receive a commission on purchases made from links.
Women throughout parts of Indonesia, Asia, and Africa wear sarongs on the daily, and we're here for their incredible simplicity. A sarong is a huge rectangle of fabric, but its versatility is fabulous — you can wrap it to create wildly different effects. Your biggest decision: Find the colors you adore (make sure they complement your skin tone) in a pattern you love.
Here in the states, we usually throw a sarong over our bathing suits by fastening it around our hips as we step off the dunes and into a casual beachfront restaurant. But the sarong can evolve beyond the beach and be wrapped into skirts, dresses, and sexy eveningwear.
And if you love bling, you can grab a sarong that's been shot through with metallic threads. This summer, metallics are a fashion hit, even for every day, so if you combine both trends, you're on point for the two looks. This gold sarong-inspired Nayelli Wrap Skirt from Revolve captures it perfectly.
How to style your sarong
Sherry Kennedy's incredible YouTube video demonstrating how to wrap your sarong in about a dozen different ways is a fantastic resource whenever you need a quick tutorial. She uses an actual sarong and not a fabricated, sewn piece inspired by a wrapped sarong. For maximum versatility, we recommend you get the real thing too. Even if you wrap yourself into a slinky evening dress, a bathing suit underneath is fine. It's a sexy and revealing combo, so we've got your back if you need to confront swimsuit anxiety.
The demo makes it clear that you can switch things up from typical beach cover-ups to a tube top, shawl, an elegant kimono shape, a halter top dress, at least two cute strapless dresses, a hot mini-skirt, and more. Other styles include making her patterned sarong look like a two-piece outfit, and then in a variation, covering the front, back, and one side with fabric while leaving the other side scandalously open. She adds an optional knot to the bottom of the open side to keep the design more controlled — but it's still extra slinky. Keep your destination in mind and how much exposure you think would feel comfortable as you're picking your scandal level. 
Where to get sarongs and how sizing works
When doing a search for sarongs, we've noticed that some of the big box stores like J. Crew are featuring long skirts that are sewn to resemble a sarong — but they're actually skirts, like this so-called "convertible beach sarong." It's cute if you want to skip all the wrapping techniques, although that's part of the fun. Make sure to read the description since the item name is misleading. Macy's has a (real) sheer black one from Michael Kors that we like.
One World Sarongs has a great collection online, including this feline print. They also have sarongs and half-sarongs for men, like this blue swirl. All Sarongs has a few sequined versions to take you from beach cover-ups to cocktails, like this sequined white with green flowers style. What caught our eye is their wedding section, which features a white sheer sarong for a romantic beach wedding. 
To size a sarong properly, you'll need two measurements: your waist size and the length from your hip to your heel. An average sarong rectangle is 66" x 44" inches (that's length by width), and if you've got about a 33" inch waist, the fabric can wrap around you twice, which will give you full coverage if that's what you're looking for. One World Sarongs carries plus sizes at 72", 86", and 100" inches by 44" inches. This charcoal gray smoked plus size sarong is a gorgeous example.