Achieve The Lightened Hair Look Without The Sun Damage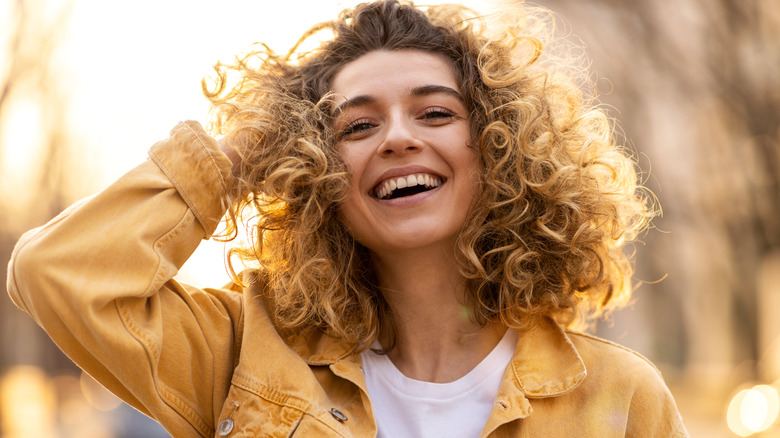 Piksel/Getty Images
We may receive a commission on purchases made from links.
If you are of a certain age, you may have used a product called Sun-In to lighten your hair. Remember carting a bottle of this stuff to the beach and coming home with orange hair? Maybe you ended up with a bale of straw on your head ... or straw-like strands, at least. Needless to say, it's not healthy for your locks.
Helen Reavey, certified trichologist and founder of Act+Acre, told Well+Good that lightening sprays contain damaging ingredients, like ammonium persulfate, ethyl alcohol, and hydrogen peroxide that lift the pigment from the hair. The same thing happens in the sun, of course, but not as quickly. Another frequently used damaging ingredient is lemon juice, which has citric acid. Noreen Galaria, MD, board-certified dermatologist and founder of Inner Glow vitamins, explained to Refinery29 that it causes issues because it breaks down your hair's keratin. It can also burn the scalp or cause irritation, which is called "phytophotodermatitis."
Common hair-lightener ingredients, like hydrogen peroxide and citric acid, can also cause damage by breaking down the melanin in your hair, as Refinery29 explains. Let's take a look at some alternatives and how to treat the damage if you've already used it.
Some healthy alternatives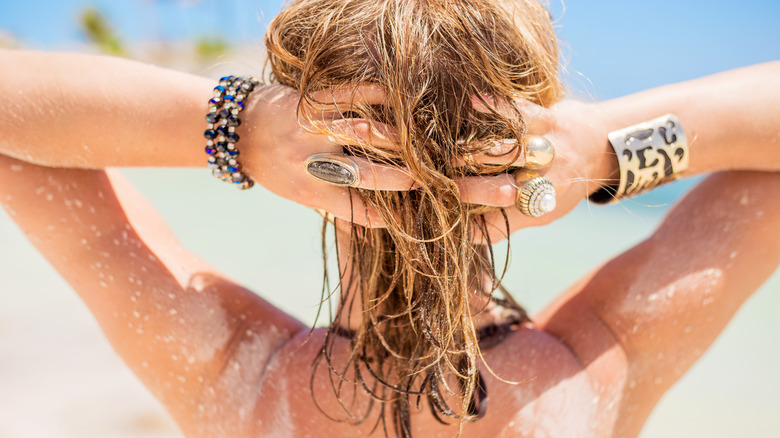 Grinvalds/Getty Images
What do you do if you want to lighten your hair for the summer months? Obviously, the best advice is to go to a salon and have it done professionally. If the cost is too high, you can use a plant-derived lightener, like chamomile extract, which has apigenin. Using chamomile won't be as damaging, but it also won't lighten your hair as much. If you must use a spray, look for one without peroxide or one that uses vinegar instead of lemons. It's not damage-free, but it's better than the alternative.
One product that colorist Kieron Fowles mentioned to Refinery29 is Oribe Bright Blonde Sun Lightening Mist, which isn't as harsh. Another thing you can do if you just cannot resist using lightening sprays is to keep the product away from your scalp. In addition, use sunscreen on your scalp. Burns on your part are no joke, and you might not be able to see signs of skin cancer in time to take action.
Fixing the damage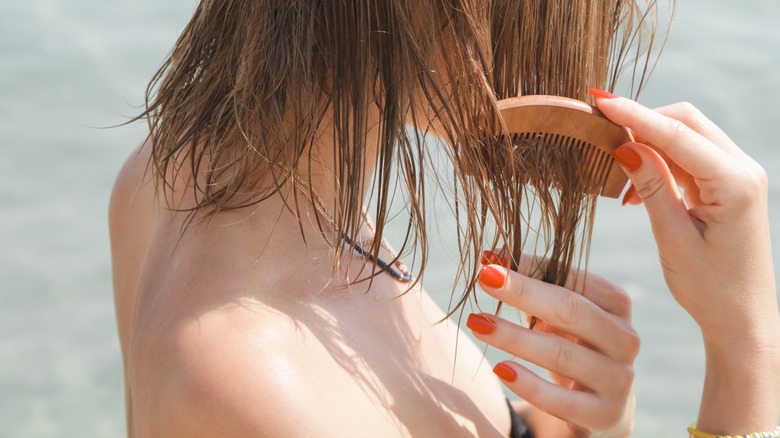 triocean/Shutterstock
But ... how do you fix it if you've already done the deed? You can use purple shampoos and conditioners to correct the brassy look. You can also treat the hair with a deep-conditioning mask. It's not going to restore the melanin or the keratin, but it will help mitigate damage and moisturize the hair and scalp.
Healthline lists a number of natural oils to smooth the damaged cuticles you can get from a hair-lightening product. They mention coconut, olive, argon (which you'll find in many hair products these days), and almond oil. These will work for most hair types outside of fine hair. Warm it in your hands and work it from the ends to the scalp. A few drops will do. Leave-in conditioners can help as well like It's a 10 Miracle Leave-In. If your hair is curly or textured, SheaMoisture All-Over Hydration 100% Raw Shea Butter is a good choice.
Another item that the site mentions is aloe vera to soothe a damaged scalp. You can get it right from an aloe plant or pick up aloe vera gel. (It's a little sticky, so it's good to put on at night before you go to bed.) Avoid heat styling when you can, as that can make the damage worse. Stay safe, sun goddess!