Our Best Tips For Removing The Last Remnants Of A Lingering Self-Tan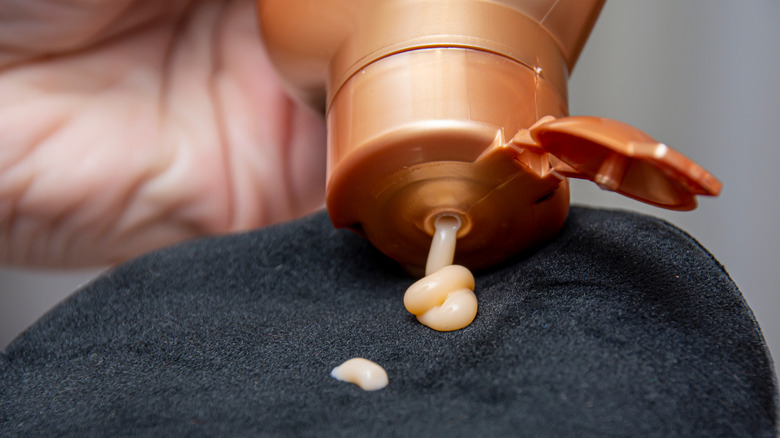 GaViAl/Shutterstock
We know the sun isn't good for us. Sun damage can cause premature aging and skin cancer. To get that golden glow, many of us have turned to self-tanner. It's a much healthier option, but what happens if you mess it up? It's possible, whether you get it airbrushed on or do it yourself in your own bathroom.
Look, self-tanner isn't the easiest thing to put on, especially alone. Most of them remain mysteries for hours until the color develops; by then, our legs might look like Fruit Stripe Gum. Alas, it's too late to do anything about it ... or is it? While getting off the remnants of a self-tanner fail isn't as simple as a swipe with a cleaning cloth, you aren't without a path to evenly tanned skin.
Going to the salon to have it done professionally in the first place is the best choice, but that's not always feasible. It's also time-consuming, between making the appointment, getting to the salon, and the inevitable coffee or lunch you might grab while you're out. Plus, even salons don't always get it right. Let's take a look at your options for removing the last vestiges of those streaks.
How to prevent self-tanner streaks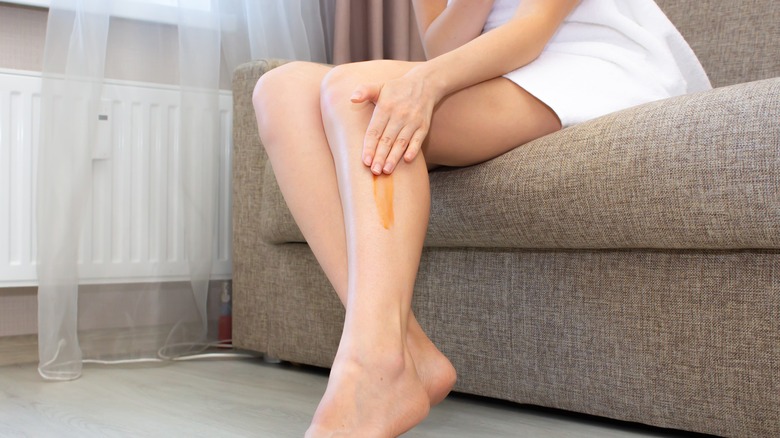 TatianaBor/Shutterstock
So, how do you apply self-tanner in a way that prevents streaks in the first place? The best thing to prevent streaking is exfoliation. Dry patches on your skin will soak up more of the product and turn a darker color than the rest of your skin. In addition, you can lightly moisturize your elbows, knees, and ankles. Elbows and knees have thicker and often dryer skin that soaks up more product, and the ankles are places we tend not to blend as well. (So many angles!) The palms and backs of the hands are also good places to moisturize. Wash those hands immediately after, or wipe them with an astringent.
Backstage tanning artist Jules Von Hep gave some great prep tips on his Instagram account, as well. Von Hep mentions using a primer he created for your skin called The Isle of Paradise Prep It Primer, which he says "helps tan develop evenly and keeps a glow on the skin for up to three days longer." Our favorite tip of his is to use powder in places that sweat (removing the self-tanner), like the backs of the knees, under the butt cheeks, and between the breasts (we'll add under the breasts, as well, because boob sweat is real). He also says not to put on activewear right after. Tech and sweat-wicking fabric can suck the product off you or press tightly in areas, removing the product. 
Removing self-tanner with household ingredients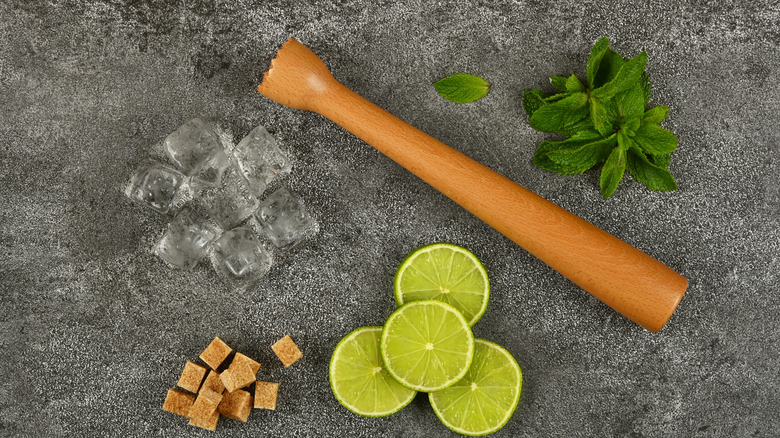 Breaking The Walls/Shutterstock
So you've bronzed yourself, and you're not happy with the results. Why not make yourself a mojito? We're kidding, sort of. Mojitos are delightful to quaff, but some of the ingredients make a great home self-tanner remover, according to Kimberley Nkosi, a spray tan and skin finishing specialist from London. She told Glamour, "A firm favorite of mine that works well is brown sugar or Epsom salts combined with lime juice (a natural form or citric acid), almond oil, a few drops of vitamin E, and one of my favorite scents, like rose oil, lavender or vanilla." It sounds good enough to drink (but not the Epsom salts, please!), and while this recipe is for the outside of your body, you might as well make that mojito while you're at it. 
If you're not into kitchen witchery, there are other product ideas out there. Michaella Bolder, tanning expert for St. Tropez, told Glamour about the product that professional makeup artists use the most; St. Tropez Tan Remover & Primer Mousse. She explains that you put it on dry skin, hang out for five minutes, and buff it off in the shower with an oil-free shower gel.
Another item that Nkosi recommends is Von Hep's Isle of Paradise Over It Magic Self-Tan Eraser. It's vegan and uses glycolic acid and micellar water. You leave it on for five minutes and buff it off.
Dos and don'ts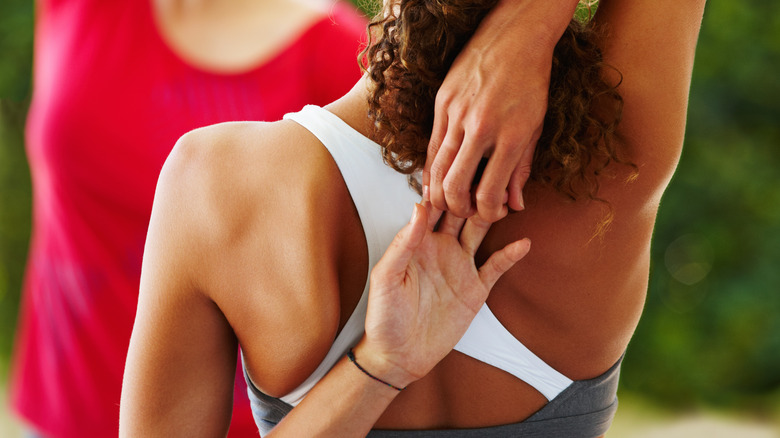 Globalstock/Getty Images
There are a few dos and don'ts for self-tanner removal. The first "do" is to use the buddy system. If you have a friend or partner that you don't mind getting a little bare with, ask for some help in the more difficult areas, like the back and the backs of the arms and legs. Someone else can use the same amount of pressure everywhere and ensure that you don't miss a spot. 
The second "do" might seem a little silly, but practicing yoga-based arm stretches like the one above (if you are able) will help you hit all the hard-to-reach parts. The third "do" is to give this some time. Kimberly Nkosi says that you really should do this removal process over a few days to avoid drying out your skin. Another thing she says is that using oils will help remove the color gradually. They're also great for extra moisture. Keep in mind that moisturized skin doesn't show the streaks as much. You can also use a shimmery lotion to help disguise some of the streaks.
A big don't is to watch out for over-exfoliating. A good buffing before a self-tanning session is great, but you're not going to be able to scrape it all off with a harsh exfoliant. Use a gentle one, because a giant scratch across your legs won't make things look better. 
Removing self-tanner from your face and hands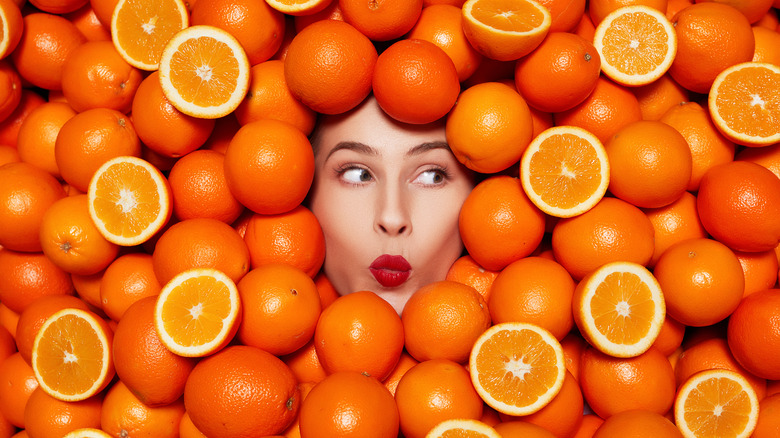 Stock_colors/Getty Images
That's all great for the body, but what do you do when the streaks are on your face or hands? Let's start with the hands (and feet if you've overdone it there). Jules Von Hep suggests a lactic acid exfoliant, like Sunday Riley's Good Genes Lactic Acid on the hands, and then an exfoliating makeup remover.
What about making your face look less like a citrus fruit? You should be careful not to over-scrub or use too many products that can irritate your skin, leading to breakouts. Von Hep recommends an exfoliant, like glycolic or salicylic acid. These are chemical exfoliants, so you're not pulling or tugging on the skin. Moisturize after, of course. Another thing you can try that Healthline recommends is mixing two to three tablespoons of baking soda with ¼ cup of coconut oil and applying that to the face. You leave it on to absorb a bit, then remove it with a wet washcloth. You have to be patient here and do it twice a day until the color is back to normal. They also point out that this can be drying, so make sure to moisturize, as well.
If all else fails, you can temporarily even out your tone with body makeup, like Dermablend Quick-Fix Body Makeup Full Coverage Foundation Stick (which can also help cover tattoos, if needed). A light dusting of powder over the top will help keep it from transferring onto your clothing.