FYI, You're Probably Using Your Lip Oils All Wrong
Lip oils are certainly having their moment. Their ever-increasing popularity has been most notably marked by brands such as Haus Labs and Dior often selling out at a jaw-dropping pace. However, this certainly isn't surprising. One of the reasons the much-loved beauty product is so popular is thanks to its shiny, smooth finish. Even if you prefer a matte lip look, it's hard to resist. If you're a fan of lip products, then you may already have a few lip oils nestled in your makeup bag, preened, and ready to go. While it's all too easy to slap it onto your lips and get going, it turns out you may be using your lip oils all wrong. In fact, there are some very specific errors that you should take note of.
Thankfully, fixing your lip oil routine is fairly straightforward and hassle-free. All you'll need is a beady eye and some lip balm. However, the lip oil you select is actually very important. Once these two steps are complete, you should be armed and ready to go. 
You're picking the wrong ingredients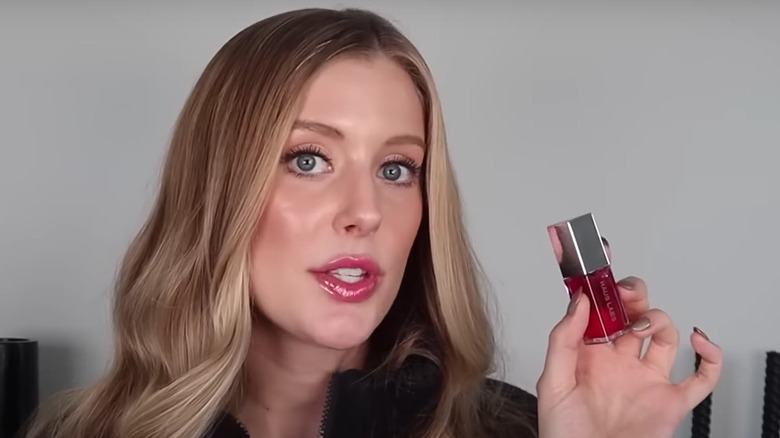 If you regularly use lip oils, you may be asking yourself what you could be doing wrong. However, even your most treasured lip oil could be in the firing line here. One mistake many people make is choosing products with the wrong ingredients, whether that be an added fragrance or other drying ingredients. Some dehydrating ingredients that you want to avoid include phenol, salicylic acid, camphor, and any added fragrances. While fragrances in lip oils may seem appealing, they can be irritating for some individuals. 
However, it's unlikely you want to give up your lip oils altogether. Although they're a relatively new addition to the beauty space, there are still some excellent fragrance-free options out there, including Haus Labs and Jouer Cosmetics lip oils. Finding the best oil for your lips is essential, so make sure that you do your research. However, this isn't the only mistake that you may be making with your lip oil.
You're not prepping your lips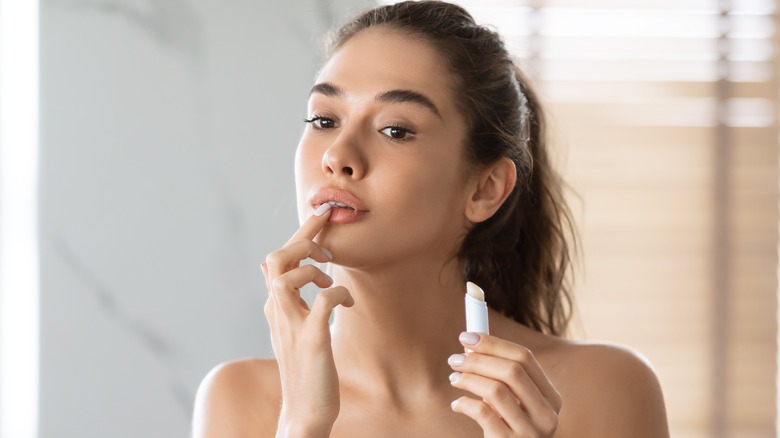 Prostock-studio/Shutterstock
Lip balm is a great tool that helps us keep our lips nourished, and you can even use it with your lip oil to achieve good results. However, while some experts claim that lip balm is more effective, others argue that using lip oil alone can offer benefits that a balm cannot. Speaking to Stylist, Dr. Najia Shakia explains the advantages: "When applied to the lips, oils penetrate deeply to moisturize and nourish the skin. This is as opposed to 'coating' the skin, which lip balms — like those containing petroleum do — meaning you have to reapply them constantly." However, if you find that you benefit from using both products together, then what's stopping you? While the "mistake" of only using an oil on your pout is subjective, it certainly wouldn't cause any harm to try both the products. The key here is finding what works best for you. Of course, you should always try and ensure that your balm has good, quality ingredients.
When using your lip oil, you should ensure that you exfoliate the area beforehand. This helps create an ideal base on which to add the product. You can apply it whenever you want — even overnight. Just make sure not to go overboard when you're applying it. If you often wear makeup, you can use foundation to keep your lip products in place. This is a great trick to use to perfect your overall look.