What Lactic Acid Can (And Can't) Do For Your Skin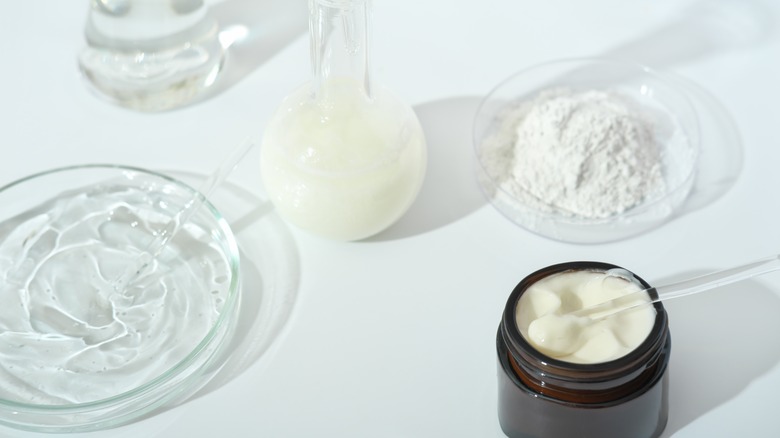 Y.P.photo/Shutterstock
Lactic acid has quickly become a favorite ingredient of skin care professionals and influencers alike. The usage of the fermented ingredient can be traced back as far as Cleopatra's rule over Egypt, and for nearly the same reason — it was said to have helped prevent her skin from aging.
The modern usage of lactic acid in skincare products is a bit more broad. According to Medical News Today, the ingredient is also able to remove dead skin from pores, moisturize affected areas, and smooth out uneven areas caused by aging or UV exposure. Needless to say, the skincare industry has considered lactic acid to be a small but nevertheless pivotal ingredient in many face moisturizers.
Don't consider it the not-so-secret answer to your skincare woes, though. It won't be able to suddenly make your face the best it possibly can be and, like many other skincare ingredients, should be discussed with your dermatologist before you test it out. More importantly, while the ingredient does provide some important benefits, improper usage could cause more harm than good. Make sure you have the right sunscreen on hand, because lactic acid could smooth your skin while also making your skin barrier weaker.
Lactic acid can even and smooth skin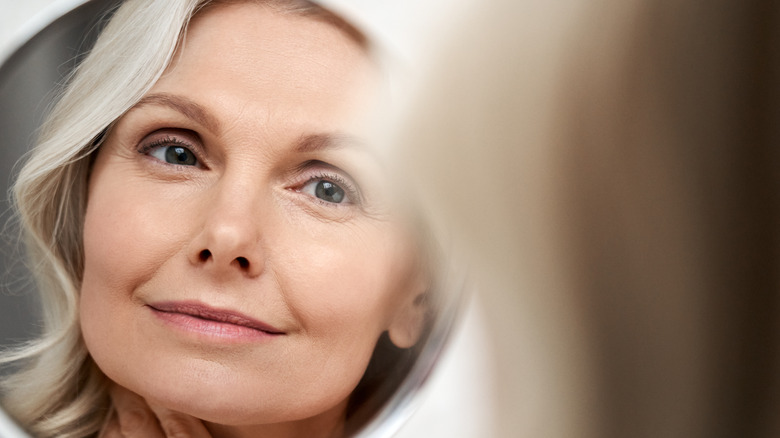 Ground Picture/Shutterstock
As previously mentioned, lactic acid's greatest appeal is in how it treats signs of aging. It can best help with smoothing uneven skin, but it also helps tighten it up if it's starting to sag, while also reducing fine lines and strengthening your skin's complexion. The fact that it is able to do this already means a lot, but it specifically happens because it's an acid that stimulates cell turnover and creation.
According to Verywell Health, this especially helps the moisture retention of your skin. Lactic acid's growth stimulation could help improve your skin's ability to absorb moisture from water or cleansers if used regularly. This is especially plausible if the process is slowed down by premature aging symptoms such as wrinkles and sunspots. There is also evidence that small doses of lactic acid can work together with probiotic supplements to promote microbial balance.
Lactic acid can't effectively restore your skin barrier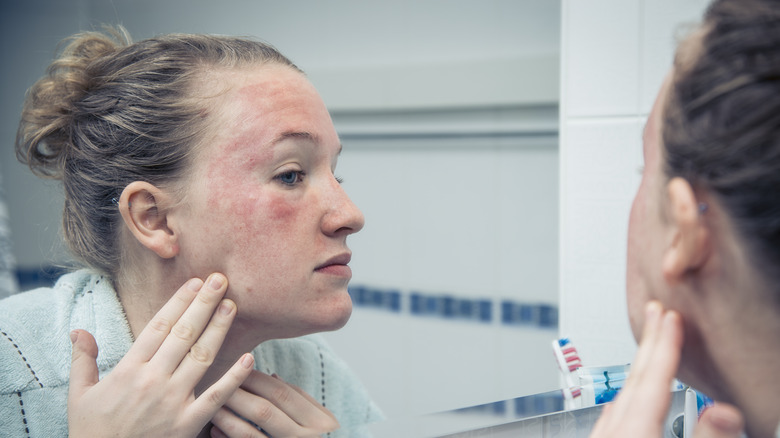 Azmanl/Getty Images
The most important thing to keep in mind about lactic acid is that it should not be used every day. Over-application of the ingredient could actually result in the opposite of skin barrier regrowth, which is why experts advise against daily or frequent usage. This might seem strange due to how it promotes cell regeneration, but keep in mind that that doesn't necessarily mean it is strong enough to be able to effectively defend against irritants like UV rays. We advise just sticking to your usual skin barrier repair products.
Because of this risk of sensitivity, make sure you are regularly applying sunscreen during the day. You should also avoid lactic acid if you have a retinoid prescription, due to both ingredients being highly potent. 
It's also crucial to ensure that you're getting the right percentage of lactic acid for your skin. If you're just starting out, try products with the lowest percentages available. All of this is especially true for those with sensitive skin. Due to the potency of lactic acid, there's a chance that your skin could get irritated after applying products, symptoms of which include redness and burning. Talk to your doctor to see if you should test out lactic acid products with a 5% potency.