Honestly, We Can't Get Enough Of The Breezy Allure Of Wispy Bangs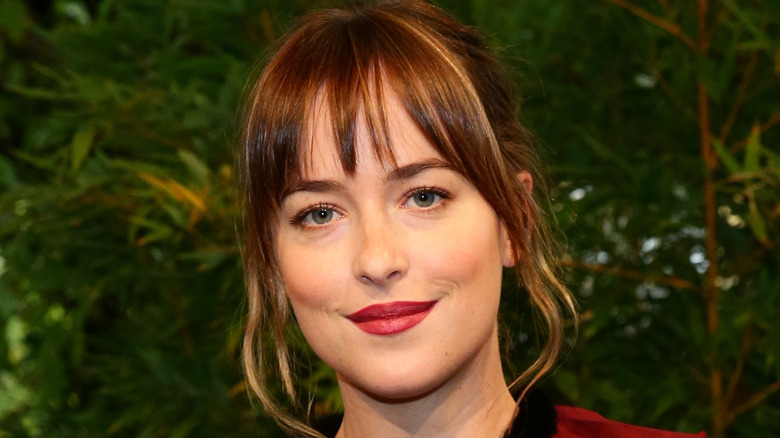 Vittorio Zunino Celotto/Getty Images
Internet memes are full of cliches, but none are quite as pervasive within hair styling communities as the one about a woman who contemplates getting bangs. As the trope goes, the woman is typically on the verge of a mental breakdown. She has just broken up with her boyfriend, and she is having a manic moment that she'll soon regret. Enter wispy bangs, a style that is skirting dangerously close to having its own "butterfly cut" moment of popularity. It's luring us all to consider what we might look like with a breezier, more tapered fringe.
If you're wondering where this trend came from, the answer is that it never actually disappeared. A less dramatic version of the blunt bangs, this face-framing technique has been a mainstay with celebrities — including Dakota Johnson and Reese Witherspoon — for years. However, it enjoyed a boost earlier this year, when both Ariana Grande and Dua Lipa debuted new cuts that looked casually chic and sophisticated. Here is what you need to know about the cut, along with advice for those thinking about adopting it as their own.
A softner for your facial features
You are probably well versed in the trending, dramatic side bangs and the animal-inspired haircuts that went viral earlier this year. You might be less knowledgeable about wispy bangs, which last enjoyed a moment of hyper-popularity in the early-mid 2010s. Wispy bangs are, essentially, regular bangs with far less fringe and offer a softer, more textured appearance. The idea is not to hide your forehead or eyebrows, but to have delicate wisps of hair framing your features. As a result, wispy bangs are perfect for those who want to experiment with bangs without premiering a bold, dramatic look. 
Wispy bangs are typically great for adding softness. Traditional hairstyling rules suggest that oblong faces work best with blunt, full bangs, while those with more angular facial features tend to look better with a wispier fringe. As a result, those with heart-shaped faces rock the look especially well — think, for example, Taylor Swift or Ariana Grande. Wispier bangs are also perfect for those who have a lot of baby hairs that tend to fall out when in a ponytail. Those with fine hair also rock this look especially well.
There's still a big styling commitment
While wispy bangs tend to have an easier grow-out compared to full, blunt bangs, it still requires upkeep and hair training — especially if you've trained your hair into a sleek middle part. Failing to do so can result in dreaded 90s boy-band bangs instead of the soft, curtain bang that's easy to style at almost any length. "My hairdresser literally warned me. You have to style your hair all the time," explains Gisele Ayora, who recently adopted the style. She recommends purchasing clip-in bangs to try the hairstyle before taking the plunge. 
Training your hair is crucial for wispy bangs because the breeziness is, in large part, due to the movement of bangs. Styling with a fine-tooth comb is crucial to get the strands of hair to look and move like wisps. Hairspray can add a greasy, immoveable finish — not quite the effortlessly chic look that you're probably going for — so it helps to add in any product when hair is still wet. Those with curlier hair, such as people with a 3A curl type, can still rock the look. However, they should avoid cutting or styling it when wet as well. "These bangs were created to stray away from such a harsh look, so it is crucial the bangs are cut specifically to complement the type of hair for a more even blended look," Nubia Rëzo, a celebrity stylist based in New York City, told RealSimple.