Throwback Varsity Jackets Are Having A Fashion Renaissance (No Football Games Required)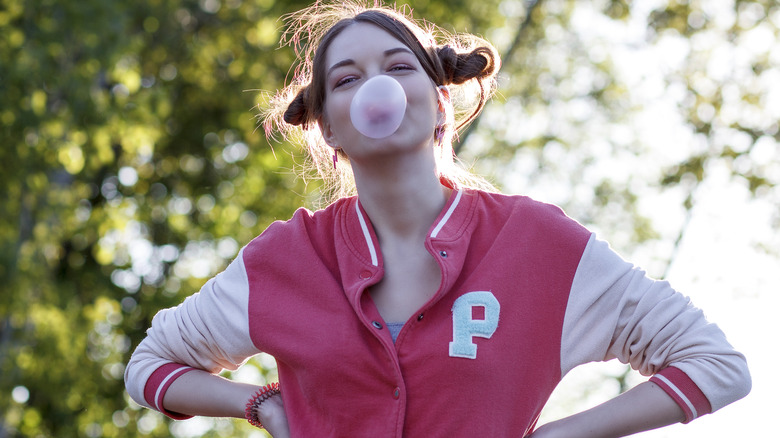 Te9l/Shutterstock
Varsity jackets (which you may also know better as Letterman jackets) are having a bit of a resurgence right now, so you should probably get used to seeing them everywhere. The sporty aesthetic is all over social media, with influencers all over the world sporting the trend and showing us some of the best ways to style them. "Varsity jackets have come in and out of style at various points over the years, but brands like Ralph Lauren, Kith, and Aimé Leon Dore are making them popular again among people who are evolving the classic streetwear touchstones into a prep hybrid style," brand director at Depop, Steve Dool, explained to TZR. "We're seeing the Depop community lean into a 'retrosport' aesthetic, sourcing unique, vintage sportswear for elevated, athletic looks," Dool added. No wonder the jackets have been spotted all over the high-fashion streets of Paris!
But how the heck do you wear the classic look without looking like you got lost on the way to a football game? Well, never fear, because we've got the very best ways to style the trend laid out below (even if, like us, your school game days are long behind you).
Go cropped
We already know that crop tops aren't just for Gen Z-ers, so why not combine that trend with the varsity jacket movement? You can either get your hands on a cropped version of the jacket or you could create the look of a crop by folding your longer version up. Pair it with low-rise jeans to give it an instant throwback vibe (shout out to the naughty-aughties). To complete the retro look, just add a pair of casual Chuck Taylors.
Style that varsity jacket with a skirt
If you want to go the more traditionally feminine route with your varsity jacket look, the perfect way to do so is to pair it with a skirt. A pleated, tennis-esque skirt like this is perfect, as it taps further into the sporty fashion trend we're seeing right now. It's also a great way to bring your jacket with you into the summer while still keeping cool in the heat.
Get dressed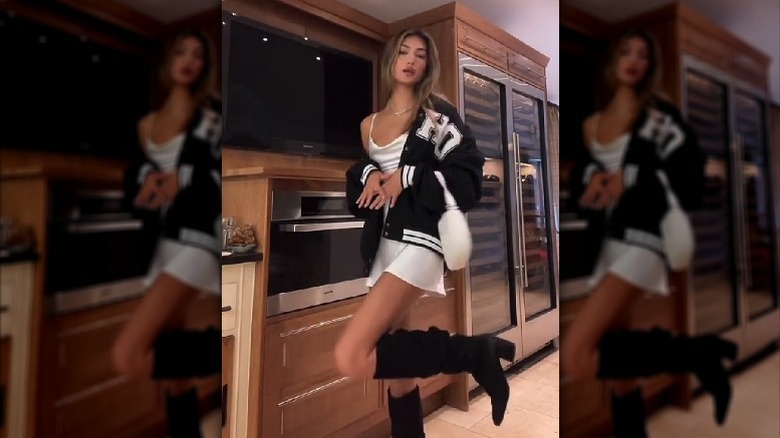 TikTok
Varsity jackets don't only go with pants, nay nay! Proving how versatile this trend can really be, as you can see here, the classic varsity jacket looks just as natural over a fancier satin dress as it does with your favorite pair of jeans. The casual black jacket offers juxtaposition against the silky white mini dress, and rocking it with knee-high heeled black boots ties the two together, creating a fashion-forward black and white look that anyone can rock. All you need to do is bring the confidence.
The varsity classic
It's the one we've seen in all those movies and TV shows. The classic varsity jacket and jeans combo. Of course, it goes without saying that the classic pairing for a varsity jacket is the old faithful blue jean, which is arguably one of the most Americana looks out there. To put a slightly different twist on the classic (and to make it suitable for transitional dressing while you rock your jacket between seasons), you can wear it with a black turtleneck and black boots, ensuring cute comfort all day long.
Look good in leather
Another way to rock the varsity trend while maintaining and edgier and cool vibe is to leave it unbuttoned over a crop top along with high-waisted black leather-look pants. You can rock either a regular-length version of the jacket or a cropped one here, and we'd recommend keeping your top black to let the jacket have its moment to shine. If you wanted to dress it up a little, you could swap out the sneakers for strappy, heeled sandals so you're ready to head out on the town.
Go cool in cargo pants
Love 'em or hate 'em, cargo pants are all the rage right now. There are countless ways to style them though, and pairing them with a varsity jacket provides you with a trendy yet casual outfit with lots of storage. We love the light blue color of this one against the traditional green of the cargo pants, while the classic cropped white tee keeps the look casual and simple for those who don't want to spend hours planning out their outfit.
Turn your varsity jacket into a dress
If you're looking to put your own spin on the varsity jacket trend, and want to achieve the look while staying cooler in those hot summer months (in every sense of the word), then why not rock a varsity jacket-inspired dress? Just throw on some sneakers with this look and you're good to go. What we really love about this garment though is it can be dressed up or down depending on your mood.
Prep it up in denim shorts
Another garment the varsity jacket goes great with? Shorts! And they don't have to be super short shorts, either. If you're a fan of a longer pair, then this look is for you. We'd recommend putting them under an open jacket and a baggier sporty jersey. Adding socks gives this outfit a preppy edge without drifting too far into the sporty lane, and rocking it with loafers instead of the default sneaker does the same.
Winning white
A super chic way to style a darker varsity jacket is to go monochromatic underneath to give the outerwear its moment. White is an ideal shade to rock underneath, as it's a neutral color that allows you to match pieces together with ease. Even after Labor Day, you can stun in this all-white number (because white pants are having a total moment right now). In this outfit, we've got a white crop top, white linen pants, and matching sneakers, providing the perfect foundation for a navy and white varsity jacket on top, shouting out the New York Yankees.
Play up a varsity jacket with plaid
If you haven't done so yet, have some fun experimenting with pattern and color by layering a plaid shirt under a varsity jacket. TikToker @lovebstyle showed us how to combine the two pieces, adding a little edge by turning the shirt into a crop top by tying it up at the waist. She then opted for cropped blue jeans and neutral brown heels, which made the whole look a little less casual while yet vibrant.
Grab a leather skirt
Why should leather-look pants have all the fun? We know that varsity jackets compliment leather-look material. Why not put a spin on a chic evening look by rocking your jacket with a leather mini skirt and black top? This combination will put a youthful yet refined spin on your outfit. We love that this one was still paired with heels for a night out, but the outerwear will keep you warm and comfy at the same time.
Go casual
Looking to keep your look super casual? Then this could be your new go-to. To stay uber comfy for those days you're just hanging out or running errands, a varsity jacket can be a great addition to a super simple hoodie-sweatpants combo. A matching set proves you've put a little extra thought into what you're wearing, but you'll still be cozy and warm all day long.
Camo shorts will keep your varsity look dressy yet casual
Another way you can bring shorts into your varsity-style look is to sport some camo shorts. Bringing a print into your outfit keeps things interesting, and the bold white boots in this look prove this one is for those who aren't afraid to stand out. Matching the top to the shoes keeps the look tied together, and the jacket creates the aura of a more casual night out while still putting thought into your look.
Go long!
It's not just shorter skirts that you can throw on with your varsity jacket, as this proves it looks just as good with a longer skirt. TikToker @hidayahgan proved you don't have to show a lot of skin to make this trend work, as she wowed in an all-black ensemble with black high-top sneakers, keeping the sporty aesthetic alive with a dressier, more demure twist.
Awesome athleisure
We know that the varsity jacket is all about bringing back a sportier style, which is why pairing it with some athleisure gear is a solid choice. In a look we've seen Kim Kardashian rock oh so many times, an oversized jacket like this makes the perfect addition to a more skintight outfit underneath, and keeping it matching creates a modern aesthetic to juxtapose the old-school bagginess of the jacket. For this, there are limitless options for your athleisure gear, from a bodycon long sleeve t-shirt and leggings to a crop top and shorts.