Socks With Sandals: How To Wear Summer 2023's Most Divisive Trend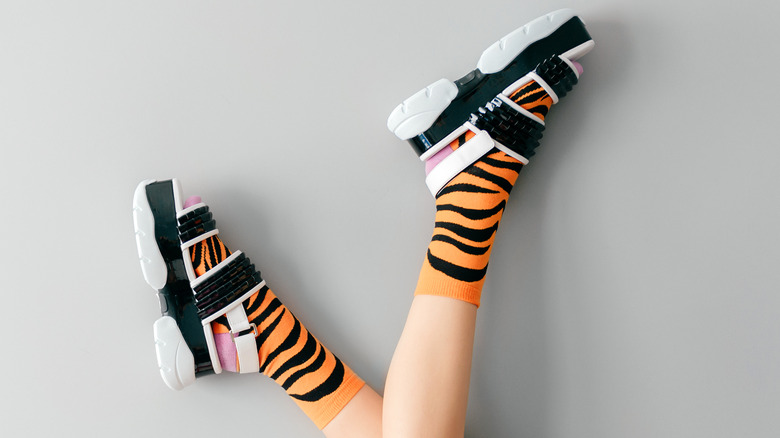 Benevolente82/Shutterstock
We know what you're thinking: How could socks with sandals possibly be a fashionable pairing? But, like many other 2000s trends, this bizarre combination is making a major comeback. Except this time, it's a trend that you may actually be able to partake in without cringing.
"Socks and sandals started getting trendy around 2010 with the rise in popularity of athletic leisure wear," Emily Brayshaw, member of the Footwear Research Network, remarked in an interview with ABC Radio Brisbane. Indeed, combining athletic compression socks with sports slides picked up around this time — which made the trend seem unflattering to many. The good news is, this controversial combo's revival in 2023 comes in new forms. There are some rather groundbreaking ways to wear socks and sandals, as it turns out, and this time around, there are loads of glamorous options to choose from — enough to make this trend more appealing to everyone. Here's all the proof you need that socks and sandals are back in all their glory.
A date night look with sky-high heels and comfy socks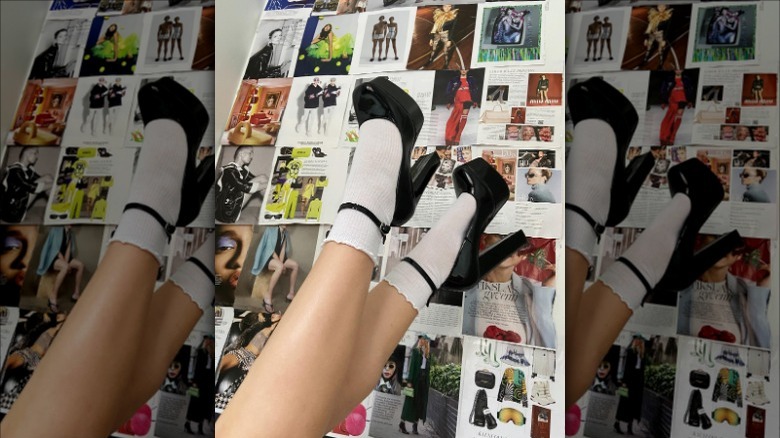 Instagram
If you've ever felt uncomfortable in high heels, then this look might be the solution to your problems. While heels and socks may not seem like an obvious pairing, there is, in fact, a way to wear the two items well. In fact, socks can help stretch out a high-heeled shoe, helping it fit and grip your feet better. Socks also minimize the blisters that often come from painful heels. The key to nailing this look is pairing the right kind of sock with the right kind of heel. Chunky platforms paired with thin knit ankle socks are a great combination, because the contrasting weight of the two helps balance the overall look out. You can also dare to go for an open-toed or strappy heel with a mid-calf sock and even switch it out for a cable-knit pattern in the winter.
Socks in neutral colors like white and black are great options to complement a colorful heel, or if you're going for a classic look. However, you can also venture into the world of colorful socks to play up a more nude heel. If you're attending a fancier event, silk socks can make a particularly chic accessory. Plus, if you forgot to get a pedicure, socks cover your toes while allowing you to wear your favorite heels.
Classic neutral socks with Birkenstocks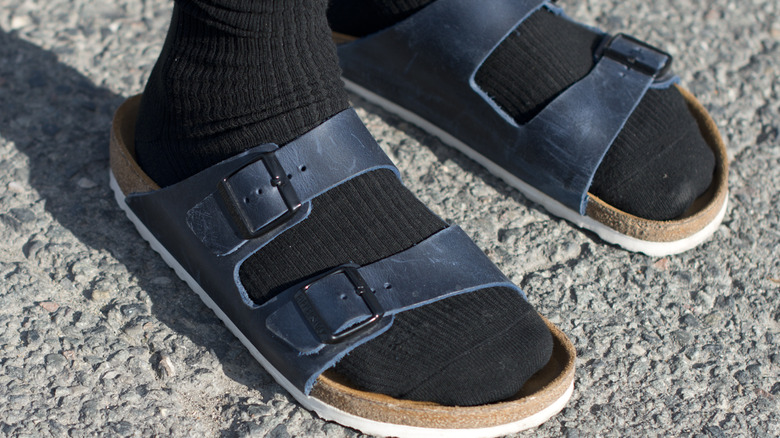 Kirstin Sinclair/Getty Images
While socks don't have to be worn with Birkenstocks, they can make them feel a whole lot cozier. This way, your go-to summer shoe can also be worn in the colder months. Typically, cozy ankle socks or even fuzzy socks pair well with Birkenstocks and add an extra layer of comfort to your feet. Plus, though it may sound nutty, this pairing can actually be quite stylish, depending on the socks and Birkenstocks combination that you choose.
Birkenstocks come in various colors and styles, with the classic two-strap Arizona sandal being their most common and popular shoe. These shoes are great for wearing with socks and can be mixed and matched with a variety of sock colors and patterns to match your style. Closed-toed Birkenstock sandals are another great option to reach for when wearing socks; they're a particularly smart choice in the winter.
It is important to keep in mind that Birkenstocks take a while to break in. If you do decide to wear socks with your new Birkenstocks, this process may take a little longer, as the shoes typically mold to your bare foot's natural contours due to a mixture of wear, sweat, and heat.
This clogs and socks combo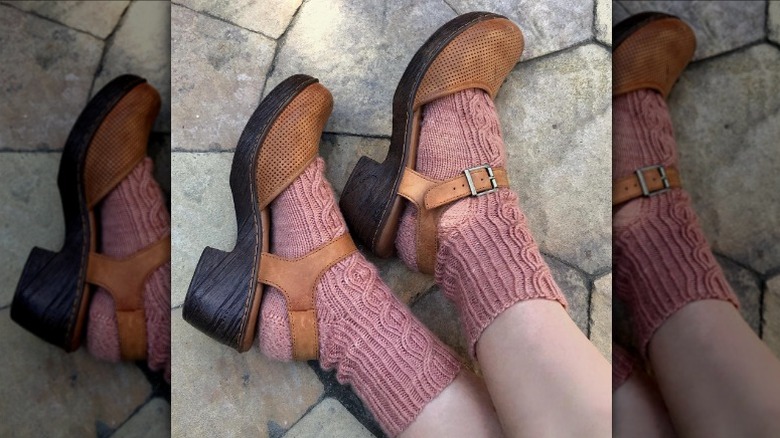 Instagram
Clogs may not be what you have in mind when you think of socks and sandals, but, like Birkenstocks, it's absolutely possible to pair them with socks in a stylish way. Plus, this once-outdated shoe is making a huge comeback in 2023. Clogs and socks are a rather common pairing in Europe, especially with trousers or jeans. This makes for a sophisticated and timeless aesthetic that can be mixed and matched with pants, dresses, or skirts.
If you want comfort, clogs are an amazing option that offer good support for your feet. The only thing better than comfy shoes is comfy socks, and now, you can wear the two together and be right on trend. Try wearing knit black ankle socks with some heeled clogs and a knit dress for an elegant fall outfit. You can also reach for socks in warm shades like orange or brown to compliment wooden clogs.
A monochrome moment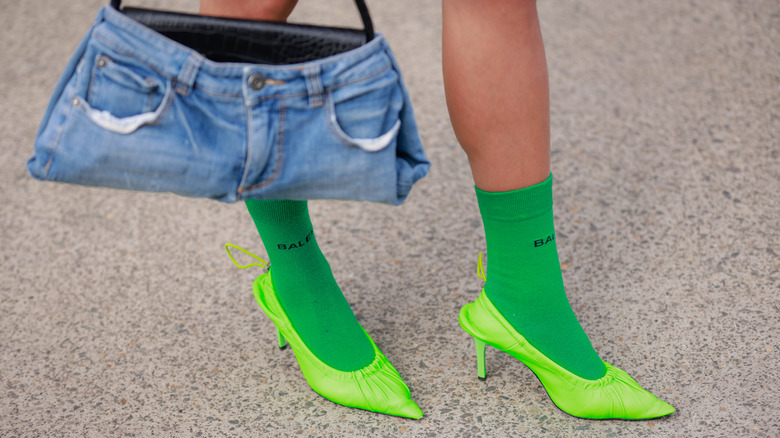 Hanna Lassen/Getty Images
We love a well-curated monochromatic outfit. They're eye-catching, unified, and undoubtedly chic. Monochromatic fashion has been all the rage since the early 1920s, when Coco Chanel went on a mission to curate an aesthetic based on monochromatic colors that screamed sophistication, elegance, and class. Now the trend is back once again. While it's clearly fabulous, we're now faced with the difficult task of building an outfit in one color — or, at the very least, varying shades of one color. This can be tougher than it sounds to nail. One easy way to partake in these trends, though, is by matching your socks and sandals.
Ideally, you'll want the sock and sandal color to complement each other without blending in too much. This is why socks with colorful patterns are a great option to pair with matching sandals. For instance, a light blue sock with dark stripes will pair perfectly with a dark blue sandal and give the bottom of your legs the right amount of dimension. Another key to wearing a monochrome sock and sandal is to blend different textures together. This can look like wearing chunkier wool knit socks with light-weight sandals to balance out the monochrome look.
Patterned socks show off your personality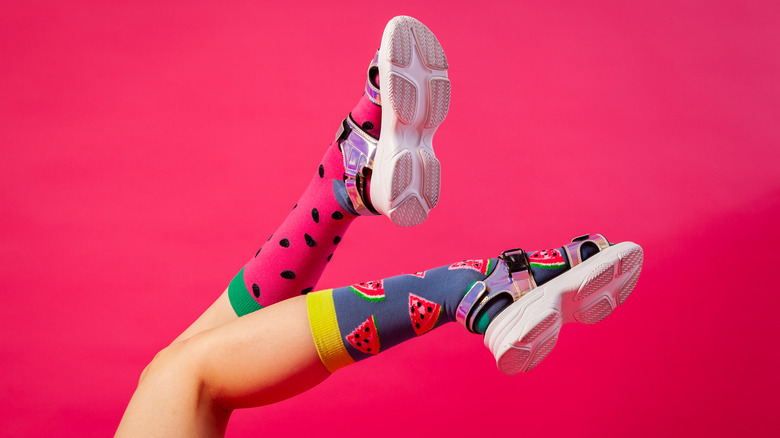 Everyonephoto Studio/Shutterstock
Socks can reveal a lot about your personality, and patterned socks make a statement bound to get you noticed. Whether it's stripes, polka dots, floral patterns, animal patterns, or something else entirely, patterned socks are a great way to put your confidence, spontaneity, and boldness on display. Plus, they're perfect for adding more color to your wardrobe or spicing up a casual outfit. You can even color coordinate with your slides to match the pattern in your sock.
Choosing the pattern of your socks can be based on a number of different factors. For instance, a neutral striped sock and slide combination can mean business, while colored stripes showcase your inner child. On the other hand, polka dots demonstrate your whimsical nature. For those who want to present an organized and orderly front, checkered socks may be the way to go. A floral sock can also add a feminine touch when worn with skirts or dresses and colorful slides. If you want to put your wild side on display, then an animal patterned sock paired with heels or sandals will do the trick.
The festive socks and sandals look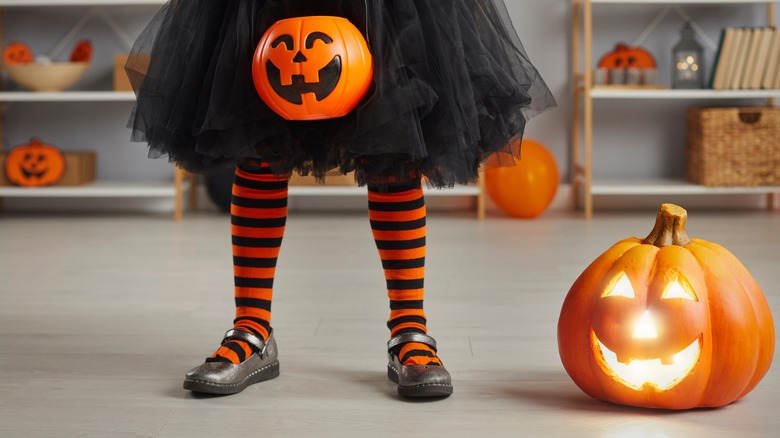 Studio Romantic/Shutterstock
Name a better way to celebrate the holidays than with festive socks. That's right — you can't. You can take your socks and sandals combinations into any holiday season with the right themed socks. Whether it's fun Fourth of July fireworks or Christmas presents on your socks, being on theme allows you to continue the fun all year long. Plus, sporting some fur slides in the winter or athletic slides in the summer allows you to be comfortable in any season.
When it comes to festive socks, there are plenty to choose from. After all, nothing gets you in the holiday spirit quite like some bright orange pumpkin socks for Halloween, or some cute elves on Christmas day (to go with your cozy pajamas, of course). Birkenstocks are an especially great option to pair with festive socks. You can even get creative with your sandal color, in order to match it to the theme of your socks. It'll truly get you — and anyone who sees them — into the holiday spirit.
Reliable athletic slides with socks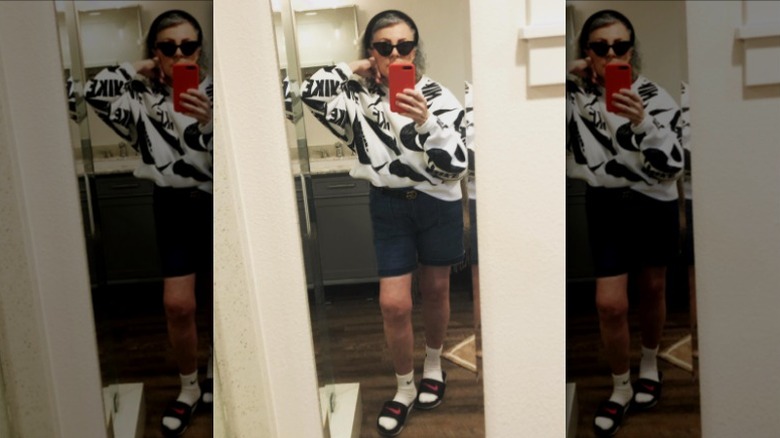 Instagram
Sports slides and activewear are a match made in athleisure heaven. In fact, the slides and socks combination is what initially started the socks and sandals trend. However, in 2023, we're making this combination a fashionable one. Instead of pairing your comfy ankle socks with leggings and slides, try opting for a chic jumpsuit or even denim shorts to spruce up the look. By doing this, you can still keep your feet comfortable while dressing up your outfit.
You might think athletic slides are boring, but they don't have to be. Take your slides to the next level with some bright colors. You can balance out the look with neutral white or black socks. Alternatively, you can also opt for brightly hued calf-length socks to add a pop of color to your neutral slides. For the colder months, slides and fuzzy socks can be paired with jeans and a matching sweater for a cozy look. 
The high-fashion furry slides and socks pairing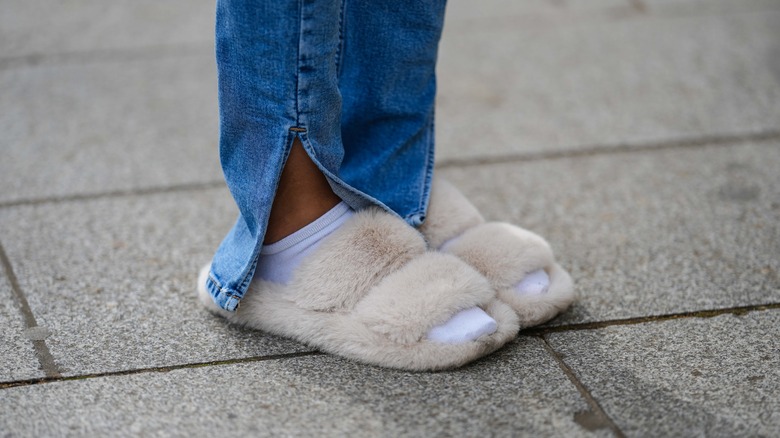 Edward Berthelot/Getty Images
Fluffy fur slides and sandals have been in fashion for quite some time now, and we know exactly why. Fur slides are a comfy and quick way to add a fashionable twist to just about any outfit. This luxury footwear can become a romantic date night staple if they're paired with delicate socks that match their aesthetic. If you're looking to attract a lot of attention to your feet, lace or even fishnet socks can be an alluring pairing with fur slides. However, since there's already fur on the slides, you can also wear simple socks with these sandals for a casual everyday look.
Because fur slides are typically open-toed and rather chunky, they pair especially well with thinner socks that can glide right in. However, furry closed-toe slides in the colder months can be worn with thicker woolen or knit socks.
Lace knee-high socks add drama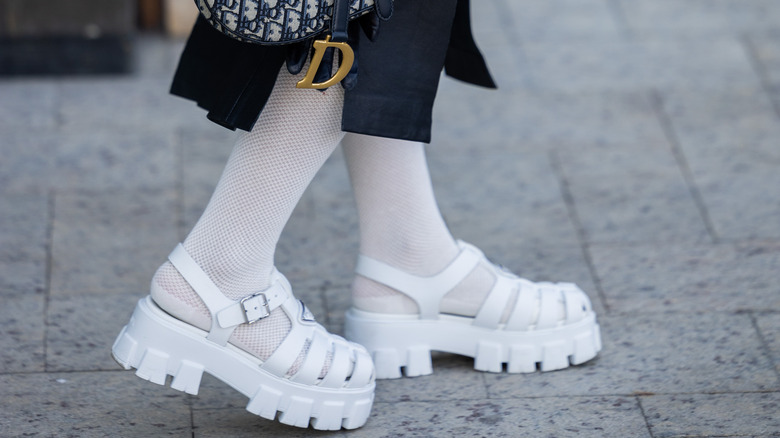 Christian Vierig/Getty Images
If there's one thing you should know about lace, it's that it's been at the center of romance and drama since the 16th century. This is why lace knee-high socks are the perfect choice if you're feeling romantic and looking to make a statement. If you want to showcase the detailing of your socks, pair them with some light sandals or strappy heels and a short skirt or dress. Typically, white or black lace socks are a popular choice to complement any outfit. 
When it comes to choosing how much lace you want for your socks, you have some options. For instance, you can choose to go with a sock with lace edging, or you can choose a fully laced or even corset-style sock. This, of course, depends on how embellished or detailed your outfit is, and the type of sandal you pair this sock with. For instance, a full lace sock will look good with some strappy heels, while a lace-edged sock will complement a patterned skirt or dress. Regardless of how much lace you go with, lace socks are perfect for adding that extra edge to any outfit.
Sheer socks are perfect for summer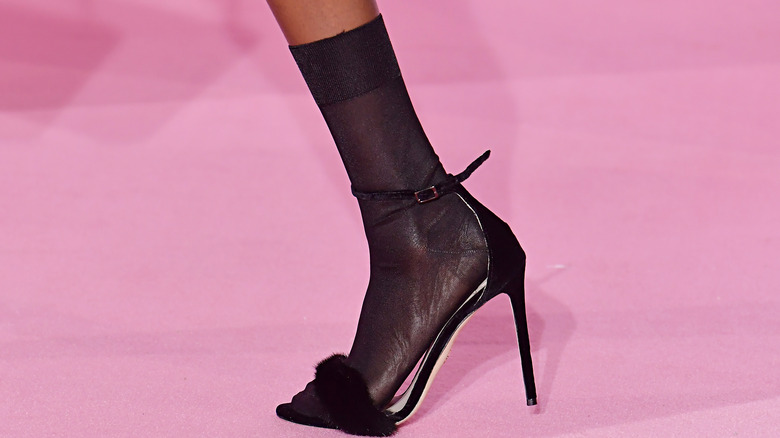 Dominique Charriau/Getty Images
Sheer socks come in all different colors and sizes. This makes them the perfect accessory for any occasion — and  what better way to showcase your various sheer socks than by pairing them with sandals? For instance, pull out your chicest polka-dotted sheer socks and pair them with some neutral wedges for a sophisticated look at work. The texture of sheer socks always screams party, so you can definitely pair a mesh or sparkly sheer sock with a strappy sandal for a night out.
Moreover, who says you can't also wear socks in summer? While sheer socks might not be appropriate attire in winter, their lightweight nature makes them a stylish choice for the hotter months. They protect the feet, absorb moisture, and decrease any odor that might occur from wearing shoes without socks for an extended period of time.