Songs By Queer Musicians For Every Stage Of Your Story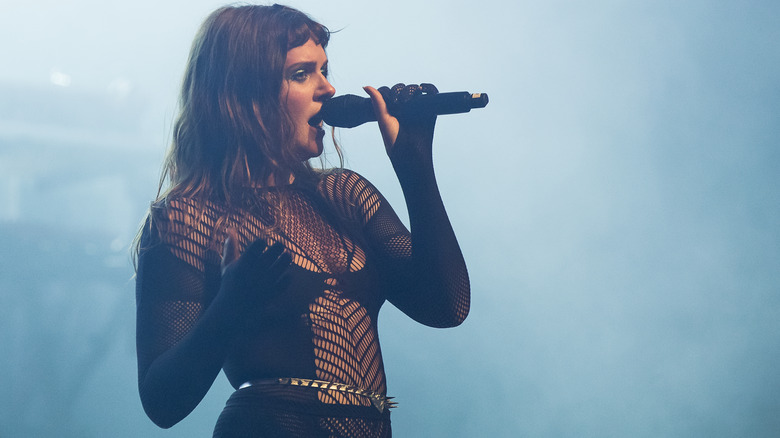 Mauricio Santana/Getty Images
Queer musicians are normalizing queer stories of relationships, sex, breakups, and even the coming-out experience, through music. Songs have long been an avenue for expressing emotions, life's challenges, personal wins, social issues, sexual compatibility, and endless other narratives. Some audiences are only fans of certain genres, while other people could listen to anything depending on their mood. 
Sometimes, we may be in the mood for classical music, other days we might want to rock out. The general consensus is that music targets not only people but moods. Artists know that if they write a popular club anthem, DJs will always add it to their setlists at nightclubs for people in the mood to dance. If an artist writes a love song, they know that couples in love will want to listen. So, when it comes to the queer experience, what songs are out there to complement your mood? Are you crushing hard on someone? Are you not sure if your crush is queer too? Are you obsessed with your person? Are you attracted to your ex's new partner? Well, we've got the playlist for you.
Dirty Dancer by Orion Sun: For when you have your first queer crush
In this slow, chill melody, U.S. songwriter, Orion Sun, paints a distinct image of themselves lusting over a love interest. Although the artist describes the song as "about feeling like you're not good enough" (via The Line of Best Fit), we believe it's the perfect song for musing over your crush: "You got me waiting at the corner, waiting at the red light, waiting at the crosswalk thinking of you."
If you've ever found yourself in a trance while picturing that special someone and fantasizing about any sort of interaction with them, then this track will sum it all up for you. When Cupid's spell befalls the heart, it can send us into a state of giddiness and excitement, but also vulnerability and anxiety. Let Orion Sun calm your nerves with their harmonious fusion of soft singing and energetic tempo in "Dirty Dancing."
Ghost Boy by Zac Poor: For when you're coming out
"Ghost Boy" begins with a fun summer vibe bustling with lively synthesizers that makes us want to drive along the coast with the top down. The songwriter, Zac Poor, immediately sets the tone of this emotionally upbeat song with poignant lyrics about his youth. Communicating to his younger self, the Los Angeles-based artist sings,"I traveled back to '92, to let you know you made it through, little ghost boy." 
On this heart-warming track, the listener is taken on a journey through small-town America where the singer is subjected to homophobic slurs until we reach 1999 when he is freed from the constraints of high school. After experiencing some highs and lows in his 20s, the singer eventually gets to a place where he can look back at his younger self with love and empathy. "I know it's been a while since I held you in my arms, never meant to treat you unkind, little ghost boy," he sings — a reminder to be compassionate to yourself during your coming-out journey or any other experience life throws at you.
Silk Chiffon by MUNA feat. Phoebe Bridgers: For when you're in your first queer relationship
"Silk Chiffon" by U.S. group, MUNA, featuring Phoebe Bridgers, is one of those songs you play on repeat for hours on end and don't feel bad about it. "Silk chiffon, that's how it feels, ooh when she's on me" are the lyrics that make this a hit for when you're in your first relationship. If you've ever been in that situation before, you know that the first few weeks of a romance are something special. Every interaction is infused with electricity as you navigate unknown territory and learn each other's quirks, dreams, interests, and fears.
This queer anthem can also symbolize the first sexual experience with a partner. Being intimate with someone for the first time is a blend of anticipation, vulnerability, and connection, which the song accurately illustrates. "Silk Chiffon" is also an accurate representation of the common trend in queer music, the "longing" or romantic thread that interlinks queer songs. "We should define queer music as music of longing," says MUNA's Josette Maskin (via The Line of Best Fit). "That's literally the gayest thing ever."
Hypnotised by Years & Years: For when you fall in love for the first time
"Hypnotised" by Years & Years is an eerie ballad that intensifies as the song progresses. As the music swells, British songwriter Olly Alexander's voice amplifies with provocative emotion and we don't know whether to cry or make love. "Surround me, body and soul, pull me into your glow, make me blush," the singer beckons. The listener becomes even more "hypnotized" as the piano gets higher and Alexander breaks into a falsetto range. "Who can breathe me into life? ... Just one more look at you, my heart has been hypnotized."
If that doesn't scream "I love you, you're the only person who can keep me alive" then we don't know what does. Any form of prose that says one person's life depends solely on another person is a love story. "Hypnotised" was also featured in the short film, "The Secret Life of Flowers," which was described by director, Baz Luhrmann, as a "modern love story" (via NME).
Nights Like This by Kehlani feat. Ty Dolla $ign: For when you're in your feelings
To be "in your feelings" is an expression that refers to being deeply immersed in your emotions or experiencing heightened sensitivity. It signifies a state where emotions take center stage, influencing thoughts, actions, and overall perception. It's okay to be emotional. Life, love, relationships, and our existence in the LGBTQ+ community can be challenging sometimes. 
"Nights Like This" by U.S. singer and songwriter, Kehlani, featuring Ty Dolla $ign, is an ideal choice for those reflective moments when you just want to sit with yourself and be emotional. Although the song calls out someone for their flaky behavior, it's also moody enough for vibing to when you're on a low. "You gon' say you want me, then go switch it up, just gon' play with my emotions just because, you gon' get my hopes high, girl," Kehlani sings. However, if you ignore the lyrics, the song's melody is quite the sexy tune, making it great for a make-out session — just saying!
She's My Religion by Pale Waves: For when you're obsessed with your partner
The lesbian anthem of our generation, "She's My Religion," by U.K. outfit, Pale Waves, is the result of sapphic obsession. On this track, we hear the band's frontwoman, Heather Baron-Gracie, sing of love when she utters, "Always lighting up every room, seems so perfect from every point of view" and sings of carnal desire when she boasts, "Everybody wants to have their taste, I'm no different, I am just the same."
The lyrics also illustrate the many moods, personalities, similarities, and differences that one relationship can make up. In a stunning portrayal of love, "She's My Religion" reminds us that we all have moods and vulnerabilities that, when embraced by the right person, can be cherished unconditionally: "She's no angel, but she is my religion." The music video is another level of libidinous lesbianism as the singer and her IRL girlfriend, Kelsi Luck, passionately pull each other around a big house and give us a brief glimpse into their relationship. 
GAY 4 ME by G Flip feat. Lauren Sanderson: For when you're not sure if the other person is queer
Honestly, it's a real struggle in the LGBTQ+ community. Sometimes, you just don't know if the person you're talking to at the bar is queer or if the person on Tinder is only exploring their sexuality and not looking to be in a partnership. With the increased number of heterosexual women hosting their bachelorette parties in gay bars, the former statement couldn't be more true for gay women who may encounter straight women in queer spaces. "Like gentrification, hetrification occurs when people feel privileged to take over the spaces of others," wrote professors Laurie Essig and Vincent Jones II (via The Boston Globe) who researched this issue.
So, if you're someone who has been in the situation of not knowing your crush's sexual identity and wants a song to blare in order to get you through it, "GAY 4 ME" by Australia's G Flip, featuring Lauren Sanderson, is just the song. G Flip and Sanderson draw a lyrical image of somebody who isn't quite sure if they want to be in the queer pot ... but then kinda does at the same time. "She don't wanna stay, then she go and say, 'let's mess around,' and then she go down." To summarize the song, the Melbourne multi-instrumentalist shouts: "She says she's only gay for me, and I don't know what to believe."
Becky's So Hot by Fletcher: For when your ex moves on
This song caused the lesbian tectonic plates to shift and created a whole cultural movement that watched as New Jersey artist, Fletcher, sang about her ex's new girlfriend whom she thinks is hot. You can catch up on the whole drama on TikTok where the community was living for the tea. 
"Becky's So Hot" was inspired by a t-shirt belonging to Fletcher's ex that she used to wear when they were dating. Then they broke up. Fast forward a while later, and Fletcher's ex's new girlfriend (Becky) posts a photo wearing said t-shirt which Fletcher sees because she's creeping her on Instagram ... we've all been there. "Fine, okay, I'll say, I went and stalked her, and I don't really blame me ... Makes me wanna hit her when I see her, 'cause Becky's so hot in your vintage t-shirt." The gist of the story is that the song is fodder for anyone out there who's mad that their ex has moved on, especially when their new partner is hot!
B****** by Tove Lo, feat. Charli XCX, Icona Pop, Elliphant, and ALMA: For when you're feeling empowered
"B******" is one of those songs that just makes you so proud, empowered, and happy to be queer. In this track, Tove Lo and her tribe of successful artists have fun with raunchy lyrics that basically give guidance on how to please a woman sexually — because women know, right? The music video is a hilariously liberating adaptation that shows how female pleasure is often left on the back burner. After all, the opening line is: "Appreciate it, touch me like you know what you do and what you don't." 
In the video, a heterosexual couple visits a dark, spacious loft where Tove Lo and her gang teach the guy how to perform oral sex on his girlfriend. In the end, the woman has so much fun with her teachers, aka the singers on the track, that she dumps her boyfriend and heads back to the loft. Overall, the song empowers gay women and women alike to own their sexuality and celebrate their bodies. "Everyone on this track is so different. All are boss ladies in our own way," Icona Pop told Billboard about the track she worked on with Lo, Charli XCX, Elliphant, and ALMA.
S*** Pop by Kim Petras: For when you're just trying to have fun
Singing about sex has long been considered a taboo topic, especially when explicit words are used. But we say, if you don't want to listen to it, there's an off button!
"S*** Pop" by Kim Petras is a fun queer anthem that we imagine playing at a pre-drink party before a night out on the town. With an upbeat rhythm and iconic lyrics, Petras is telling the world that singing about sex is liberating. It's like shedding all those societal expectations and just embracing your carnal side without any shame.
For anyone who wants to embrace their fun side after coming out or after a breakup, this song celebrates you. "This is s*** pop, get your t*** out, do it right now," the singer tells us unapologetically. Tip: This song is not meant to be listened to on a low volume — the louder volume, the better the song sounds. 
All Dressed In White by King Princess: For when you're struggling to love
There can be various reasons why someone may struggle to love. Past heartbreaks or traumas can create emotional barriers that make it difficult to trust and open up. Insecurities and low self-esteem can lead to a fear of rejection or feeling unworthy of love.
You may also be experiencing internalized homophobia that can affect your experience as a queer person, such as learning to accept and love yourself and thus, love others. "Internalized homophobia encompasses the thoughts, feelings, and behaviors that arise from the belief that queerness is bad, wrong, sinful, or inferior to being straight," explains sex therapist Casey Tanner (via Healthline).
"All Dressed In White" by New York City-born songwriter, King Princess, features potent lyrics that convey the fear that people may have in a partnership: "I want to be yours, for sure, I'm trying my best, for you ... I  want to be good, but it's gonna take time."
Stayaway by MUNA: For when you're going through a breakup
"Stayaway" by MUNA sums up the turmoil of a fresh (or not-so-fresh) breakup. The pattern of the song's lyrics takes us inside the artist's head as they are reminded of their ex with everything they do. In a downward spiral of thoughts, MUNA's lead singer, Katie Gavin, intones: "If I see my old friends, we'll go out dancing, if we go out dancing, then we'll go to the bar, if we go to the bar, then there's gonna be drinking, if I drink, I wanna see where you are." 
In this stunning description of life post-breakup, we can empathize with the artist's pain and unrestrained voice as they obsess over their past and how it affects their future. "So I don't see my old friends, I don't go dancing, I don't do most things I used to do," the singer eventually declares. "Staying away for good requires a careful dismantling and reconstruction of the whole root system, down to the way we think," the band said in a statement (via Rolling Stone) in 2019.
Stole Your Car by Bitters: For when you want revenge after a bad breakup
We don't recommend trying this at home, but Claudia Mills from Bitters certainly gives us the zest we all need after a difficult breakup. "Stole Your Car" is a passionate song that delves into the measures one might take to seek revenge after a fight or a breakup. 
Breakups can be messy. The end of a relationship that once held promises of love can leave a deep sense of loss and confusion. But if you're in your not-sad-but-angry stage, then this is the track for you. If you feel revengeful but don't actually want to carry out any vengeance, listening to "Stole Your Car" will satiate your inner vigilante — not to mention the music video that is targeted to romantic avengers. 
At the beginning of the video, the artist is seen mid-swing with a baseball bat against a sleek, black vintage Mustang. But right before she bats, the British musician pauses, finds the keys to the car, and drives around Los Angeles at night. "I know you're upset, you'll get over it, I got no regrets, cos you're a piece of s***," Mills sings as blurry scenes of a woman (the owner of the car) flash on the screen intermittently. The heavy electric guitar sounds paired with the crisp pound of the drums, as well as Mills' sultry voice, make us feel like we're in a '90s memory.