What's The Deal With Ionic Hair Dryers And How Are They Different From Other Hot Tools?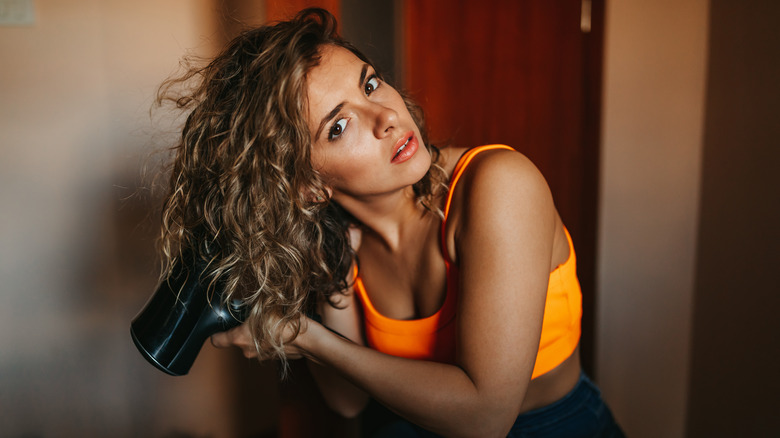 Bojanstory/Getty Images
We may receive a commission on purchases made from links.
From the most basic mid-sized hair dryer that gets the job done for $15 at Target, to a $600 hot styling tool with multiple accessories, the world of dryers, curling wands, and flat irons keep evolving and getting more sophisticated. One of the latest enhancements is an ionic dryer. You may remember ions from science class — it's an atom or a molecule that has a positive or negative electrical charge — but what does that have to do with hair styling?
InStyle took a look at ions and hair, noting that "[Y]our hair naturally has areas that are positively charged due to dryness from chemical treatments or heat styling. The positive ions cause your hair cuticle to open up, meaning the drier your hair, the more positive its charge." Another way of saying it: frizz, static electricity, and flyaways are loaded with positive ions. Ionic dryers are supposed to counteract just that with negative ions. Thick, curly textures normally take longer to dry, and ionic tools claim to dry hair without dehydration, keeping curls shiny. They also reduce your overall time spent blow drying.
Ionic technology can help make hair softer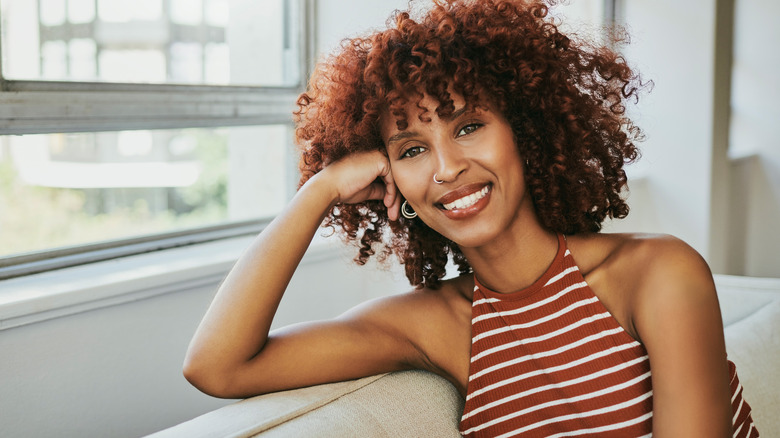 Delmaine Donson/Getty Images
NuMe Hair describes how ionic hair dryers actually work: "Within an ionic hair dryer, a circular netting of a specific metal is heated, and as the metal warms, negative ions are generated. These ions are then blown onto the hair where they naturally cling to the positive charge coming from each follicle." Ionic tools can cut styling time in half and seal up the ends of your strands, making hair softer. Another advantage is the high wattage of ionic dryers; at between 1300W and 2000W, they're higher powered than a regular dryer, work faster, and tend to be more durable.
On the other hand, Zelect, a service that helps people choose products, says that "Ionic hair dryers are not safe for regular use and long duration of time because they build an electromagnetic field which may be harmful." Adding to this, David H. Ver Eecke shares on Leaf.tv that the Food and Drug Administration advises that ionic hair dryers should be kept away from children. He writes "The Environmental Protection Agency ... notes that there is 'reason for concern' and efforts should be taken to reduce exposure, especially in young children."
Ionic dryers may be preferred over ceramic tools for thick hair types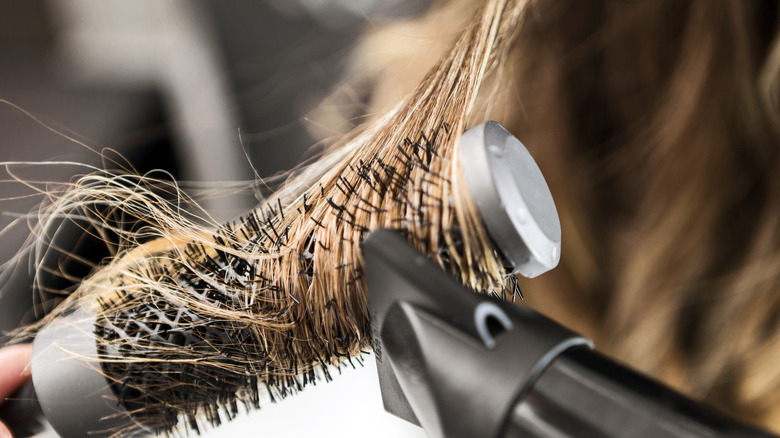 Nastasic/Getty Images
There are benefits and drawbacks to ionic dryers compared to other types on the market. The best dryer for curly and/or thick hair: Hands down, it's the ionic dryer (like this $100 model from TYMO). It's better at frizz control and works quickly. In second place for thick hair: tourmaline. Ionic and tourmaline dryers both emit negative ions. They work fast, reduce frizz, and retain moisture. Without that mega dose of negative ions, tourmaline dryers may be safer. 
The best dryer for thin hair: ceramic dryers. Hair stylist Adriano Cattide tells Stylecraze, "Ceramic dryers are best for fragile, fine, thin, and brittle hair." The ceramic heating element heats up quickly, won't burn hair, and is best for daily use. This BaBylissPro ceramic is $75. The best option for damaged, color-treated or dry hair: infrared dryers. They produce radiant heat and dry locks from the inside out. Infrared dryers are gentle but high-priced. Fashion and beauty publication WWD mentions that "Far-infrared heat is believed to help improve the health of your scalp by stimulating circulation." Ionic technology is sometimes also used in infrared dryers — this $100 Wazor model has both.
The best dryer for any budget or hair type: regular dryers. They range from this $15 Conair model to this $430 Dyson extravaganza. We wonder if there's any beauty industry gimmickry here to justify higher prices. Regardless of which model you choose, over-drying is damaging. Keep an eye on your hair's protein-moisture balance to keep it healthy.